Learning How to "Leave No One Behind"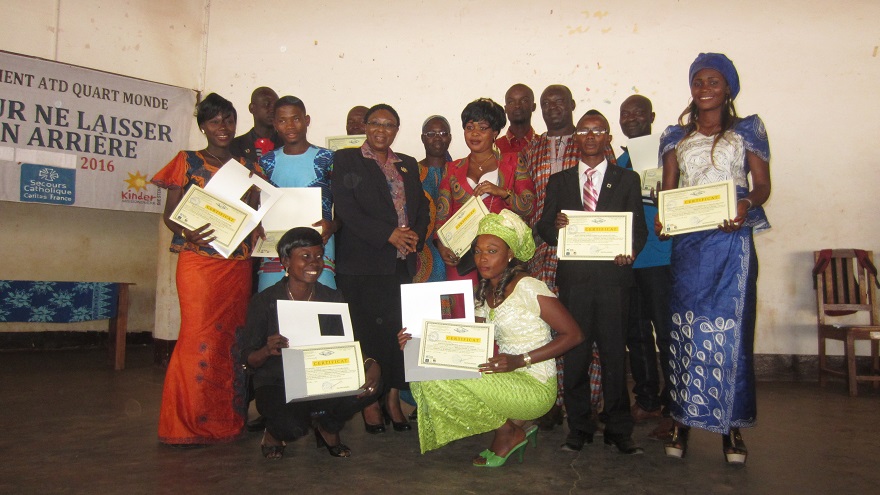 "Leave No One Behind!" has become the new battle cry in the fight against poverty. The United Nations 2030 Sustainable Development Goals emphasize the importance of development that includes everyone. This has led to renewed interest in reaching those in extreme poverty. But what does it take to "reach" people who have lived on the margins for years if not their whole lives? Why is it so hard to include in development programs those in deepest poverty? And most important, how can it be done effectively? A new training program in Central African Republic has started to teach people how.
Over the past year, 12 young adults attended a training course in social and cultural outreach. The training, described in a previous article, focused on reaching "people living in deep poverty, [and] teaching methods that will enable all of them to succeed. … [S]tudents develop their capacity to create (or renew) social ties with people who are mired in the daily violence engendered by poverty."
Origins of the Training Program
Central African Republic is a country shattered by years of war. Throughout the armed conflict, ATD worked alongside citizens in projects to support the most excluded children and families who were caught up in the violence. (See video on ATD's work during the armed conflict.) Now that peace has been restored, people are eager to rebuild the physical structures that were devastated by the war, but also to help heal the trauma caused by devastating years of conflict.
The design of the training program began with the question, "How can we give young adults who want to work in very poor communities the tools to reach out and understand the most marginalized people?" All the good will in the world is not enough if people don't have the ability to engage a segment of society that is frequently excluded. Well-intentioned efforts often fail to reach everyone, leading to pointless accusations and debates over whom to blame: "We had a terrific program but those people never wanted to be involved." "You should have given them this instead of that." "Some people just don't want help." The training focused on skills needed to make programs accessible to everyone.
To implement the training program, ATD partnered with the Bangui Central African Agency for Vocational Training and Employment, the French Alliance, and the University of Bangui.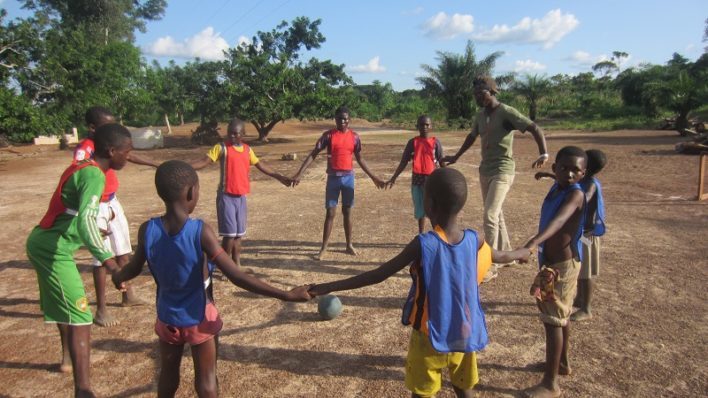 Twelve trainees were recruited from among people already committed to families facing extreme difficulties. The program looked carefully for people who were always ready to lend an ear and deeply committed to those who are most excluded. Key trainers in the effort were people who themselves came from marginalized communities.
Training Program Elements
Two days a week, the 12 young adults came to ATD Fourth World's centre for field experience. Seven of them learned about "knowledge sharing" by facilitating Street Libraries, one in the M' Poko refugee camp in Kokoro-Boeing, and the other in the village of Danzi. Five other trainees conducted interviews in the Koula Mandja and Kokoro-Boeing villages as part of a participatory research/action project on education. The training program also included two internships for each person in organizations like Caritas, the HIV Welcome Support Centre, the Ministry of Social Affairs, etc.
One day every week was devoted to writing about field experiences; transcribing research-action group meetings; or discovering new games, books and facilitation techniques. Each month trainees had the opportunity to participate in individual and collective evaluations of their "Personal Development Plan".
A multidisciplinary Advisors Group of six people followed the experimental training program and made connections with similar efforts in the Central African Republic and other countries. The Advisory Group included people from the non-profit sector; a university; and the fields of vocational training, law, and development; as well as a representative from ATD Fourth World.
In their final evaluation, participants described learning about their country, about people living in poverty, and about themselves:
"People have told me about the war and now I see the reality of my country in the refugee camps. I see families who had to leave their homes and who are now sleeping under tarps."

"Parents appreciated the way we read books and facilitated activities", said one of the trainees. "They told us that if we were there every day it would have a positive impact on the children. 'When you are not there', the parents said, 'they make weapons out of clay…'"
Program Graduates Find Jobs Building Peace
The training program made a significant impression on the young people involved, some of whom have gone on to work in a program called "Building the Future" where they put their new outreach skills into practice. They work with children living on the streets and support women who face difficulties because of their minority Muslim status or because so many men have left the community. Others work in literacy and sewing classes, as well as an infant day care that enables women to return to work.
In addition, five of the trainees have been hired by community development non-profits involved in protecting women and children from violence, and reuniting former child soldiers with their families. Three other trainees are interviewing for mediation jobs in areas of the country where citizens are returning after living in refugee camps both inside and outside CAR. The teaching staff will follow the trainees' progress through May, 2017.
Supporting Efforts to Build Peace in CAR
The 12 training program participants have watched as their country recovers from war. They are determined to be part of the healing process by working to create spaces where social bonds can be reconstructed and communities become whole again.
"In this program I discovered something about my country", explained one of the mediators. "I've seen families bond together in their determination to ensure that in ten years time their children will not be experiencing all the problems that we have just gone through."
The Advisory Group is currently working to establish "Social and Cultural Mediation" as a recognized field in the Central African Republic so that it can become an established profession.