Leave No One Behind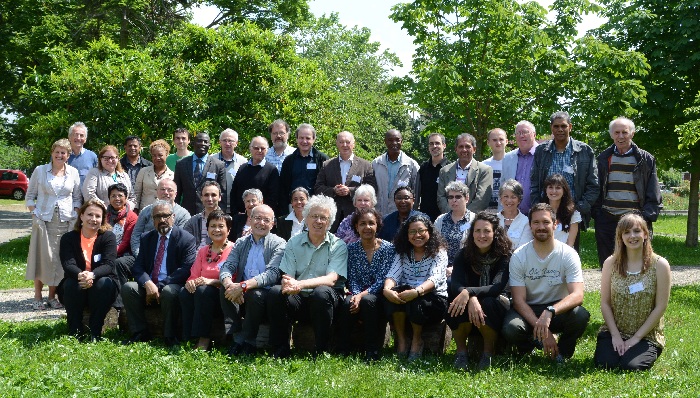 'Perspectives' excerpt from the 2013-2015 report of ATD Fourth World, approved by the general assembly on 7 and 8 June 2016 in Pierrelaye, France.
Throughout this report, we have highlighted significant actions and commitments.
Around the world, men and women are thus refusing to accept the violence of extreme poverty. They commit themselves to creating places where it is possible to come together and recognize that we are from the same humanity, creating ties to one another, and acting to put an end to fear, humiliation and the denial of human rights. They call for "no one to be left behind", a condition for building a just world and a sustainable peace. By adopting the Sustainable Development Goals (SDGs), the heads of member states of the United Nations heard this appeal and situated it as the primary ambition for the years ahead. But these daily commitments are essential to really making it happen.
A World-Wide Rallying Cry to Overcome Extreme Poverty and Create Peace
This is why the International Movement ATD Fourth World is launching a wide rallying cry inviting all people to express our determination to overcome extreme poverty and to learn together how to liberate ourselves from the logic of social exclusion. This will culminate on October 17, 2017, marking the thirtieth anniversary of the appeal engraved on the Plaza of Human Rights and Liberties in Paris:
October 17, 1987
On this day, defenders of human and civil rights from every continent gathered here.
They paid homage to the victims of hunger, ignorance, and violence.
They affirmed their conviction that human misery is not inevitable.
They pledged their solidarity with all people who,
throughout the world, strive to eradicate extreme poverty.
"Wherever men and women are condemned to live in poverty, human rights are violated.
To come together to ensure these rights be respected is our solemn duty."
— Fr. Joseph Wresinski
Joseph Wresinski, founder of ATD Fourth World, born in poverty, developed a way of thinking and acting that questions all of our societies. It allowed a voice to be heard which until then had been ignored: one expressing the thinking and intelligence of people marginalized by extreme poverty. At a moment when the United Nations is calling on everyone's implication in order for the Sustainable Development Goals to succeed, it is vital to give even more resonance to this voice. The time has come to learn with the people who face extreme poverty how to overcome social exclusion and build a sustainable world where no one will be discriminated against or abandoned.
Defining non-monetary indicators of extreme poverty
To contribute to this, ATD Fourth World is initiating a participatory research project so that the poorest populations themselves are associated with defining poverty and the indicators which serve to measure it. This project, carried out jointly with Oxford University, and bringing together people living in poverty, grassroots workers and academics from eight countries, aims to be an essential contribution so that the way of measuring advances in projects and policies does not mask the situations of the worst-off, but rather leads to effective and useful choices for everyone that leave no one behind.
For humanitarian and development aid that reinforce solidarity
Through our long-term commitment in different countries with the most abandoned populations, we are witnesses to the perverse effects that result from humanitarian and development aid when the projects are run without a true knowledge of the reality of extreme poverty and without the participation of those living in it. That is why, in the follow-up to the first World Humanitarian Summit, we are looking to contribute so that the international community uses all means possible so that humanitarian aid reinforces communities rather than dividing them. For this, reaching the poorest and supporting the efforts of those who are already fighting against extreme poverty — before natural catastrophes or conflicts happen — must be the objective. For sixty years, through our actions to build the future at the heart of extreme poverty's urgency, first in Noisy-le-Grand in France and then elsewhere in the world, notably in Haiti, New Orleans, Madagascar, and the Central African Republic, the poorest people and families have taught us that the goal of international aid cannot only be to produce material or technical changes. It must be to have human rights progress for all, with everyone's inalienable dignity as the guiding force.
They have taught us that we cannot have mass quantitative objectives that risk creating violence and leaving some behind, but rather we must search how to reach all the members of a community and above all those who have become invisible due to their poverty. In this way, all humanitarian or development projects should be able to count on individuals whose explicit mission is to understand who are the populations most menaced by isolation and rejection and what are the organizations they can confidently rely on. More financial and other support should be directed towards local actors who know the situation and context better. The decision-making process should be done at a rhythm that allows populations living in poverty to be associated so that they can be true partners in the elaboration, implementation and evaluation of projects. Families living in poverty have taught us: projects planned without them turn against them.
For a governance that links the intelligence of everyone
Until today, no country in the world has equipped itself with a governance built by relying on the intelligence of everyone, including the most disadvantaged people. All of our countries must learn how to do this. If they fully take their responsibilities regarding social exclusion — as the Guiding Principles on Extreme Poverty and Human Rights asks — it would allow new paths of dialogue as equals to be opened between peoples and to re-think international cooperation. Indeed, this is what the SDGs invite us to do by proposing, for the first time ever, a universal agenda.
The international community is now aiming for a world freed from extreme poverty and respectful of the environment. To accomplish this, it is high time to count on the rich experience of people living in persistent poverty. Often, they are alone to assume the situation that is imposed on them, finding ways not to give in to despair and supporting others even poorer than themselves. It is time to let ourselves be guided by the pathways of peace that they dare to create in silence, by their little-known efforts, courage, and intelligence. We could, in this way, invent a new têt ansanm* governance so needed by the world.
Isabelle Pypaert Perrin
Director General