Legal Office for Social Rights in Madrid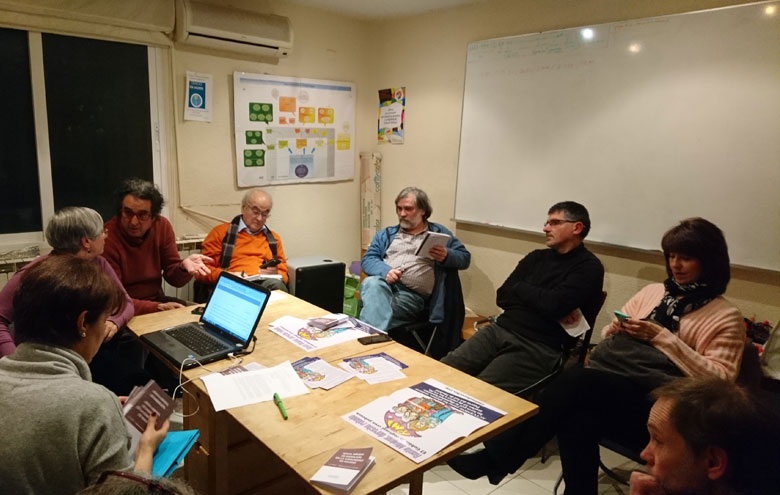 Above: Meeting of the Legal Office for Social Rights in Madrid, Spain.
Tackling extreme poverty is often seen as a job for experts. Professionals just need to figure out problems of satisfying material needs or managing distribution of money and other resources. But part of poverty is also feeling marginalised, or suffering from prejudice and loneliness. Addressing both aspects of poverty is a new initiative in Madrid that allows people in hardship to collaborate with professionals to seek solutions together.
Around the world today, people in poverty do not enjoy the same rights as others. ATD's international branch focuses on campaigns for policy change such as providing minimum levels of social protection or using multi-dimensional aspects to measure poverty.
At regional and national levels, ATD is backing policy changes to protect people's rights as well, advocating for compliance with the European Social Charter, for minimum wage and pension incomes above the poverty line, and for everyone's right to housing.
In Madrid, as in other parts of the world, ATD's daily contact with people experiencing extreme poverty and exclusion reveals many ongoing violations of human rights. This has led ATD to organise other activities in addition to its policy related advocacy.
Several years ago, ATD in Madrid created the Legal Office for Social Rights. As in all ATD efforts, this initiative recognises and includes the experiences of people in poverty. It also relies on collaboration with local support groups as well as legal, social work, and health care professionals. Bringing together the knowledge and experience of everyone involved, the initiative seeks a broader understanding of the rights of those living in extreme poverty as well as a more effective defence of these rights.
The Madrid Legal Office for Social Rights
The main activities of this new Office are:
Studying specific cases, assessing possibilities for responding through legal channels, and identifying cases in which winning could serve as a model for others.
Identifying priority issues where there is a need for training and other tools to advocate for human rights.
Contributing to mobilisation and group empowerment as well as training groups through communication and alliances with various networks. The Legal Office prioritises participation of people in poverty involved in the cases. There is emphasis on collaboration with professionals, particularly from social services.
Improving legislation, for example guaranteeing compliance with the European Social Charter and political advocacy on key issues including minimum wage, housing, and residency registration.
The Legal Office for Social Rights meets on the first Monday of every month at 17:00 at the ATD Fourth World headquarters in Madrid. Individuals or groups in poverty experiencing a violation of their rights (Minimum Wage allowances, health, documentation issues, etc.) are welcome to attend.
At each meeting, people work together to identify the problem and determine what legal, political or public relations measures can be taken to find solutions.
For more information, please contact: