Special Letter – October 17, 2018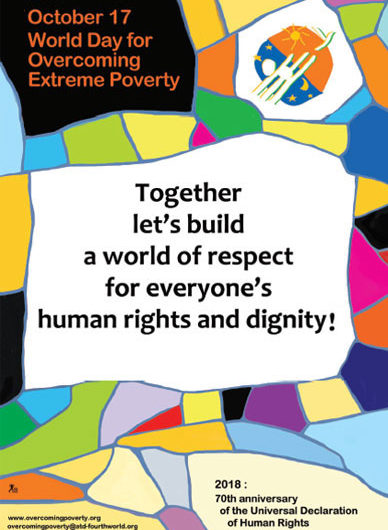 UN theme for October 17, 2018
Coming together with those furthest behind to build an inclusive world of universal respect for human rights and dignity.
October 17 – World Day for Overcoming Poverty
On October 17, 1987, more than 100,000 people gathered on the Trocadero Plaza in Paris, where the Universal Declaration of Human Rights was signed in 1948.
On the commemorative stone in honour of the victims of extreme poverty, inaugurated that day, were engraved the words:
"Wherever men and women are condemned to live in extreme poverty, human rights are violated. To come together to ensure that these rights be respected is our solemn duty."
Joseph Wresinski, founder ATD Fourth World
Today, there are numerous replicas of this commemorative stone throughout the world. There is one in Mauritius and here is what a person living in poverty says about it:
This stone is a part of me. Before it was here, we had it in our mind and our dreams. Now that it is here, it is in everyone's memory.
At the heart of this event, the voice of those facing persistent poverty!
Because people don't know us, we are too often seen as lazy people and cheats. Many among us are familiar with this reality; it begins, sometimes from childhood on, at school.

Last year, I went to see a doctor close to where I live. When I told him where I was living, he replied that this is where families with social problems live. I didn't dare answer back. By this remark, I felt that I had been pushed to the bottom of society.

When people who respect us are standing by us, we are able to better fight for ourselves, to better fight alongside others, and to better fight for others.
I am somebody!
On 17 October, we listen to people who express what it means to struggle to raise children and deal with difficult housing conditions, who feel isolated, who have no voice in the community and in politics…

Each time, they get ready to speak up thanks to the support of others who believe in them. What they mainly want to say is: I am somebody. I am somebody!
Jean Stallings, USA. Member of the International Committee for October 17