Maïmouna Kebe, Volunteer Corps Member with a Gift for Human Connection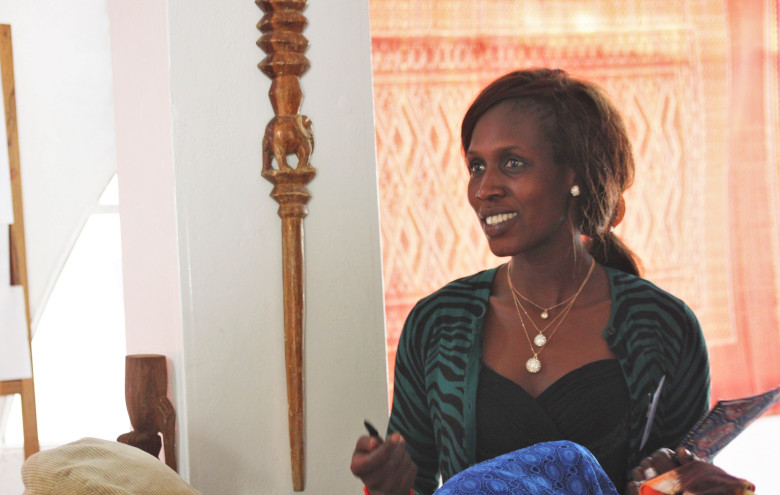 Photo above: Maïmouna Kebe, Dakar, Senegal © ATD Fourth World
In early 2021, ATD Fourth World mourned the death of Maïmouna Kebe. Only 37, she was an inspiration to everyone who knew her.
"Help your neighbour"
Growing up in the suburbs of Dakar, Maïmouna heard these words often. Two years after meeting ATD Fourth World in 2010, Maïmouna decided to become a Volunteer Corps member. Her work with ATD brought her close to families in poverty, particularly young girls, in both Africa and Europe.
"Often, we face very difficult situations that I'm seeing for the first time", she said. "Things that I tell myself should never happen in Senegal. It's unbelievable. Sometimes I just want to shout out loud, because it's so unfair. But even if I did, no one would hear me. How can we change things? I ask myself how I can help families without making them uncomfortable or pushing them in a direction they don't really want to go."
A soap-making workshop, but more than just making soap
With young girls from the Guinaw Rails neighbourhood, Maïmouna started a soap-making workshop. To learn how to make a quality product, she visited a soap factory. But Maïmouna always kept in mind what was most important. "We don't just make soap", she said. "We talk about the things that help us move forward in life. On each bar of soap we write 'Nit nitay garabam' [Wolof proverb that means 'People are their own solution'].
"People are what can change a community. For example, we try to meet in different people's houses. That way others understand that people in extreme poverty can also welcome guests into their home. Sometimes we think that a person without much education doesn't understand anything. But I learn a lot from the people I work with."
Video in French of the soap workshop in Guinaw Rails:
When Maïmouna visited ATD teams in other countries, she would always ask what activities they were working on. Often she said,
"Projects only come alive when they are based on the everyday experiences of families in extreme poverty."
Working in France during the pandemic
When Maïmouna passed away, she had been a member of the ATD team in Noisy-le-Grand, France. Working and living among families in poverty, she shared their desire for a better life, whatever it took to get there. Maïmouna was good at finding ways to inspire a love of learning in children. She also knew how to get young people talking. But she had no problem standing up to them when necessary.
When Maïmouna first came to France, she found the foster care placement system absolutely shocking. It was something completely unimaginable for her.
During the recent lockdowns, Maïmouna and her team members got creative. Staying in contact with children's teachers, they organised homework help and story times. To stay safe but keep in touch with people, they worked from balconies or windows, sometimes between stairwell landings.
Building relationships to counter poverty's isolation
Growing up in Senegal, Maïmouna had learned how to bring people together. Understanding the importance of human connection in the face of poverty's isolation, she focussed on building relationships. She brought together women from different communities who all shared similar experiences with discrimination. Alone, Maïmouna could see, they had no way to develop the condifence that comes from meeting people who have been through the same things. Maïmouna had a gift for building people's self-respect. In doing so, she created trust and unity.
Excerpt of a letter to ATD Fourth World from the International Leadership Team following Maïmouna's death in January, 2021.