Making Connections: Young People Know How to Reach Out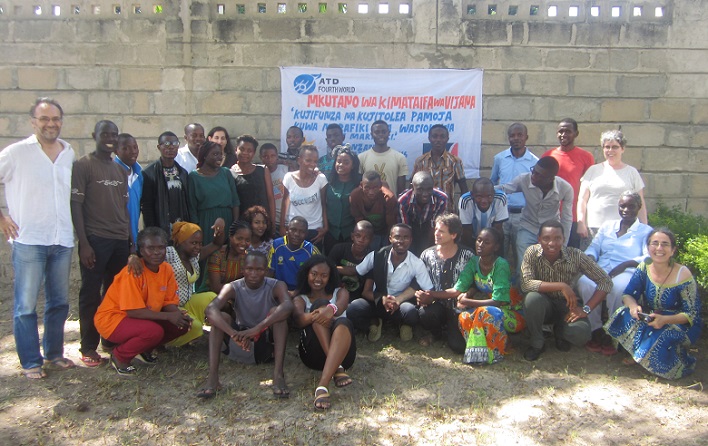 Dar-es-Salaam, Tanzania-In March, 30 young people attended a week long workshop to share success stories and to learn from each other's accomplishments working in low-income communities. The workshop, "Learning and committing together to be friends to the friendless", included participants from Ethiopia, the Democratic Republic of the Congo, Kenya, and Tanzania. Some were members of ATD Fourth World and others were from groups that are part of a broad network coordinated by ATD, called the Forum on Overcoming Extreme Poverty.
Learning from what works
Facilitator Orna Shemer, a social worker and academic, used the Learning from Success method to highlight the achievements of the various activities run by seminar participants in their own country. Focusing on success helped the young people to be proud of their work and also to be inspired by what others were doing. In addition, participants learned leadership skills to improve their activities back home.
Workshop participants visited neighbourhoods in Tanzania where young people run Street Libraries and other activities. They learned first hand from families living there how these programmes make a difference. Here is how one parent described how the Street Library helped her community: "Thanks to the Street Library, our children are bright and alert. They learn the difference between right and wrong. The organisers of the Street Library have encouraged us to go and talk to their teachers. We used to be afraid to visit the school, but now we are able to work with the teachers to help our children." Another parent said, "I learned to read and write and now I help others through the literacy classes: ATD has helped us not to hide away in the shadows, but to come out and live our lives in broad daylight."
The workshop began with each participant using a photo collage to show how they engage with people who may be excluded or left out in their communities. Then Orna introduced the goals of the session: "We are going to look at how you translate your good intentions into concrete activities. Most of you work in groups and your accomplishments reflect your own efforts and those of the people in poverty who join you. All of you have something important to say from your own perspective."
Participants all brought videos of their projects. These included:
supporting refugees, people with visual impairments, or elderly people
supporting children through Street Libraries, homework tutoring groups, or camps organised with children in a shantytown
and getting neighbours involved in solidarity to help repair homes, roads, or drainage ditches.
Effective ways to reach out to people who have been excluded
For projects to successfully reach out to children who are bullied, and individuals or entire families who are stigmatised and mistreated by others, participants identified five important elements:
make sure the activity is well prepared, not just thrown together spontaneously
develop relationships and partnerships that allow for new opportunities
build mutual trust and ensure that everyone involved can count on one another
recognise that all participants have something to teach one another
ensure that no one ever feels left out.
Participants identified what they did to put these elements into practice effectively:
"Allowing children to choose what they want to draw is essential because we work with children who have had so few choices in their lives."
"We schedule activities around the jobs that children have to do to support their families. We should always be flexible in order to adapt the project to each child's circumstances."
"The way that we behave and interact with people who may be isolated or apprehensive is very important to winning their trust."
"Don't act as if you were above people in a way that implies they are inferior. For example, if I help someone with lice-combing, I'll disinfect my hands with petrol afterwards, but I do that discretely so I don't embarrass anyone."
Throughout the seminar, these ideas were compiled in a PowerPoint presentation that was made available at the end of the seminar as a tool participants could use to share what they had learned when they went home. This presentation can be downloaded here.
One of the participants described how the Learning from Success method could be useful back home. "In the Congo there is a group of families living in extreme poverty and they meet each month to talk about the problems they encounter and how they try to solve them. I think it's a good idea to use this method of sharing success stories with one another. And if they are happy to share their success stories, then others will see the joy this gives them."
Seminar participants engaged in Forum Theatre (1) to demonstrate to others some of the challenges they face. One explained, "My mother asked me, 'Where are you going? What are you going to get out of this?' I said, 'Mum, God has given me so much totally free. Why should I not give back to others without expecting anything in return?' Sometimes we have to help our parents understand what we are doing."
Participants also taught each other songs and games from their countries. Some learned how to do Chinese shadow theatre, or had a chance to discover more about the Tapori children's movement coordinated by ATD. Videos shown were about how young people in several countries are involved with anti-poverty work. And, last but not least, there was a trip to the beach, which was a special treat for those who had never seen an ocean!
"You, me, everyone — we all have to get involved!"
Comments at the end of the session were very positive:
"I understood that I am not alone in this world to work for peace, to call for equality, to want a world without discrimination. Working to overcome poverty is everyone's business. You, me, everyone — we all have to get involved to make sure no one is left behind!"
"We don't need to do much, just a little something that makes sense. Helping people in difficulty isn't just giving money. It's also being their friend and getting to know them. These people are part of our community; their experience and ideas are very important."
In her conclusion, Orna Shemer encouraged the young participants:
"When I look at you I see leaders; I see that you have a lot of strength. Strength means being sensitive to the suffering and poverty of others. It's the capacity to want the same opportunities for all. It's the capacity to criticize the way society is built. It's the capacity to oppose social injustice and strive for civil rights. It's because you have this strength that I see you as leaders, because you have this power, anchored in your stories. Here we have learned from one another. And we are always able to learn, including from people who live in poverty."
Rene Muhindo, who traveled from the Democratic Republic of the
Congo to attend this workshop, reflected about it in ATD's
collective blog "Together in Dignity". To read his post, click here.
1. Part of Augusto Boal's Theatre of the Oppressed, this is a technique where the audience plays an active role in transforming the situations acted out.