Message – November 2015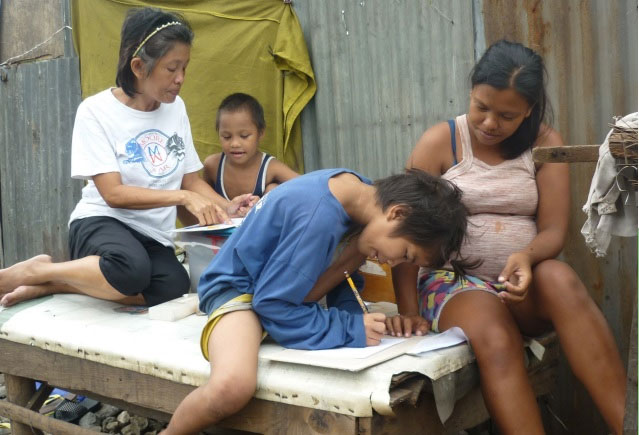 By Isabelle Pypaert Perrin
"Education really matters to me — that's the only thing they can never take from our kids."
These are the words of Eden, a young Filipina woman who lives in Manila's North Cemetery. She has returned from Jordan, where she was a domestic worker. Although life there was harsh, the money she earned helped pay for the schooling of her younger brothers and sisters.
Today, Eden is back home in the Philippines, where she has joined others from ATD Fourth World in running a literacy program called Ang Galing! or "Awesome!" In the same under-served communities where we run Street Libraries for all children, the program offers extra support for children whose living conditions are too difficult for them to attend school regularly — their parents may not be able to afford the fees, or they lack the necessary documents to enroll. There are also children who attend school only occasionally, on the days when their family has enough to eat. And some of the families must move from place to place, so it's hard to have their children consistently attend one school.
Despite these obstacles, Eden and the other Ang Galing! literacy tutors make a point of generating enthusiasm that unleashes the children's potential and helps them catch up to their age level so that can start attending school. To create ideal learning conditions, the tutors reach out to children in their homes at whatever stage of learning they are. The tutors use a variety of games and activities, adapting methods to each child's preferences and needs. This gradual, personalized approach builds self-confidence and sharpens the children's appetite for learning.
The children learn by leaps and bounds. From not knowing the alphabet, they can soon begin spelling words. Their biggest victory is finding out that they are capable of learning.
Many of the parents welcome the tutors into their homes — even in cramped and crowded conditions — and all are eager to see their children progress. The tutors support parents in their efforts to send their children to school and they stay in touch with teachers once children are registered in a class.
Mrs. F. made sure her son took part in Ang Galing! regularly this year, but she was never present because she was ashamed of her own lack of education. As a child, Mrs. F. was able to attend only kindergarten. As an adult, she recognizes the letters of the alphabet, but cannot read or write. Even while she hung back from the literacy program, she always wanted to know what her son had done there and whether he was learning. Since their family moved to a new home last January, Mrs. F. decided to welcome Ang Galing! into her own home, where her son and other children participate in the sessions. She recently asked ATD volunteers to leave the learning materials there so that the children could continue on their own. Just a few days later, a volunteer dropped by unannounced and found Mrs. F. teaching children the alphabet. Mrs. F. is now taking steps to register three of her children for school next year.
As 2015 draws to a close, we are thinking of Eden, Mrs. F., and so many other people who strive to ensure that children's natural thirst for learning will take them as far as possible. Wherever you are, your gift can help support these efforts in the Philippines and in many other countries where we run Street Libraries, Story Gardens, and literacy programs with families who are among the most disadvantaged.