A Message of Peace – Playing for Change and ATD Fourth World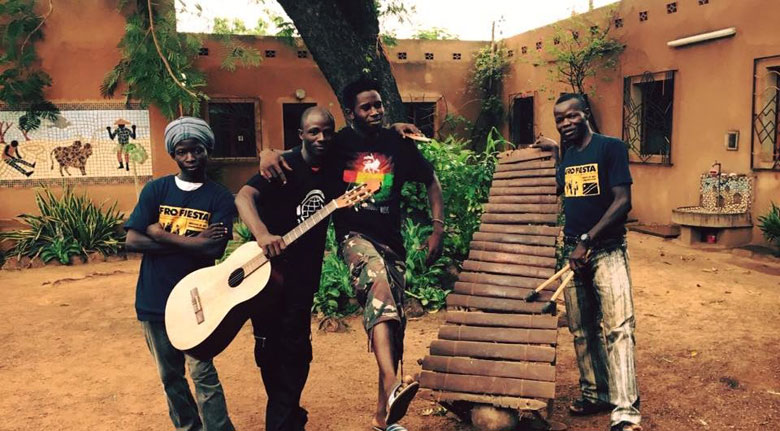 This article is imported from our 2017 Stop Poverty Campaign web site.
In Ouagadougou at the end of June, four young musicians, all members of ATD Fourth World who had grown up on the streets of the city, worked to translate a song by the American musician Ben Harper into French.
I can change the world
With my own two hands
Make a better place
With my own two hands…
For Ahmed, Alassane, Ousseini and Roger music had long been a tool to talk about their struggles growing up and their hopes for a better future. As Ahmed put it: "I feel that my responsibility is to make songs that will touch people, and to pass on a message of peace."
Preparing and rehearsing were the last step before the international recording group Playing for Change came to town to begin their latest project: a Song Around the World video for the ATD Fourth World Stop Poverty campaign.
Playing for Change, a "movement created to inspire and connect the world through music," was born in 2002 as a project traveling the United States to record street musicians. In 2005, the mission went global with their first Song Around the World: Stand by Me, bringing together street musicians from all over the world in one video.
"The idea," in the words of PfC co-founder Mark Johnson, "is to show people enough different cultures using music to uplift themselves, so that we can see the connections we all have."
The power of music to unite and create connections has been at the heart of ATD Fourth World's work for decades as well. As ATD Fourth World founder Joseph Wresinski wrote in 1987, at the launch of a global campaign inviting choirs to sing together to break down social boundaries, "Whether in the aldeas of Guatemala, the mornes of Haiti, the slums of Africa or Asia, or the shantytowns of Europe, wherever families are trapped in the most intolerable poverty they sing their dignity."
Words close to the heart of the young Burkinabe musicians who were recorded by Playing for Change in June. As Roger, another of the musicians, put it: "All of us have crossed the desert of extreme poverty and it's thanks to the ATD Courtyard, the support, the education provided there, and the message of Father Joseph, that I had good ideas, that a path was created for me. So why not singing about that?"
Over the coming months, Playing for Change will be visiting ATD Fourth World teams in Haiti, Spain, Canada, and the Philippines to add musicians connected to ATD Fourth World teams to the video, and build a world class clip for release in October 2017, just in time for the 30th World Day for Overcoming Poverty.
We will have updates here from stops along the way – we hope you'll follow the journey!