Here Where We Live: Wresinski, Poverty, And Human Rights in Latin America and the Caribbean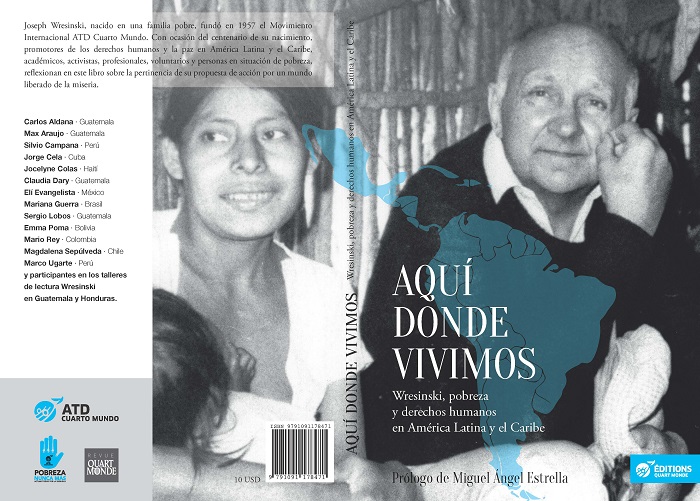 Here Where We Live: Wresinski, Poverty, and Human Rights in Latin America and the Caribbean was recently published in Mexico as part of the ATD Stop Poverty Campaign. With contributions from 15 authors in 10 different countries, Here Where We Live is a collection of essays by human rights activists from a variety of backgrounds. Through accounts of their own experiences, academics, people living in poverty, activists, professionals, and volunteers explore Jospeh Wresinski's achievements and vision — and their implications for Latin America and the Caribbean. The book appears 100 years after Joseph Wresinski was born and 60 years after he founded ATD Fourth World.
In the book's prologue, Miguel Ángel Estrella, the extraordinary Argentinian pianist, human rights activist, and ATD supporter, places Wresinski alongside Mandela, Sister Emmanuelle, Gandhi, and Archbishop Romero – people he calls "indispensible to humanity". Sharing his own story of abuse suffered at the hands of South American dictators in the 1970's, Estrella talks about meeting Joseph Wresinski and being struck by his spirit of "tireless inquiry". With great clarity, Estrella describes his deeply meaningful conversations with Wresinski over a period of many years. They discussed politics, activism, and humanism along with more personal issues in a dialogue about transforming the world that, in the end, transformed both men. Like the conversations between Estrella and Wresinski, Here Where We Live is an invitation to both political and personal transformation. The book's value lies in the diversity of culture, experience and understanding that the different authors bring to an assessment of Wresinski's legacy.
"My encounters with the work, vision, and humanism of Wresinski and ATD Fourth World fed my reflections and my hope for a better world", says Mario Rey, from Columbia. Rey and another of the book's contributors, Marco Ugarte from Peru, share a past of committed political activism, disappointments and new discoveries. The chapters by Jocelyne Colas, from Haiti, and Jorge Cela, from Cuba, are strongly influenced by the impact of slavery on the history of their countries and on humanity as a whole. Colas quotes Wresinski who said, "Every person holds within themselves fundamental and inalienable value and dignity."
"This inalienable value", Colas continues, "is what will sooner or later stimulate women and men to free themselves from all oppression and denial of their rightful dignity […] Wresinski says that the poorest among us have great inner strength. This is the same inner strength that inspired the freedom of slaves who always held the conviction that nobody can ever accept a life in inhuman conditions."
Emma Poma from Bolivia, Mariana Guerra from Brazil, and Claudia Dary from Guatemala all emphasize the importance of a strong personal commitment to activism and of people joining together on a shared path, something that Wresinski also continually sought. "Simply by getting to know someone else", says Guerra, "we can transform […] our attitudes and, in doing so, change the world. Love has a transformative power." Poma highlights Wresinski's statement, "Wherever men and women are condemned to live in extreme poverty, human rights are violated. To come together to ensure that these rights be respected is our solemn duty." She adds, "These words really made me think. They bore a strong relationship to my personal life. I did not know whom I should join up with in order to make sure my rights were respected."
Eli Evangelista, from Mexico, and Carlos Aldana, from Guatemala, focus on Wresinski's idealistic vision and his projects that were in many ways quite radical. Perhaps because they are professors, both authors take away from Wresinski's work the elements that are both idealistic and ground breaking. They appreciate his unconventional thinking. Wresinski's way of seeing things in a completely new light is critical to progress in all areas of knowledge, especially in a university setting. Speaking of the connection Wresinski made between poverty and human rights, Aldana asks "Is this not a radical idea that goes beyond any non-violent revolution that has ever occurred up to now?" Similarly, the essays from Guatemala and Honduras reflect the work of ATD, and express the ideal that all people are of equal value, regardless of their background. They emphasize that people in poverty already have everything they need to "do things well and do them from the heart."
Two authors from South America also focus on Wresinski's insistence that poverty is a violation of human rights. Magdalena Sepúlveda, from Chile, has served as Special Rapporteur for the United Nations on Extreme Poverty and Human Rights. Silvio Campana has served as Ombudsman for the Cusco, Puno, Madre de Dios and Apurímac regions of Peru. While the relationship between poverty and human rights is not yet fully accepted everywhere, these authors found it to be a compelling aspect of Wresinski's work. Max Araujo and Sergio Lobos, both from Guatemala, describe Wresinski's insights into the culture and skills that people in extreme poverty possess as well as other aspects of culture and training that should be considered as rights.
In addition to the authors, many people helped compile Here Where We Live. Under the direction of ATD Fourth World's Matt Davies, Beatriz Monje, Dimas Perez and Rosalbina Perez, many friends of ATD contributed to the book's production in a number of ways. Their combined efforts illustrate what Wresinski often said: that much could be accomplished when people come together to collaborate in building peace in their community and the world.
Here Where We Live is a book for everyone. From discussions on human rights, policy, and culture to essays on human dignity, Christianity, non-violent revolution and resistance, most readers will find something of interest. For those curious about the life and work of Joseph Wresinski, the book provides an excellent opportunity to learn more about this extraordinary man. In the coming months, there will be presentations on the book throughout Latin America and the Caribbean. Information on upcoming events is available through the STOP Poverty campaign website.
Here Where We Live (published in Spanish only, April, 2017) will be available through Editions Quart Monde, or the regional team for Latin America and the Caribbean –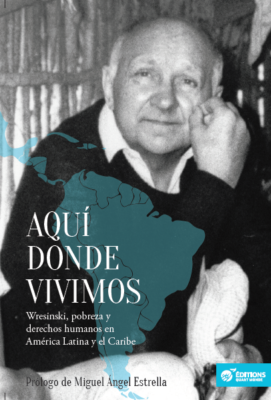 Authors included in the book: Carlos Aldana, Max Araujo, Silvio Campana, Jorge Cela, Jocelyne Colas, Claudia Dary, Elí Evangelista, Mariana Guerra, Sergio Lobos, Emma Poma, Mario Rey, Magdalena Sepúlveda, Marco Ugarte and participants in the Wresinski reading workshop in Guatemala and Honduras.
Prologue by Miguel A. Estrella.
© Editions Quart Monde
First Edition, 2017
ISBN 979-10-91178-47-1
134 pages
Price: 10 USD