New Orleans Joins Voices to Break the Silence of Poverty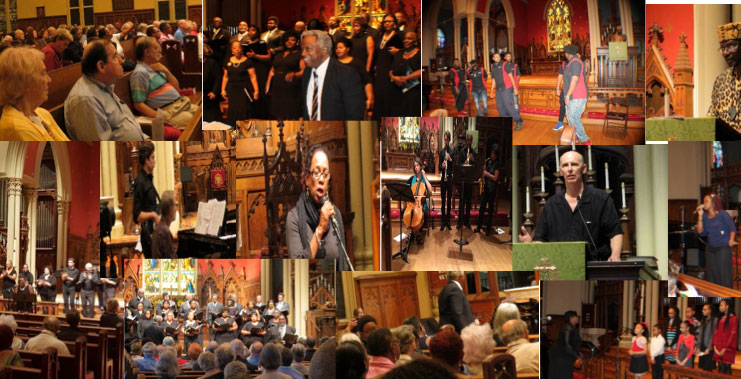 This article is imported from our 2017 Stop Poverty Campaign web site.
On February 12, 2017, Trinity Episcopal Church in New Orleans, Louisiana, USA, held a concert to launch the global Stop Poverty campaign.  With performances by The New Orleans Black Chorale, Black Men Rising, The Patriotic Youth, and St. Augustine Soulful Voices, before a backdrop of photographs highlighting sixty years of ATD Fourth World's work alongside the most disadvantaged communities, the concert was a poignant commemoration of the 100th anniversary of the birth of Joseph Wresinski, founder of ATD Fourth World.
Robert Mauss told the audience the story of Wresinski's life.  Born into extreme poverty, Wresinski founded ATD Fourth World sixty years ago with families with experiences of poverty to eradicate extreme poverty in all its forms. Mauss followed by inviting the audience to join in reciting the message of the commemorative stone inaugurated on the first World Day for Overcoming Poverty: "Wherever men and women are condemned to live in extreme poverty, human rights are violated. To come together to ensure those rights be respected is our solemn duty."
Allen Powell opened the concert.  The New Orleans Black Chorale, with voices like the autumn breeze, sang the opening song, "America the Beautiful" and closed with a standing crowd singing "We Shall Overcome."
Black Men Rising, the youth movement of Families and Friends of Louisiana's Incarcerated Children, pierced the soul with snapshots of pain and possibilities for hope in their original dramatic choreographic poetry, "I Am a Black Man Rising."
Joyful sang "Stand by Me" with the energy and emotion of an original hit.
The Patriotic Youth, directed by Valerie Francis-Jones, filled the air with sweet harmony in "Something Inside so Strong," a song of determination regardless of how difficult the struggle may be. "There was so much wonderful talent in each group, from the gentle voices of the children to the large group," said  Sr. M Joanne Ladwig.
St. Augustine Soulful Voices sang, "I Never lost my Hope."  Manon Prizgintas said "They sounded like 100 people."   Les Bohémiens Band with singer Maria Victoire performed Le déserteur (Boris Vian), an antiwar song.  Everyone was amazed by the quality of the concert.   "Marge Paletou said, "The entire concert was excellent!  Each performance was unique – and each as special."