New Street Library in Spain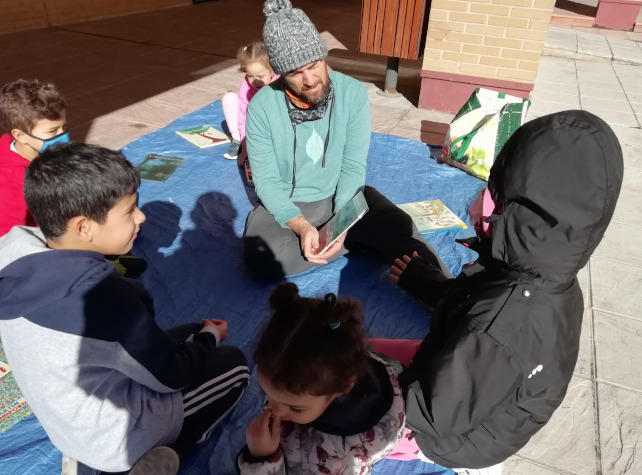 Photo above: Street Library in Parla
In recent years, ATD Fourth World's team in Madrid, Spain has been working to identify disadvantaged neighbourhoods where they could set up a new centre. The team hoped to find a good place to collaborate with people, families, and organisations working to overcome persistent poverty.
Several members of the Volunteer Corps moved to the Municipality of Parla in order to build ties in the community. With others in the area, they organised a Festival of Learning in two neighbourhoods last summer. More than 400 children came. This success encouraged the team to continue developing relationships in the community. In the fall, Volunteer Corps members started a Street Library in both Parla neighbourhoods.
By ATD Fourth World Madrid Team
Creating a peaceful gathering space – Street Library in Spain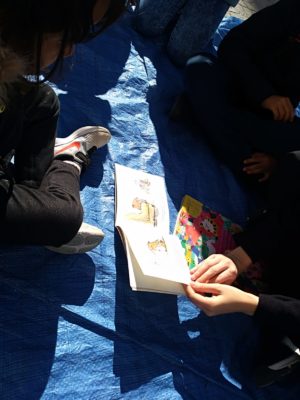 In September, we started spreading out our blue tarpaulins on the street. Every Saturday morning, a group of young people joined us there, sometimes braving the cold and rain. They'd all resisted the temptation to play football [soccer] or video games, or to spend a lazy day in their pyjamas.
Each Saturday brings an adventure with delightful surprises. Freshly laundered sheets wave a greeting, as do the open windows of people airing out their homes. We hear shouts of, "I can't come today. My mother has gone shopping." Or, "I'm on my way down!"
In September, we were practically unknown. But now, our books and games serve as a gathering place.
The only activity on offer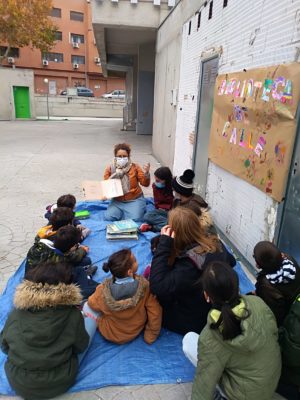 Since last fall, the Street Library has been up and running in two neighbourhoods. In both, humble yet determined people all endure poorly lit streets at night–everyone knows you can't go out and enjoy public places after the sun sets. Institutional and social neglect have left the residential buildings without proper maintenance. Lifts [elevators] haven't worked for years and the garage areas are completely unusable.
But it's not only that the buildings and common areas are abandoned to their fate. So are the dignity and honour of the people who live there.
Residents share other experiences as well–like the insults. When other people in Parla talk about these two neighbourhoods, it's always with negative comments: the law of the jungle, violence, fear, and so on.
A sense of guilt is common among people living here. So is a lack of rights, even the most basic ones. For example, people don't have their official registration [necessary for access to health care and other services] or any way to participate in civic and cultural activities.
So the Street Library has a responsibility not to disappoint. We can't let people down because this is the only activity on offer in either neighbourhood. That isn't easy.
What is a Street Library?
Well, it is a place where children fill a public space with their laughter, games, and books. It's about occupying the space, turning it into a place where people can make friends in the neighbourhood. The Street Library eliminates the shadow of shame, enabling people to engage in activities everyone enjoys: playing, painting, imagining, and creating things.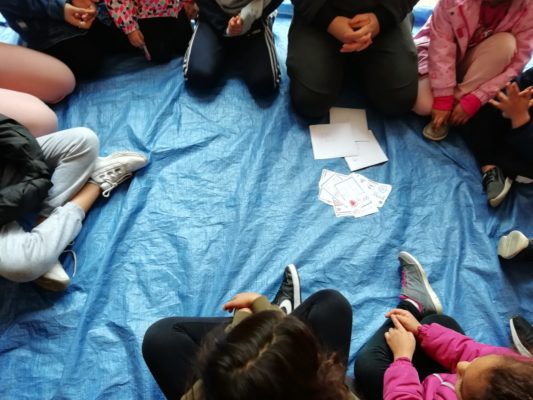 Through the Street Library, people begin to see the world through the windows that books–beautiful, great, funny, and magical–open up. Children can form their own opinions about the world, imagining what they want for themselves and their neighbourhood. Or they might learn about somewhere they would like to visit.
More than just fun activities
The Street Library can also be a place to talk about things that aren't going well. Maybe someone has threatened one family or another has been driven away. Often children have grown-up worries and they suffer the consequences.
Above all, the Street Library is a place where we share and put into practice something everyone can do: help support one another. Neighbours, for example, have been taking turns looking after a single woman who was recently evicted.
The Street Library brings out the peace that lies somewhere in all of us, even if it's sometimes swamped by worries, problems, and frustrations. And it is this internal sense of peace, when nurtured and strengthened, that ignites our desire to make things around us better, more fair and more kind.
This peace in one's heart, however small, has the potential to change the world.