October 17 Interviews at UN in Geneva Highlight Connection between Poverty and Human Rights.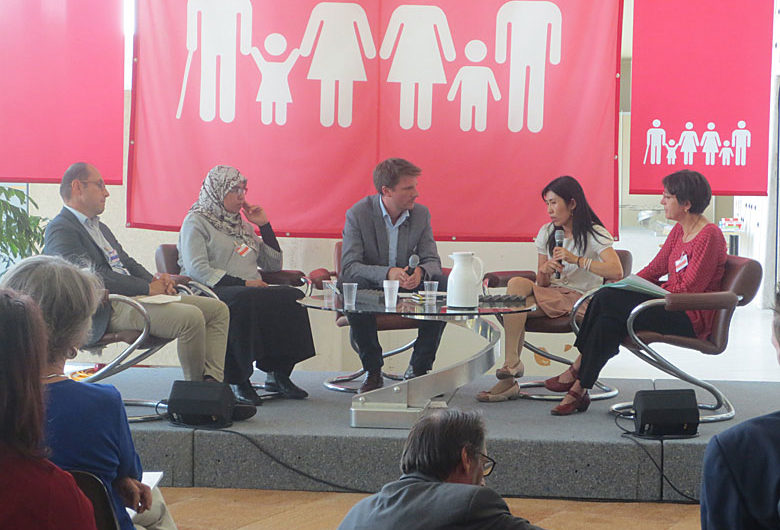 Above: Round table discussion at the UN in Geneva.
This year's International Day for the Eradication of Poverty commemoration took the form of a series of interviews conducted in a public space at the UN in Geneva. In the style of a TV talk show, an interviewer addressed questions to three different groups of guests.
Extreme Poverty as a Human Right Violation
Philip Alston, the UN Special Rapporteur on Extreme Poverty and Human Rights, addressed the first theme in a videotaped statement: "The greatest problem with many approaches to addressing extreme poverty is that people think that it is the fault of the people themselves – that they are lazy, don't want to work. If we insist that there is a right to social protection, then it is clear that it is the government's responsibility to ensure that people can improve their situation."
Natacha Foucard, from the Office of the High Commissioner for Human Rights, asserted that the adoption of the UN Guiding Principles on Extreme Poverty and Human Rights was an important step forward because the Guidelines provide a practical tool for policy-makers. Janet Nelson, as ATD Fourth World's Vice-President, agreed, emphasizing that the Guiding Principles help change the way people living in extreme poverty view themselves. They affirm that extreme poverty can be overcome only by addressing the human rights violations that are its cause and consequence. In addition, the Guiding Principles stress how important it is for people in poverty to participate in developing strategies that correspond to the reality of their lives.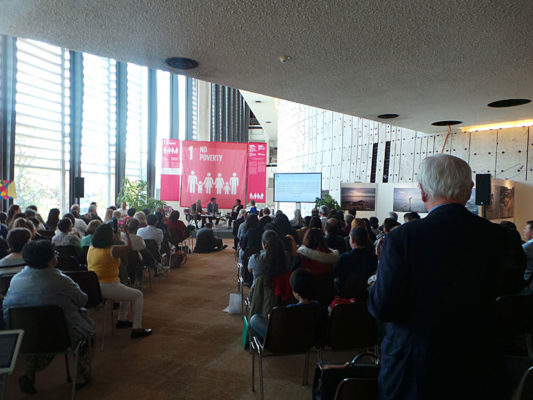 Seeing extreme poverty as the result of human rights violations is a revolutionary idea, Ms. Nelson explained, and so it will take time for policies and behaviours to change accordingly. However, impacts of this view can be seen in new strategies from NGOs who used to approach poverty from a charity perspective. In addition, many anti-poverty NGOs now realize that they are not reaching people living in extreme poverty. And countries such as France and Haiti are using the Guiding Principles as references for policy development.
When asked about the leading role that France played in the adoption of the Guiding Principles, the French Ambassador to the UN, His Excellency François Rivasseau, stressed France's on going commitment to human rights. Insisting that "France is committed to addressing poverty", he explained that President Macron's new anti-poverty strategy focuses on programs for children and young people, since these are formative years that will affect their opportunities for the rest of their lives.
Effective Projects in the Struggle against Extreme Poverty
A new set of people gathered around the table to be interviewed on effective projects. Philip Alston's statement affirmed: "We must accept that even economic growth will not improve the situation of people living in extreme poverty." Junko Tadaki, from OHCHR, emphasized that a charity approach does not address the structural causes of poverty. "One of the measures that many countries have adopted is cash-transfer programs… in which they try to identify the most vulnerable households. What we see as a problem is that often these programs can result in the exclusion of some households… and so we argue for a universal approach based on the right to social protection."
The moderator then turned to Cathy Low, a member of the ATD Volunteer Corps, who described ATD's Madagascar computer training project. Ms Low explained that it was aimed at young people, some with very little schooling. The project was a public-private partnership, with internet companies contributing to the training and offering internships to the students.
Bertrand Foucher, President of Émerjean, the company formed as part of "Territory with Zero Long-Term Unemployment" in France, discussed the project's goal of eliminating long-term unemployment. Located in Villeurbanne, a city with a 30% unemployment rate, Émerjean hires everyone who wants to work. Welfare funds are redirected to help finance jobs serving needs that the community itself identifies. Project participant Halima Zaghar explained that, despite her university degree, she could not find a job because as a practicing Muslim, she wanted to wear a headscarf. "The project has changed my feelings towards French society," she said. "I feel surrounded by well-intentioned people."
Poverty in Geneva
Mrs Nadine Mudry, from Geneva's Office for Social Reintegration, explained that "Poverty is not very visible in Geneva…. [However,] more than 13% of the Geneva population benefits from social welfare allocations…." Philip Alston's statement concurred: "The majority of people aren't aware of the fact that poverty exists in their country. […] But in fact, in every country, there are people who are completely excluded."
Jean-Claude Etienne, Co-president of Coalition 17 October, added that "…[S]ince I am also on welfare, I've seen that eventually you lose confidence in yourself." It is difficult to look for a job, he explained, when the potential employer finds out that you are unemployed or have received disability benefits. "Those of us with low incomes don't fit well into our societies, which are based on production and consumption…. We can't afford to go to the movies or out to a restaurant, and so find ourselves isolated even from people who were formerly friends."
Mrs Mudry stated that Geneva has developed a municipal action plan to address poverty. Asked whether people in poverty themselves have participated in developing the plan's strategies, she said: "Not yet, but that will be the next step… We will present our plan to the people we serve, and see if it corresponds to their needs."
The session ended with questions and answers from the participants, followed by a reception hosted by the Missions of Belgium and France.
In a significant recognition of the connection between extreme poverty and human rights violations, OHCHR listed the International Day for the Eradication of Poverty commemoration as one of the events celebrating the 70th anniversary of the Universal Declaration of Human Rights.
More information on International Day for the Eradication of Poverty.