To Overcome Exclusion and Extreme Poverty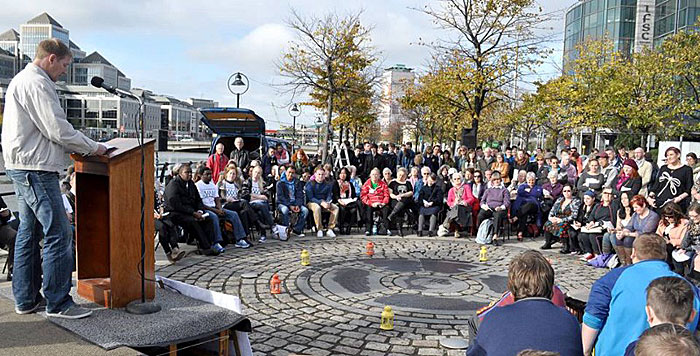 This article is imported from our 2017 Stop Poverty Campaign web site.
Tribune
Emmaüs International and ATD Fourth World
With  Nathalie Péré-Marzano, Director General, Emmaüs International and Bruno Tardieu, Director of the International  #StopPoverty Campaign
On 17 October, the thirtieth World Day for Overcoming Poverty will be celebrated. Without a genuine effort at every level in government and civil society, these commemorations will be necessary for decades to come.
Seventeen years ago all the member states of the United Nations signed a declaration committing to the Millennium Development Goals, which called for an end to poverty. What has happened since then that prompted the international community to establish another set of objectives, the Sustainable Development Goals (SDGs) with a deadline of 2030?
In 2000, the targets applied only to developing countries, as if poverty had simply  disappeared elsewhere. Above all, the goal was to "get half the poor out of poverty", which institutionalized the ongoing violence of discrimination and social triage. Thanks to lobbying efforts of private organizations, the principle underlying the SGDs is to "leave no one behind".
The goals include countries in both the global north and the global south, and aim to protect both people and the planet. This time, the goals can mobilize disadvantaged people, and we are actually capable of reaching them. But success depends on everyone.
We maintain that any goal to eradicate poverty must first and foremost be based on a radical change of approach and be inspired by the intelligence and resistance of people who have been excluded.
This is urgent. We see that throughout the world, in Europe and France in particular, people who live in difficult conditions are not only blamed for their situation but are also seen as contributing to public deficits and being a burden on taxpayers.
People living in poverty face a double suffering: the pain of enduring poverty, and the pain of being blamed for their situation.
For some years now, we have witnessed a dangerous reversal of the values that are at the heart of our humanity, values such as helping people who are suffering, accepting humanity's diversity, living alongside one another with dignity, and providing everyone the opportunity to live the best life they can.
Public, social, and "development" policies, which have been implemented over the last ten years, run counter to these values, stigmatizing people who are marginalized, criticizing them for having trouble finding a place in our society, and even making their access to fundamental rights dependent on them fitting into categories that segment them by age, family situation, and "origin". Under the pretext of improving support for marginalized people, they are screened, and their rights vary according to arbitrary categories: single woman, minor living alone, family, homeless, unemployed, undocumented, asylum seeker, migrant, etc.
Today, because resources are supposedly limited, this fragmentation has led to competition among different groups of beneficiaries, and an approach that prioritizes needs on a sliding scale, which is the opposite of what it should be.  Placing different groups in opposition to one another has obscured the idea of rights available to all.
Similarly, migrants face an unjust and ethically reprehensible situation, again because of a haphazard approach.  It is political choices that force migrants into utter and intolerable destitution, making their daily lives unbearable. They have no rights to housing, drinkable water or decent food, no right to work, and even less access to education or culture.
This insecurity is not at all inevitable; it is the result of a political choice not to welcome people. The reversal of values is seen again when governments prefer to increase expenditure on security-related measures to address migration — measures that feed criminal migration channels and trafficking in human beings — rather than encourage private hosting initiatives.
Governments could draw inspiration from the hospitality that citizens throughout the world offer to migrants, and learn from them how to define new migration policies. One irony of this industry of exile and exclusion is that the poorer countries and populations around the world know how to mobilize to welcome migrants.
People living in poverty now dare to come together, break their silence, and call for action against exclusion, in associations like ATD Fourth World,
Emmaüs, and many others. New practices and new spaces that encourage people to discuss and think together are showing the way, leading to new concepts such as social exclusion, rights such as the CMU [guaranteed health insurance], and the "Territoire Zero Chomeurs" [Districts with no long-term unemployment] initiative. Excluded people are able to organize themselves to ensure their right to health in self-managed community collectives, particularly in Africa and Asia.
Marie Jahrling is among the first people to have emerged from silence.  She says,
"We were despised — we are still despised — but we have kept our humanity. We understood that we were not guilty, but rather victims of the violence of contempt and injustice. Then we realized that we were not only victims but people who resist. We are for humanity."
This new political force calls for an end to exclusion and poverty. But it calls us above all to reverse the choices that are leading our humanity and our planet into a dead end, and to rediscover the path of human values.