Scandinavia: Three Panel Discussions about Artisans of Peace Overcoming Poverty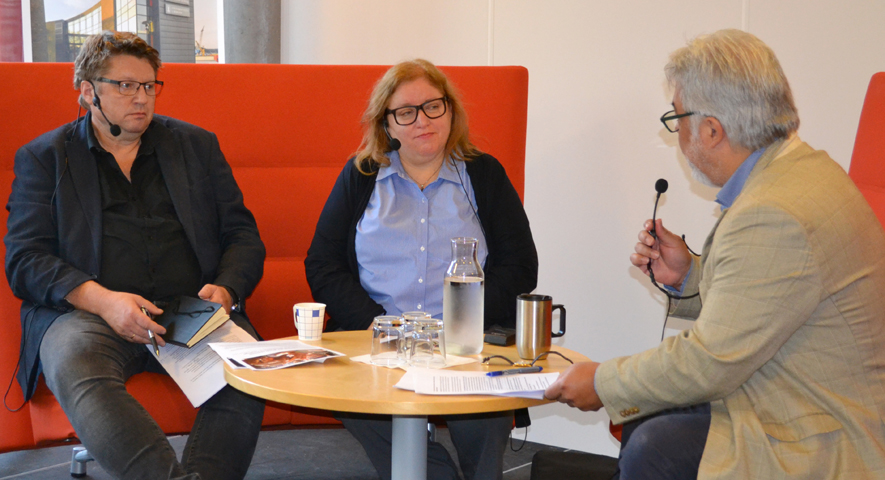 Above: Arne Strand (Christian Michelsen Institute), Diana Skelton (ATD Fourth World), and Alberto Cimadamore (University of Bergen)
Every day, around the world, people living in poverty work for peace in often-unseen ways. The book Artisans of Peace Overcoming Poverty shows the violence of extreme poverty and demonstrates just how much people living in poverty do to search for peace, to transcend violence, and to build a sense of community. Three recent events in Scandinavia were opportunities to discuss this book with researchers, students, and policy makers.
At the University of Bergen in Norway
The first event took place on 26 September at the invitation of the Comparative Research Programme on Poverty (CROP). CROP's scientific director, Dr. Alberto D. Cimadamore of the University of Bergen, led a discussion focused on the common goal of humanitarian aid and of development programmes to save lives and reduce suffering produced by poverty as well as human and natural catastrophes. Diana Skelton of ATD Fourth World presented ATD's frustrations with emergency aid in Haiti following the 2010 earthquake there when policies targeted only the most easily accessible areas and short-term approaches jeopardised existing long-term health care initiatives (See Volume 1 of Artisans of Peace Overcoming Poverty, and also Jacqueline Plaisir's interview on the eve of the World Humanitarian Summit.).
Dr. Arne Strand, research director of the Christian Michelsen Institute for development research and director of the U4 Anti-Corruption Resource Centre, spoke about the coordination of humanitarian assistance in complex emergencies. He pointed out that the media tends to focus attention on international aid organisations "without giving credit to local women who may be saving more lives. […] They are not just receivers of assistance but are taking a role in their own development." Despite the effectiveness of local civil society groups, significant funding either goes to broad international efforts, or is captured by the elite, sometimes for corrupt uses.
To Cimadamore's questions about addressing human rights, Strand stressed the need to emphasise and protect rights in both emergencies and development settings. He also warned that use of humanitarian assistance for political or security related purposes can backfire and become a danger for those in need of protection.
All agreed that there is a great deal to be learned in the field with the people most directly affected by disasters or conflicts.
In Sweden
On 28 September, a discussion was hosted by Pax et Bellum, a student association of the Department of Peace and Conflict Research at Uppsala University. This time, the focus was on the ways that people in poverty build peace. In Lebanon, for example, Syrian refugees are often welcomed by families whose own living conditions are the most fragile. People whose own lives are very challenging may feel torn between anger and peace when tensions flare; however, they do as much as they can to "open our hearts" to everyone. (See Volume 2 of Artisans of Peace Overcoming Poverty.)
Among the issues raised by students were how language can become more inclusive, structural inequality, and the commodification of poverty by young consumers who enjoy clothing styles inspired by low-income neighbourhoods but would not spend time making friends there.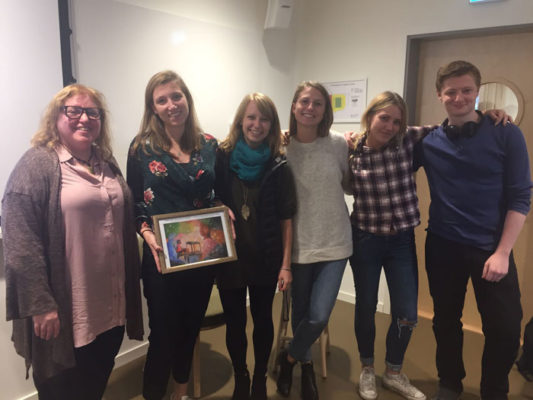 The final panel discussion, in Stockholm, was chaired by Ronia Virginia, a cultural consultant and co-founder of SynergyPartner, and hosted at International IDEA (Institute for Democracy and Electoral Assistance) is an intergovernmental institution supporting democracy worldwide. Its Secretary-General, H.E. Mr. Yves Leterme, spoke of his concern for equality among all citizens. He said, "Poverty means that people have fewer tools and opportunities to express their voices and to hold their leaders accountable. Investing in capacity-building for people in the least favourable positions can strengthen the capacity of democracy to be inclusive."
In the Central African Republic throughout the 2012-14 civil war, people in poverty took great risks to protect one another. Skelton described how, following the peace accords, friends of ATD Fourth World from Rwanda visited Bangui to help train people in poverty as peace facilitators rebuilding a society that leaves no one behind. (See Volume 3 of Artisans of Peace Overcoming Poverty.)
Jacques Mwepu, prison governor at the Swedish prison and probation service, also promotes a human rights approach to prison management as visiting course director at the Rule of Law Section of the United Nations Multidimensional Integrated Stabilization Mission in the Central African Republic. Mwepu said he is very impressed to find that when poverty on a national level severely limits the prison services that the state can provide, "Incarcerated people survive thanks to solidarity from the community." Particularly in the women's prison of Bangui, Mwepu said that many community members volunteer to support and nurse pregnant women and children. "That solidarity is the reason people do not lose hope. We must make it better known." (Solidarity within prisons is also addressed in this interview about a prison in the Ivory Coast.)
A second part of the same discussion turned to poverty in Europe. Skelton spoke about France and Belgium, where terrorist attacks have sometimes worsened hate mongering. Residents in low-income districts take part in ATD's People's University sessions in order to start intercultural dialogues that can enable people to overcome a sense of despair, and learn to build solidarity in diverse communities. Anna Johansson is the head of social services at the Stockholm Stadsmission, a civil society organisation that provides social care, health care, labour integration, training, and education. Johansson voiced her frustration with the Swedish government's statement that absolute poverty does not exist in that country. She spoke of both Swedes and undocumented migrants there who lack a place to sleep. She said, "We should recognise that these people have things to contribute to society."