School Improvement Project in Madagascar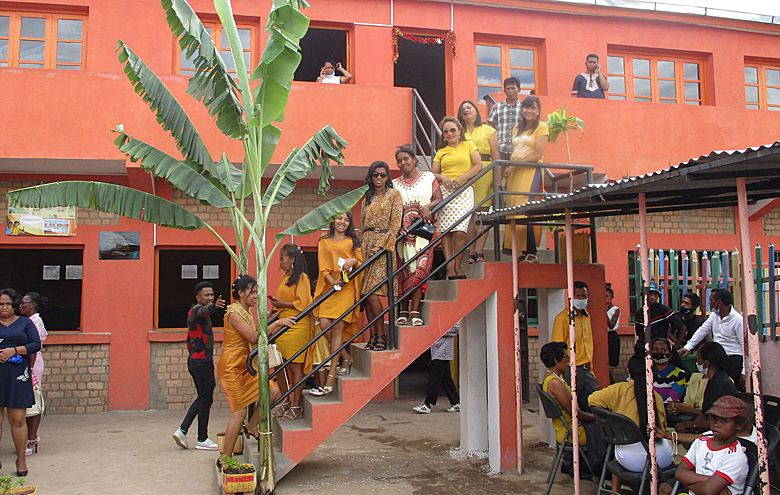 Above: Teachers on the stairs leading to the  new classrooms in Antohomadinika.
ATD Madagascar writes regularly to friends and partners to talk about how projects and activities fit into the larger context of ATD's mission. Working with people living in deep poverty, ATD focuses on human rights and freedom as well as efforts to change the way others see people in poverty. ATD also works to influence politics at all levels, advocating for everyone to be treated equally and with dignity.
Dear Friends and Partners,
We hope all is well and that both your personal and professional wishes for 2021 will come true. We hope that the difficulties of 2020 have not diminished your enthusiasm for working towards a world of justice and peace.
An unusual project for ATD Fourth World
In recent months, we've made progress on our school improvement project* in the Antohomadinika neighbourhood of Antananarivo (Capital of Madagascar). This project involves constructing two new classrooms and installing solar power on one building. In addition to supplying textbooks and furntiure, we are also working to renovate and paint each room in the school. ATD has been involved in Antohomadinika for more than 30 years. But we've never done this type of development work. So, you may wonder why we undertook this project.
Drawing attention, demonstrating need
Through this undertaking, we wanted to attract attention of public authorities that might lead to some form of partnership. We hoped, for example, that the Ministry of Education would assign four more teachers to the school in Antohomadinika.
Equally important, this project demonstrated our belief that children from vulnerable families need better conditions to succeed in school. Currently, their socio-cultural environment and difficult living conditions create obstacles to learning. But we know these barriers can be overcome in the right educational environment.
Overcrowded classes and poor school conditions can only lead to failure. Our construction project invited the authorities to give greater priority to education in neighbourhoods where life is hardest. With additional resources, all children would have an equal chance to succeed in school. Children living in deep poverty need more support. It is critical that they not become discouraged or feel abandoned. They need to believe in their own future.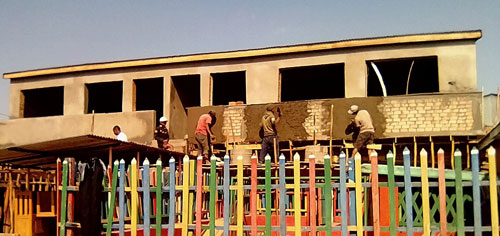 This is why we took on a project that is a bit unusual for us. In another letter, we will write about some other reasons for undertaking this work.
Sincerely,
ATD Fourth World Madagascar
*This project received financial support from the French Ambassador to Madagascar and friends of ATD Fourth World.