Slogans Are No Longer Enough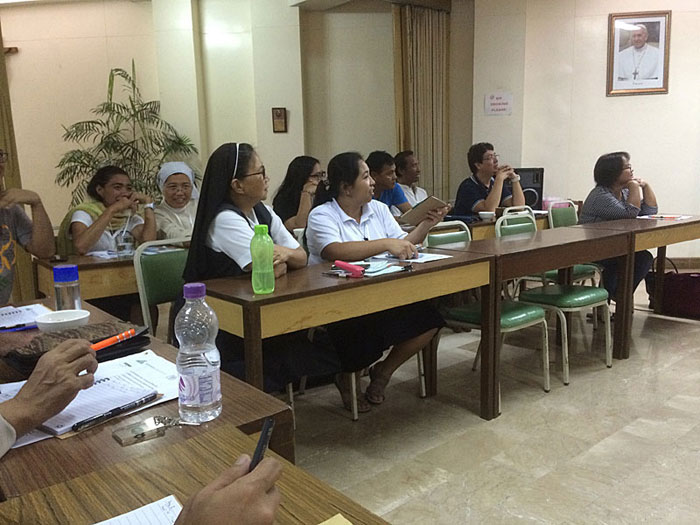 Quezon City/Manila, August 2016. NGOs gather to strengthen advocacy efforts on environment and poverty issues.
We witness the destruction of mountains and forests […]. We see people suffering and giant corporations that profit. In the Philippines, 26% of the population lives in poverty, 9.2% in extreme poverty. Despite economic growth, living conditions for people in poverty have not improved significantly. Who is accountable for such environmental destruction and for violating people's rights? There is so much that needs to be done for people and for environmental preservation today, but also for the common good of future generations. We must strengthen our work and improve our skills in order to face challenges at the grass roots level. It is important to reinforce partnerships so that we do not to feel alone.
This challenging situation in the Philippines was described by Sister Cres Lucero at the beginning of a three-day workshop entitled "Strengthening the advocacy of field partners on a rights based approach to corporate accountability and eradication of extreme poverty". Three members of ATD Fourth World Philippines were among the 40 participants who gathered at this workshop in August 2016 to collaborate on an alternate NGO report for the Universal Periodic Review carried out by the UN Human Rights Council in all countries every four years.
At the workshop, ATD Fourth World and Franciscans International presented Making Human Rights Work for People Living in Extreme Poverty. This handbook, written in collaboration with people living in extreme poverty, is a guide to implementing the UN Guiding Principles on Extreme Poverty and Human Rights. Published last year, the handbook and the participatory approach it recommends are receiving increased recognition in the human rights community and among civil society organizations working at the community level with people living in poverty.
Workshop attendees expressed great interest in the handbook. Some pointed out that often NGOs consider an entire community as "poor", not realizing that there are very great differences among people living in poverty. Sometimes the lack of grass-roots research into the overall profile of community members can lead organizations to think that their programs are addressing a community's needs, when in fact they are not reaching its poorest members. "This presentation pushes us to assess our own projects and to plan in a different way in the future", said one workshop participant.
Another participant explained,
"We always blame the poor because they are not fulfilling requirements, do not do what they are asked to do or are not very eager to cooperate in alleviating poverty. The community organizing practice and projects are mostly output oriented, e.g., [there are] sponsors for 'deserving students'".
Workshop participants suggested various ways to promote the Guiding Principles, including translating them into local languages and adapting them to address specific living conditions and cultural contexts. They proposed that the government might use the Guiding Principles to amend or reorient its laws as well as to reshape development plans and monitor their implementation.
ATD friend Icia De Guzman commented,
"It's like a battle of ideologies and cultures because development is mostly viewed through the lens of charity. This document shows that even NGOs can grow with [the poorest people]. It's like the literacy program and discussion forum that I volunteer with: it is a very challenging process, but I hear […] such deep and sound analysis from these people [living in poverty] about our government."
Through the workshop, attendees from ATD learned how they might invoke the UN Guiding Principles on Business and on Internally Displaced People to defend the urban poor communities being relocated outside the city. They enjoyed getting to know other very committed people in churches, NGOs and the government who work on poverty related issues in which ATD is less involved. They learned more about 'development aggression', labor rights violations by foreign companies in Economic Zones, destructive mining practices, and hydraulic dam projects that displace people. Some of the workshop attendees live and work with vulnerable populations. Others are involved in lobbying, policy reforms, lawsuits, and other forms of activism, sometimes at the risk of their own lives.
Participants agreed that it is important for civil society organizations to support institutions that investigate human rights abuses, such as the Philippine Commission on Human Rights. "Human Rights for All" slogans are no longer sufficient, attendees agreed. In the unique Filipino way, serious talk and indignation were mixed with good food and many jokes. Everyone left the workshop committed to developing more creative but respectful communication strategies to engage more people who do not know about or understand human rights issues.
The Strengthening the Advocacy of Field Partners workshop was organized by Franciscans International (FI) and the Franciscans Solidarity Movement for Justice, Peace and the Integrity of Creation (FSMJPIC), in partnership with seven other local organizations. ATD Fourth World Philippines continues to develop networking connections with a view to its 2017 Worldwide Campaign to Overcome Poverty and Build Peace.