Solidarity in Times of Crisis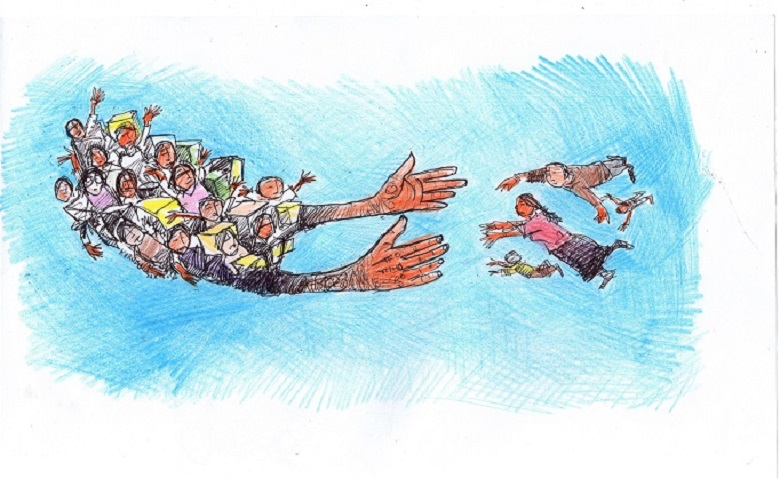 Image above: 2020 Everyone is essential (Todos imprescindibles) ATD Fourth World © Luciano Olazábal
The COVID-19 crisis has hit Bolivia hard. When the government announced a full quarantine, ATD Fourth World members already knew from experience that families living in poverty would show great solidarity amongst themselves. That families living in unacceptable conditions, would on a daily basis, look after those who have less. People in poverty often know others that have less than they do and they often come to their aide.
The global pandemic has once again revealed that we need to learn from people living in poverty if we want to achieve a fair society that leaves no one behind.
In response to this situation of hardship in Bolivia, members of ATD Fourth World in El Alto and La Paz are organising to create and maintain solidarity networks. One member says:
"I have brought this to share. I don't have much and in a few weeks what I have will run out too. But we have to keep a little in case someone else is in need".
Based on this way of thinking, with ATD Fourth World Bolivia activist Roxana, we are organising the provisions that we have collected with the support of neighbours who live near the Casa de la Amistad (House of Friendship) in the district where ATD Fourth World is active. They know that "given the full quarantine enforced by the government, there are families who will not manage to subsist if we don't act today".
Roxana knows from experience that when there are shortages, it's important to put some aside (even if there is very little) for someone who is in a more urgent state of need. For this reason, Roxana thinks of Patricia and suggests putting together a bag of supplies. "She [Patricia] doesn't come to the Casa de la Amistad but she's the mother of my son's schoolmate." So together we take the bag to her house. In a similar way, Paulina, with whom we have also shared a bag of supplies and who is experiencing great difficulties selling the mirrors that she makes, calls to tell us that her neighbour needs help. Gestures like Paulina's tell us of the importance of not being indifferent in these times of crisis.
Martha, a supporter, tells us that under the leadership of the doctor who runs her neighbourhood's health centre, neighbours could bring provisions for those in need.
It's not the first time that we have seen these displays of solidarity or thinking about others, of "keeping a little aside in case someone else needs it". Margarita pushes us further still:
"How can we make the authorities listen to us? We need to think of something so that when the government wants to help us, they take everyone into account. Many people have gone to the countryside. They have land or family there, but I don't have a village to go to. We have to make them [the government] listen to us".
Together with Margarita and other members of ATD Fourth World Bolivia, we have united with other organisations so that the voices of families like Paulina's, Margarita's, Roxana's, etc. are heard. An open letter has been written, addressed to the authorities and society in general. In it they show that government support, despite efforts to create and scale up solidarity aid through family vouchers, does not reach all families, least of all the most excluded.
Now more than ever, it is critical that we have the knowledge of the most disadvantaged families so as to find real solutions and leave no one behind.