Speech at Netherlands Institute for Human Rights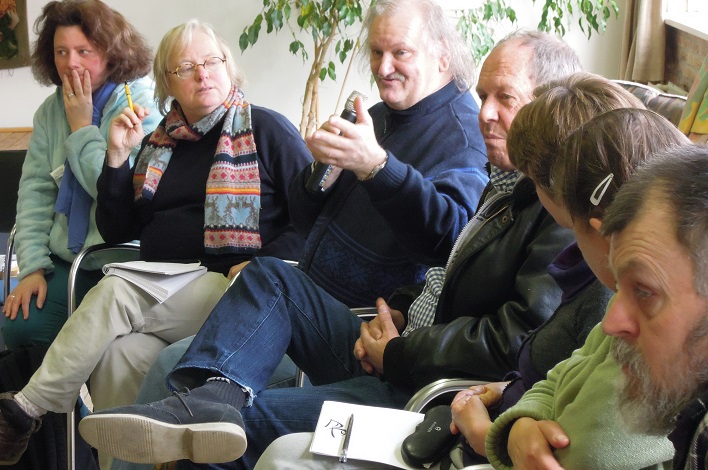 ATD Fourth World was invited to speak on the subject: Should extreme poverty or "social background" be included in the constitution's list of prohibited grounds for discrimination? Presently in Article 1 of the constitution, all discrimination based on religion, belief, political opinion, race, sex or any other grounds whatsoever is prohibited.
This presentation is based on exchanges between more than 50 people and groups in the Netherlands. Exchanges that were at times heated and emotional. Preparation took a month for a talk that can't last more than five minutes. Thus the final text was based on a multitude of comments and contributions. All of which were archived to continue this work in the future. People who are often left out of the important debate on the subject of social discrimination, have contributed with their essential points of view.
Dear Members of the Institute, Members of Parliament and guests,
Together with people who struggle every day in extreme poverty ATD Fourth World is an international human rights organization. For the past 40 years we have fought in the United Nations, the European Commission and the European Parliament for the recognition that extreme poverty is a violation of Human Rights.
We have been asked whether "social background" should be added to Article 1 of the Dutch Constitution. Our answer is: Yes! We do not think that discrimination based on social background would be sufficiently covered by the formulation in Article 1 "…. on any grounds whatsoever."
The addition of "social background" gives people struggling in poverty a face, a voice. It gives them recognition and acknowledges them. It will reduce the "trivialization" of the poverty issue.
The addition of "social background", from the perspective of inequality and social discrimination, will give the Institute on Human Rights even more reasons to put her teeth in this form of inequality.
The Constitution does not provide "subjective rights' which are immediately enforceable, but (a) it does give direction to the government and (b) the intention is that the constitutional principles will eventually be translated into legislation.
Right now it is impossible for the court in the Netherlands to examine the legislation in view of our Constitution (Article 120). It would be desirable for the court to have this right in order to prevent the constitution from becoming an empty shell and to avoid that these rights only can be won by relying on the European Court and the Treaty of Lisbon.
You hear me talking about extreme poverty. What is meant by this?
The United Nations defines it as follows: Extreme poverty is a combination of income poverty and poverty in terms of human development and social exclusion (A / HRC / 7/15 / par.13). It has a prolonged lack of basic securities that effect multiple areas of peoples life. Opportunities to re-acquire rights serious at risk. (E / CN / Sub.2 / 1996/13)
CBS (the Central Office for Statistics) notes that 726 000 households in the Netherlands live in poverty. This represents as many as 1.4 million people, of whom some 130,000 live in long-term poverty. One in nine children in the Netherlands grow up in poverty …and those children have parents …and those kids become parents. The chairman of Youth Protection in the region of Amsterdam stated that 50% of the children who are placed in foster care are from families who have a low income. This is a disproportionately high percentage compared with families from other walks of life. For those families other solutions than foster care are found when there are problems with their children.
The Fourth World has documented many testimonies from people living in poverty. They speak about the violation of (the protection from confiscation at a minimum income level) by tax authorities, bailiffs and other agencies. Some explain that they are in debt for not being able to pay for basic needs like water, energy, rent, health insurance, and that the fines are considerably higher than what they financially are able to carry. They speak about ghost citizenship, and about imprisonment and forced labor.
People who live in poverty in the Netherlands wrote a manifesto.
"Social discrimination keeps us and our families caught in a vicious circle that must be broken because we believe in the equality of every human being. As people who experience poverty and exclusion in our lives, we cannot do this alone. It's not just a problem of individuals; it is how we organize society together. "
I have prepared these five minutes with more than 50 people; people in poverty, workers, people who are unemployed, people who are homeless, refugees, politicians and civil servants.
Together we talked about the Guiding Principles that were established by the UN Human Rights Commission in 2012:
" The present Guiding Principles are premised on the understanding that eradicating extreme poverty is not only a moral duty but also a legal obligation under existing international human rights law.
"
We concluded that the international recognition that extreme poverty is a violation of Human Rights justifies that human dignity should also be reflected in our Constitution. The European Social Charter speaks also about this and the Netherlands has ratified this charter too.
Recently (June 2015) the French Senate passed a law which introduces the notion of discrimination because of social background. Here the basic principle of "no discrimination on grounds of social background" was laid down in two laws, namely in the Criminal Code and in the Employment Law.
These efforts made in the French Senate prove that even the mention of "social background" in the Constitution does not go far enough. We also need to set up implications of these fundamental rights in our legislation and to be able to hold the politicians accountable in our country.
Research by the SCP (Social Planning Department) showed that forty percent of the Dutch believe that the gap between the elite and the rest of the population has increased in recent years. Only a third of the people have confidence in the decision making process of the Parliament. Especially low-skilled citizens don't trust the 'elite in power' in the Netherlands anymore. For them there is no "protecting" state, but a punishing state with food banks as stopgap measures.
We want to ask the Institute on Human Rights, along with the organizations that fight poverty, to pass a fine-toothed comb through the entire Constitution to find the conflicting parts and make them negotiable. It seems wise to consider today's hearing a first step of cooperation between the Institute, parliament and relevant organizations, to establish a solid foundation in society for the addition of "social background" in the Constitution and other laws.
To conclude: Dutch fathers and mothers who live with their children in poverty offer the following: "With you we want to do everything necessary to protect everyone, now and in the future, from the despair, fear, shame and insecurity which are the result of extreme poverty and exclusion."
Thank you for your attention.
Niek Tweehuijsen
Photo ATD Fourth World, national center Wijhe, Netherlands