Staying Together Is Our Insurance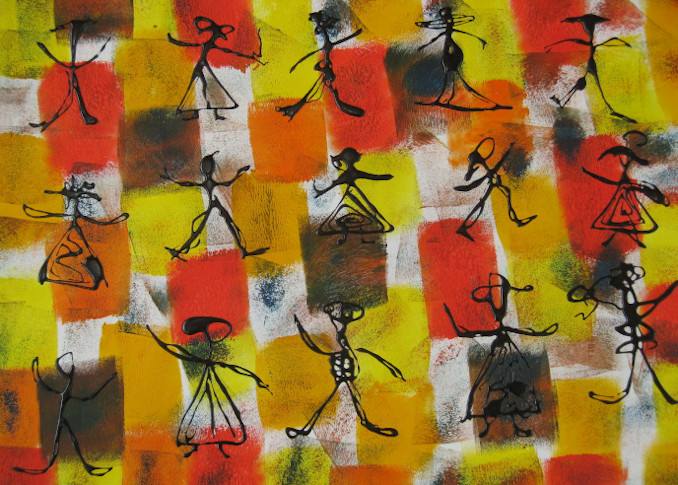 Painting above: 2017, ATD Fourth World – AR0201602038 © Guillermo Diaz
By ATD Fourth World Tanzania
This article is based on a response from members of ATD Fourth World Tanzania, who replied as a group to a recent letter from ATD's International Leadership Team.
Humans are social beings. We live together and have different ways of expressing our feelings to each other. We love, we hate and we go through different emotions.  And our expressions and body language communicate our feelings to others. COVID-19 has forced us to hide our faces by half-covering them with masks. Health experts direct us not to hug or shake hands. In some areas, people are directed to stay indoors. The term is social distancing. In areas that have no lockdown, some people are living a life full of fear. This results in segregation and stigmatization.
One mother from the city of Tegeta said;
"These days when one dies, relatives cannot bury him/her. It is very sad for relatives since they don't even get the opportunity to accompany the body to the burial ground to say goodbye".
With education, it is vital that the government come up with a suitable plan for children to return to school. But it is also important that all necessary precautions are taken into account. Considering crowding in schools and classes, the addition of more classes should be considered or pupils taking it in turns to attend schools. The prices of some commodities are high. Some traders have taken advantage of the situation by hiding commodities such as sugar, which became scarce during Ramadhan.
Relationships with neighbours, friends, and community members who surround you is typically a basic choice one can make. As social beings, no one can live by themselves in seclusion. Relationships and association with other people are part of an ordinary lifestyle. We depend on one another to overcome challenges in our daily struggles. Associating with others promotes positive relationships. Discussing and sharing is part and parcel in our human relationships. By associating with others, we learn many things from each other.
Associating among ourselves is our insurance
Being together also helps us to overcome our fears, to love each other, and to console ourselves during difficult times. To be safe we must adhere with the health directives related to COVID-19.
Consoling each other during difficult times and funerals; visiting a sick neighbour, friend or relative; showing any act of compassion to the needy is our responsibility. Any action of segregation or stigmatization is not acceptable.
We must learn to seek and to have access to the right information so as to be informed. This will help us to make good choices, especially during hard times such as this present one.
"This situation is dangerous for our families because we can't visit each other. There are no social events such as traditional dances because they are not allowed".
Mother from Tegeta Machinjioni
"When I get sick these days, my relatives do not visit me because they think that it is COVID-19. They are afraid of becoming infected though you may be suffering from any other fever such as malaria".
Woman from Tegeta Machinjioni
"I feel very hurt because of my children. Since they don't attend school, they miss many important things".
Mother from Tegeta Mji mpya
"This means that now it is time to reflect and to be more creative in how to continue with my involvement with families during this pandemic period. I feel that I am a connection between ATD families and ATD International. I feel more needed than ever during this time to share what is going on regarding the pandemic. It is important to be flexible and to follow the guidelines given by health authorities to help me to move forward and to continue being closer to families by sharing information with them".
The ambitions of ATD Fourth World are embedded in the statement "leave no one behind". All our actions during this pandemic must involve those in deepest poverty. Most plans to help pupils during their extended period at home during the pandemic did not include children in poverty. All ATD members in collaboration with the Volunteer Corps have to work together to come up with a relevant strategy to reach those left behind. It is very important to bring this awareness to the public.
Typically, family visits allow time for gathering ideas and make it possible to act together. However, the current situation does not allow people to gather together and talk.
A woman from Tegeta Mji mpya said,
"It is sad that you cannot gather families to celebrate International Family Day. When we gather and share ideas and experiences it helps us in our struggles against extreme poverty. I insist that you continue to support us to bring home work to our children because they are the future of our nation".
For we volunteers, the present situation has forced us to put aside some of our activities because we cannot mobilize people. This means most of our actions will have to be done differently. We have to rethink the best way to execute ATD's strategic ambitions.