The Right to Dream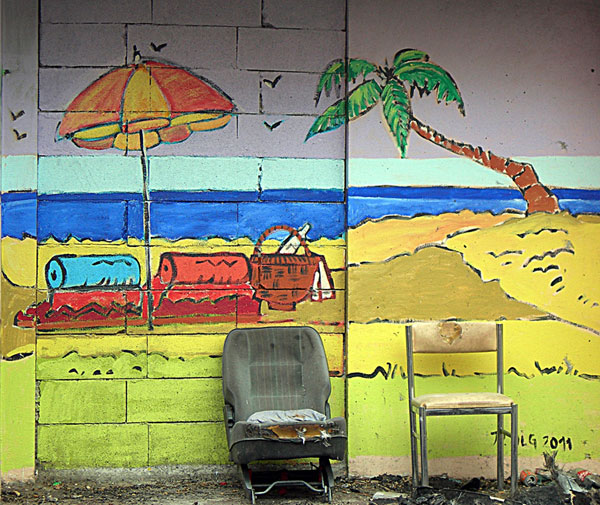 In 2017, ATD Fourth World invited people around the world to document real-life "Stories of Change". These stories are about situations of injustice and exclusion caused by extreme poverty. Written by activists, community leaders, and others, they show that when people work together, real change can happen.
Learn more about "Stories of Change".
By Jacqueline Page
What is common to: a child's drawing in Thailand; the activist who is thankful because you are showing the beauty of their country rather than its woes; and the young drug dealer who is shaking and asking you whether you can reproduce, in a big format and in a painting, the tiny ID photo, the only treasure left of his dying father?
What if art was no more than living as equals? But then how can it be transmitted; how can it be witnessed?
Whether in Thailand, the Central African Republic, France or Haiti, I draw and paint with those people who live a difficult life. I am impressed with their creativity: I make their portraits. Yet I feel that this is not enough to capture their life experiences, so I decided to join my artistic work with their own creations.
In Noisy-le-Grand, France, 'The Right to Dream" ("Permis de Rêver") mural paintings are not mere illustrations of injustices, violence and other painful realities, which are sometimes dramatic. Just like the artists' stories and creations, they are an ode to joy, aspiration, generosity and creativity.
They bear witnesses to the fact that wonder is a strong catalyst for change.
Those works and stories plus acrylic paintings by Christian Januth, another artist of ATD Fourth World, form a visual narration where the visitor shares their art with the artists.
The Cerisy colloquium, "Rethinking Poverty with Joseph Wresinski", presented this exhibition.
GRANMA
Saphan Put — Bangkok — Thailand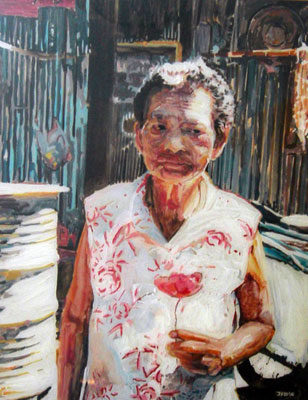 Granma is Fon's grandmother. She lives in a slum near the big bridge leading to the Wat Po Temple and the Royal Palace in Bangkok, Thailand.
Just recently, Fon has been able to go to school since an association helped her with funding for the mandatory uniform. I share her great joy. I have been in Thailand for three years now, and Fon has been attending each and every week the artistic and reading activities we are offering. Granma is bringing up Fon on her own despite being so very tired. Every day she looks for small jobs, for instance helping with trimming the chillies, which burn your hands.
Sadly, Fon's mother disappeared. Has she been picked up by the police while begging? Begging is illegal in Bangkok. So, when you are arrested, the police take you to a centre where "you are taught good manners", where "you make baskets and do other small trades", and then you can leave. Yet when you have no papers to prove your ID, when nobody can "vouch that from now on you are going to work and that you will never again go begging", you can end up staying for a very long time in the centre. The institution becomes your prison, a place that feels like a lifetime sentence, and without even having appeared before a judge.
Granma is exhausted, sick, and very worried. She has no medicine, no security, but she is still holding on. She keeps looking for work, for the love and future of her granddaughter.
LOUISE
Kokoroboeing — Bangui — Central African Republic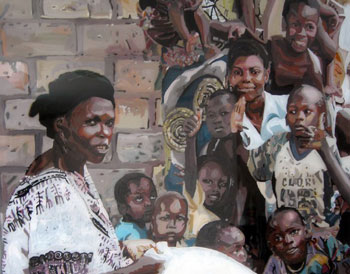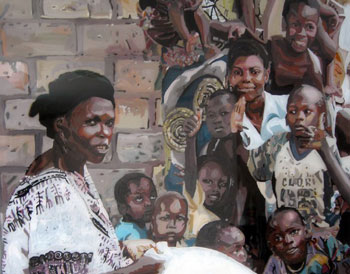 Louise is both a dynamic mother and grandmother, always surrounded by a crowd of children, trying to find solutions for everybody's daily meal, and working for her community. Life is exhausting in Kokoroboeing. You have to plant cassava, look after the children, prepare the meals with the tiny bit you have, build or strengthen earthen brick houses…
For several years, the ditches have been filled with plants, roots, and all sorts of litter. Every so often there are floods that erode the houses' substructures: everything crumbles down, and all is lost. Stagnant water is a breeding ground for mosquitoes. This situation results in fevers that often lead to deaths. In addition, tuberculosis is a plague, being more common these days, and this is only the tip of the huge iceberg that is AIDS. In order to feed his family, the hospital nurse is compelled to sell drugs, which are supposed to be free. He has not been paid for some time.
Since the authorities are not in a position to help, the community has responded by taking matters into its own hands. Thank you Louise for encouraging everyone to carry out their responsibilities. I marvel at how you still find enough free time, strength and joy to draw and create with the children.
THE RIGHT TO DREAM
The Beauty of the Little City Noisy Le Grand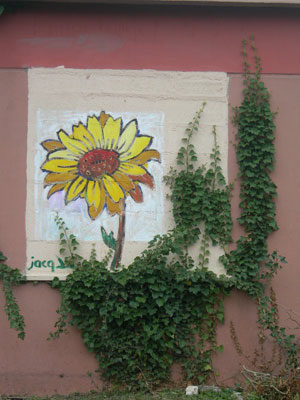 The city of Château de France has been slated for demolition. At this time, as the inhabitants are leaving, the openings to the houses, shops and other buildings are walled off: a kaleidoscope of poorly jointed grey or surrealistic pink buildings, with dark brown or grey doors…
I have been living in this district for two years. I chose this place, which has been decreed to disappear for more than 15 years, so I could live and paint there. I was certain that I would be able to bring evidence of the injustices experienced, the brave fights fought, and the difficult lives of its inhabitants. I saw this as a political act.
One evening, she rang my doorbell and, although only three and a half years old, she was a bright girl with laughing black eyes who asked me if she could paint. The door was open. There has been no time for me any longer to be occupied with the perfect pictorial quest. Rather, I am providing art workshops outside, inside, in the evening, in the morning, and in response to the children's doorbell calls according to their wishes, to my availability, and to my strengths.
A father started drawing and painting. He set up his workshop in the shed next to his little house. An exhibition of his works has been set up. With the children and the adults, we paint colours on the building blocks and the walls. A mother asked for my help to decorate her flat with flowers and rose friezes. Another requested assistance with paintings showing festive scenes. Several parents order portraits of their children. I am invited to birthdays, celebrations, concerts, and improvised encounters of great humanity.
The exhibition entitled "The Beauties of the Small City" ("Les beautés de la p'tite cite") does not simply illustrate injustices, violence and other painful difficulties experienced, sometimes dramatically, by the inhabitants of the city of Château de France. Rather, it is an ode to joy, aspiration, generosity and creativity. It gives witness to the fact that wonder is a strong catalyst for change.
And now that almost all of the inhabitants of the city have moved out at the end of 2013, I have found a new title for the project: The Right to Dream.