United Nations Hosts Launch of Global #StopPoverty Campaign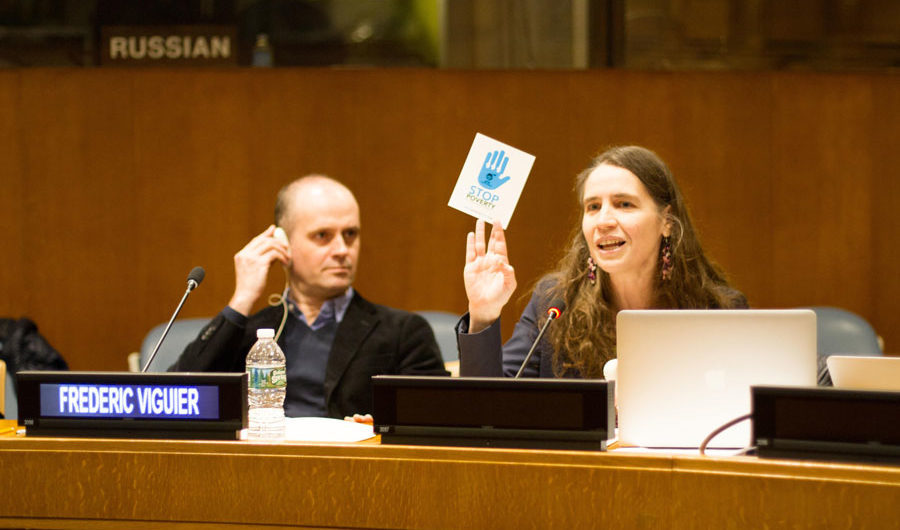 "If you don't reach out, nobody will know you're there. You have to reach out, and then after a while people expect you to be there… You'll never know who is the most isolated or the most in need if you don't go searching." – Emma Speaks, ATD Fourth World Activist, New York City
ATD Fourth World's global Stop Poverty campaign began on February 8th with an event at the United Nations entitled "Leave No One Behind: The Wresinski Approach, 60 Years of Experience."
The notion of leaving no one behind is essential to the United Nations' Sustainable Development Goal of eradicating poverty "in all its forms" by 2030. And yet, how does an organization make sure that its projects are reaching those who are most difficult to reach, those whom most programs miss? Joseph Wresinski's life, and ATD Fourth World's experience working alongside the most excluded families for more than 60 years, offer an important example.
"In order to transform our world," Geneviève Tardieu, Director of International Policy and Advocacy for ATD Fourth World said, "we must accept a drastic change of perspective and, from the beginning of any undertaking, include input from people who live in poverty."
This is just what Emma Speaks found so striking during her several decades of involvement in ATD's work, first as the parent of children in street library and today as a member of ATD Fourth World's board of directors.
"Every step of the way, " she said, "I felt important, like I matter, like I'm somebody. I felt my integrity. I felt it, and I felt like I was sharing something that was important, not only to me but to ATD as a whole, to people as a whole. I felt a sense of inclusion in things that are going on in life that matter in the fight that Joseph Wresinski started."
Christopher Winship, the Diker-Tishman Professor of Sociology at the Harvard Kennedy School of Government, observed in his remarks just how important those relationships are.
"When one is in a challenging relationship the simplest option is avoid and exclude[…] However, when much of society avoids a particular group, the results can be dire. Often this results in the excluded individuals living in extreme poverty."
"Creating relationships with people different from oneself and who are living in very trying circumstance can often be challenging," Professor Winship added. "It is important that one recognize the challenge and commit to meeting it."
The panel was chaired by Donald Lee, President of the International Committee for October 17th. Other speakers included Fabienne Bartoli of the French Mission to the United Nations, and Frederic Viguier of New York University.
The prepared remarks were followed by a discussion that reflected just how important, but challenging, it is to include people in poverty in efforts to overcome it. Several participants remarked that even if they were involved in the fight to end poverty, they didn't have those relationships that Professor Winship and Ms. Speaks had spoken of as being so important.
And yet the stakes could not be higher: "If we don't meet people living in poverty," observed Winifred Dougherty of the congregation of Our Lady of the Good Shepherd, "we are in danger of losing our humanity."
You can see video from the event below.
Click here to download Emma Speaks' full remarks (PDF)
Click here to download Geneviève Tardieu's full remarks (PDF)
Leave no one behind: the Wresinski Approach

Publiée par ATD Fourth World sur Mercredi 8 février 2017
Wresinski approach part 2

Publiée par ATD Fourth World sur Mercredi 8 février 2017