"Welcome Babies": Early Childhood Development Thanks to Parental Involvement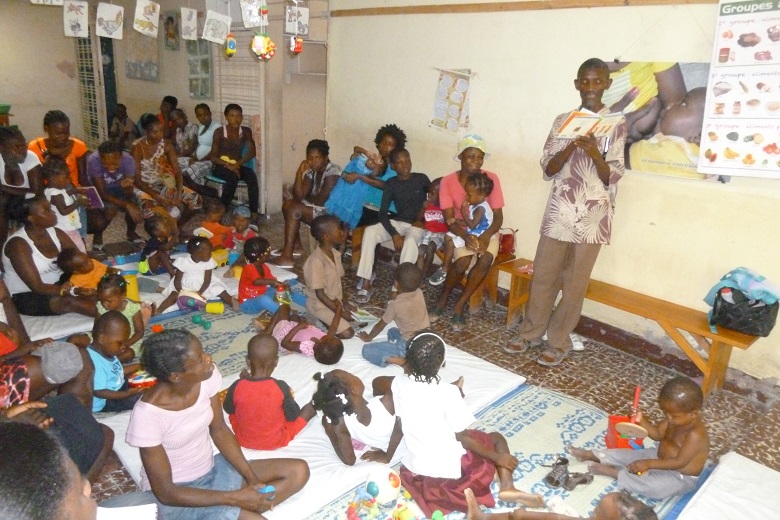 Thirty years ago on 20 November 1989, the UN adopted the Convention on the Rights of the Child. This landmark human rights treaty sets out the civil, political, economic, social, and cultural rights of every child, regardless of race, religion, or abilities. To overcome poverty it is crucial to listen to all children, but especially those who live in difficult circumstances and whose rights are often violated.

"At the 'Welcome Babies' program, they don't try to help us just with a bag of rice or a bag of sugar. The way they made me feel welcome, gave me the strength to keep living."
In Port-au-Prince (Haiti), ATD Fourth World opens its doors three days a week to host a community program that brings together children under 3 and their parents. This activity supports children in their health, nutritional and emotional development. Particular attention is paid to those with developmental difficulties.
"Before coming to 'Welcome Babies,' I used to stay shut inside at home with my sick child. When I first joined, I was not very comfortable. But gradually, I found my place. Several things have given me strength: seeing children playing together without arguing, learning a lot about health, accessing health care for my children, and hearing other parents share their worries. When some say they have no home, I think that I am lucky to still have one, even with a leaking roof. All this is worth more than money."
This mother's testimonial speaks to the goals of "Welcome Babies," goals that promote the integral development of the child based on reinforcing parenting skills and community dynamics.
Fostering early development
Parents and their children are greeted in an area with soft mats on the floor. On the mats are various colorful toys adapted to their ages. Facilitators are there to accompany the children and parents in their learning.
Progress is made at the varied pace of each child's abilities. Facilitators encourage children and parents to use the toys available (mirrors, mobiles, cubes, puzzles, cloth books, toy cars…).
Because children's nutritional status impacts their motor-skill development, malnourished children receive both nutritional assistance and stimulation to develop these skills.
For preventive health care, the "Welcome Babies" program begins with parents' experience. For example with nutrition, budget meals are discussed. Facilitators and parents work together to see how the nutritional qualities of various foods can be combined into a balanced meal. Easy recipes are suggested to help parents. One participating mother said: "My oldest child was a tiny baby. I took him from hospital to hospital, but he couldn't gain weight. So I came to 'Welcome Babies.' The facilitators showed my son how to play and I received a lot of information on how to prepare food. Then my son started to gain weight."
The parents who take part in "Welcome Babies" live in neighborhoods often regarded as "no-go zones." The majority of families must cope with insecurity in their lives. The "Welcome Babies" program takes place near these neighborhoods. This geographic proximity helps create trust between participants and facilitators, who also visit families during the week. Facilitators visit families before enrollment, or to offer support to those who might be going through a difficult time, or when a child is unwell. Families and facilitators enjoy spending time with each other, and value these visits, particularly because some of the families are looked down on in their communities.
"My second child was always sick. She was thin and did not walk. In the neighborhood, everyone called her 'the cripple.' But at 'Welcome Babies,' I am not losing the battle for her health. I did not lose hope thanks to them helping me take care of my child. The neighbors realized that my daughter was beginning to thrive, her face changed. They were surprised, and stopped humiliating me. "
"My third child was premature, born after only 7 months of pregnancy. I was desperate when I saw how tiny she was. Her dad would not even take her in his arms. Two people from ATD Fourth World visited us. I was supported — and my daughter has now opened to life. I also found courage by being among other parents, seeing our children develop and their minds being stimulated."
"Welcome Babies" is a place for freedom and education where parents and facilitators join forces together so that children can develop, especially those whose families live in difficult situations.