Working and Learning Together While Promoting a Sustainable Economy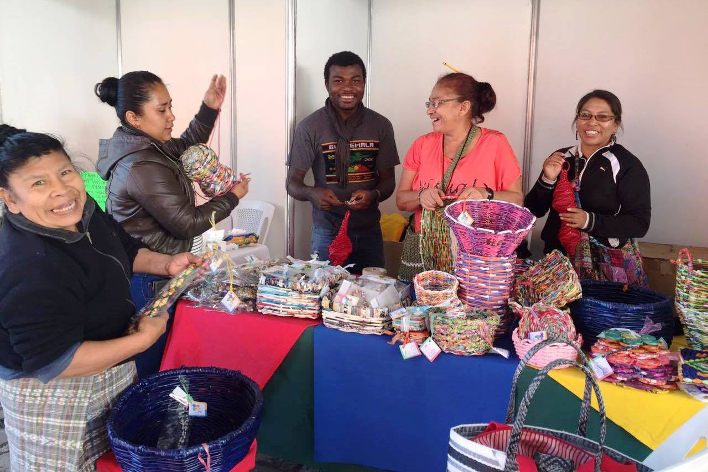 In countries around the world, people living in poverty collect and reuse rubbish dumped in landfills. In Guatemala, a sustainable fair-trade project developed with people in poverty produces beautiful, useful objects out of recycled materials – all while supporting one another in a collective effort to transform lives.
"Working and Learning Together" (TAJ: Trabajar y Aprender Juntos) is a hands-on crafts workshop based on paper recycling techniques. In 2009, ATD Fourth World in Guatemala started the project with people living in poverty to respond to their growing concern over the rise in the cost of living and the difficulties they faced trying to pay for education, healthcare, housing, etc. ATD Fourth World set up the pilot project to enable people to earn money to help cover their basic expenses. The project also serves as a place where people can discuss prevailing economic and work models and brainstorm possible alternatives.
Since 2009, about 25 people living in extreme poverty have participated in the project, training as artisans and vendors of their crafts in an atmosphere of mutual support and fair trade. All the artisans, most of whom are women, were involved in planning the project and continue to evaluate and develop it. The project calls into question an economy based solely on competition between individuals. What guides it is the artisans' understanding of the work involved and their knowledge about training and finances. Maritza Orozco, one of the project artisans, describes her work:
"I take some time with each person to encourage them and show them that they are capable of doing good work. I offer my friendship to everyone and try to help them."
ATD Fourth World volunteers and young professional designers take part in the project as well. Their technical knowledge and their people skills enable this project to produce professional products in a way that is supportive, fair, and economically viable.
Like other ATD Fourth World sustainable economies projects,  all the elements of "Working and Learning Together" are designed with the goal of enabling people to learn from and support one another. This vision shapes all aspects of the project: its schedule, teaching methods, support of new artisans, and financial decisions.
One of the artisans, Glendy Rosales, describes her experience with the project:
"TAJ is a place where I have grown as a person, where I've learned many things: to value myself and others, to support other people and be kind to them, and to be part of a community where I can freely share who I am. It has been like a school where I've learned how to find the strength to keep living."
Mynor López, formerly an artisan in the project, says,
"At first it was hard because I was shy and I wasn't sure if anyone would pay attention to me. But now I can say what I think. TAJ has helped me in my current work because now I tell my colleagues that we need to collaborate in our work." Workshop participants are part of a larger effort against poverty that goes beyond their own day-to-day challenges. They also participate in other ATD Fourth World activities such as "Knowledge Saturdays" (Sábados de Saberes), family outings, and the World Day for Overcoming Poverty. Through all these activities, they are sustaining a project that will engage and help others. They are also contributing to the broader goals outlined in the International ATD Fourth World common ambitions, particularly "to promote an economy that is respectful of people and of our planet." In addition, TAJ is involved with other initiatives in Guatemala that promote fair trade between individuals and countries.
The TAJ product catalogue can be downloaded here.
If you are interested in ordering products in the catalogue, please contact: .