Worldwide Solidarity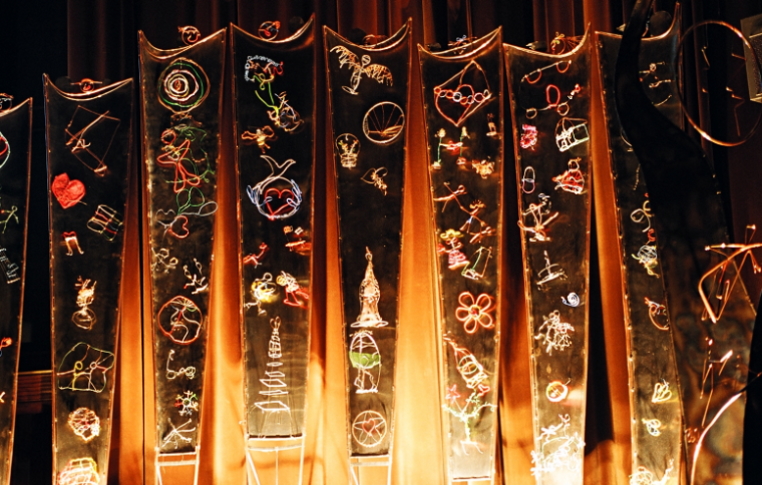 Photo above: sculpture by Philippe Barbier
By Françoise Barbier, ATD Fourth World Volunteer Corps member in Belgium.
Bernadette, an ATD activist, calls me from Liège to find out how my daughter, who caught the virus, is doing. She is not happy:
"Since the coronavirus crisis began, people in the neighbourhood have been complaining about each other for not following the stay-at-home rules. We ought to be helping each other instead!"
She knows what she's talking about — her family has suffered several times from rumours and being judged by neighbours. "I only confide in ATD Fourth World friends, because I know that what I say won't be repeated", she says. "Often when you talk to other people, they repeat what you say and turn it against you. ATD Fourth World is my second family. That's why it's important to stay in touch."
Bernadette regularly calls Marie, who recently had to go alone to bury her 42-year-old son. She had no opportunity to truly honour him. She will be alone with her pain instead of being able to count, as she usually does, on a daily meeting over a cup of coffee and a shared meal at the community centre.
Michel, Bernadette's partner, just lit a candle for Marie's son. I asked him if I could write down something he said to me because I think that ATD Fourth World friends in Beitouna, Lebanon will find strength in his words:
"Yes, ATD Fourth World is a family that is especially important because right now there is so much rejection where we live. It's good to get together, even at a distance, with people who think about us and are there for us. I get the impression that because of the virus, all the countries in the world are going to come together. Maybe this is what was needed, and it's too bad because so many people are suffering and dying. It seems to me that worldwide solidarity is taking root. Ceasefires have even been declared in conflicts and wars."
By Skype between Liège and Beirut, I read to Maya what Michel told me. To feel this "worldwide solidarity" he mentioned, it's important to keep a record of what people in extreme poverty everywhere are going through. We learn what is hard about this crisis for them, and how they invent and create new things to help one another. I refer to the letter from the ATD Fourth World international leadership team. It encourages us to make sure that "nobody remains isolated", and that "the story of how people in poverty are managing is told everywhere, and that we have to create something new with them."
We are encouraged when Maya and the parents in the Beitouna neighbourhood create a WhatsApp group with young people to keep in touch. And we are inspired when Abir, a mother, goes to visit a more isolated family to see how they are and to let them use her phone to call other people.
Maya asks me about Camille, who lives in Brussels and whom she met last summer at the ATD Fourth World international centre near Paris. Camille had just sent me a video message made by a young couple who do not have an easy life. Things are especially difficult now that they are confined in their tiny apartment with their child. But they managed to find the energy to film themselves and to encourage others in the neighbourhood to prepare questions for the next Fourth World People's University on solidarity. And that inspired Maya!
From Verviers, in Belgium, Céline tells me about her two young children. One of them is drawing on the ground in the courtyard with chalk. "Good idea", I tell her. "I'm going to try to find some chalk for my neighbours across the way and their seven children!"
They arrived in Belgium from Afghanistan six months ago, fleeing a combat zone.
It's hard for them to understand what's going on with the crisis. They speak only their dialect. The parents, who do not read and write, have had no contact with the school where their children had learned a few words of French. I tell Céline that I'm worried about the family's eldest child, a teenager. What will happen to him, and all the others who were receiving support from street educators, now that all the agencies are closed?
Céline is supporting her neighbour, Ryan, who's 15. His life is really difficult and he had just found a trustworthy professional to help him.
"But with the coronavirus, everything stopped", Celine explains. "I talk with him just so he can clear his head. I'm 22 and I understand—it wasn't so long ago that I was a rebellious teen. Ryan dreams of becoming a stone mason, and asks me what I want to do later. 'When everything's over', I told him, 'I would like to study to be a teacher. But first I have to get my high school certificate. It's time I do that!'
"I want to give something of myself to my community by helping children who have a harder time learning and by giving them confidence, like some of my teachers did with me."