Radical Understanding of Poverty Transforms Social Policy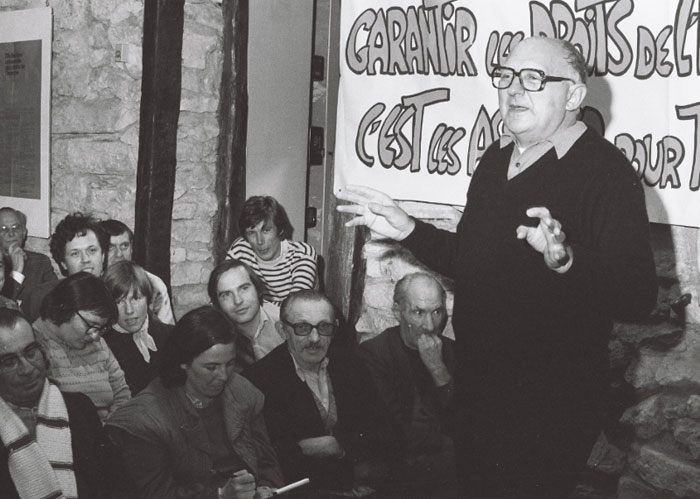 In 2017, ATD Fourth World invited people around the world to document real-life "Stories of Change". These stories are about situations of injustice and exclusion caused by extreme poverty. Written by activists, community leaders, and others, they show that when people work together, real change can happen.
Learn more about "Stories of Change".
The Wresinski Report: A radical understanding of poverty transforms France's social policy.
By Daniel Fayard (France)
"The Wresinski Report" was based on the lives of people who live in extreme poverty. Written in 1987 for the French Economic and Social Council, the report showed how people in poverty often experience multiple problems such as insufficient education, lack of access to health care, indecent housing conditions, unemployment, and a sudden interruption of benefits. These problems, the report showed, can all build on and feed into each other, leading to a situation of extreme poverty and a total exclusion from participation in the life of the community. Based on this perspective — unprecedented at the time — France reassessed its existing programs to combat poverty and undertook new policy initiatives to curb poverty and social exclusion. Most significantly, the report defined extreme poverty as a violation of human rights.
"Chronic Poverty and Lack of Basic Security", often referred to as "The Wresinski Report", was written by Joseph Wresinski, a member of France's Economic and Social Council (ESC) and the founder of ATD Fourth World. In February 1987, the ESC, the third most important French governing body, made recommendations to the government based on the report.
For the first time, the perspective of people experiencing poverty was genuinely incorporated into institutional policy debates. The report discussed not only the experiences of real families, but also how much they themselves understood about poverty, as well as their hopes for more effective approaches from the government and society in general.
Pioneering vision for an ambitious new strategy
The report documented in detail how extreme poverty is a violation of human rights. When individuals talk about their experiences, it becomes clear that they have encountered a series of injustices in numerous areas of their lives. Problems feed into each other and lead to a complicated situation that is impossible to escape, a situation that threatens people's ability to be a part of their surrounding community and to achieve independence.
Based on this understanding, the report developed a new vision for overcoming extreme poverty. The report's recommendations are grounded in the understanding that human rights are indivisible and interdependent, and that poverty is a violation of these rights. A well thought-out global strategy, implemented and assessed in a partnership with people experiencing extreme poverty, was necessary for people to enjoy basic rights of citizenship, the report explained.
Social and political implications
The Wresinski Report was widely disseminated and translated into several languages. It quickly became a benchmark in the struggle to eradicate poverty and exclusion. The innovative aspect of the report's experience-based approach, beginning with people in extreme poverty, received wide attention in the media. Senior government officials and sociologists alike recognized the relevance of the report's definition of extreme poverty and the strength of its proposals. The report's balanced views, along with its emphasis on political responsibilities, were endorsed not only in France, but also in the United States, Japan, and the Netherlands. Similar reports were written at the national level in Belgium, in two regions of France, and in the Province of Quebec.
The report generated studies at the international level, in particular by the UN's Commission on Human Rights, which took up the definition proposed by the ESC and recognised extreme poverty as a violation of human rights.
In France, the report contributed to wide-ranging legislative reforms: the minimum-income allowance (RMI, or revenu minimum d'insertion), the training allowance (Credit-Formation), the enforceable right to housing, Universal Health Coverage (CMS), and the right that associations have to access civil law in courts when discriminatory measures are taken against extremely poor people. The Wresinski Report has also become a training tool in several social work schools, for many associations, and of course in the Fourth World People's University throughout the country. For the first time, perhaps since the French Revolution's Fourth Order project, people who face tremendous obstacles to freedom of expression and whose views are seldom represented politically now have a document that expresses their political determination and ideas.
Building on the work begun in the Wresinski Report, in 1995 the ESC issued a report entitled "Assessment of public policies to eradicate poverty". Written by Genevieve de Gaulle Anthonioz, this report was based on surveys of people living in poverty and others working with them. It served as the basis for a 1998 national law that created general principles and a wide legislative framework for overcoming poverty-based exclusion, addressing issues first described in Wresinski's 1987 report.