You are Awesome!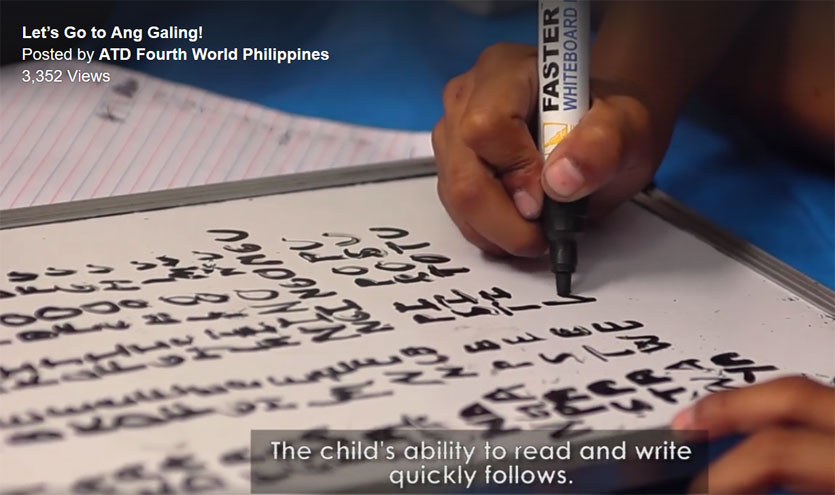 In Manila, every Saturday, a mausoleum and surrounding tombs turn into classrooms. The mausoleum is in a graveyard, the only place some families in Manila have to live. ATD Fourth World Philippines runs a program there called "Ang Galing" which means "Awesome." In Ang Galing, children learn that, despite their unusual circumstances, they can learn to read and write, and succeed in school.
Every Saturday, a mausoleum turns into a classroom, and niches become spaces where young minds are nurtured. ATD Fourth World Philippines continues its sincere effort to eradicate extreme poverty through education in its weekly reading tutorial program, "Ang Galing" at the Manila North Cemetery.From July 2016 to present, there are 40 children (ages 6-14 years old) enrolled in the program and about 153 volunteer teachers from different walks of life have spent time and effort in teaching these kids how to read and write. Through this, Ang Galing has maintained a ratio of 1 teacher per 1.6 kids within the past six months, ensuring that quality learning experience is being delivered to these children.Like Kuya Reymond and Kuya J.V., you can also make a difference in the lives of these children. Join Ang Galing every first 3 Saturdays and fifth Saturday of the month. For more information, you may contact Mae Ann Reginaldo at +63 918 963 1452 and check out our updates in our official Facebook page fb.com/ATD.Philippines.#AngGaling #Literacy #BeAVolunteerTeacher

Publiée par ATD Fourth World Philippines sur Mardi 7 février 2017
Learning Letters, Learning Self-Confidence
Many children grow up being told all the time "You are awesome!" or "Good job!" as they are coached through a pre-school or similar early learning experience. But other children don't have this good fortune because their parents are busy just trying to survive, or may never have experienced being told they are 'awesome' themselves. When they get to school, these kids quickly learn that they are not awesome at all. In fact, school can become a place of continual failure and humiliation for students who are unprepared and have trouble following lessons. It's not long before they feel like a failure and come to believe they really can't learn.
Investing in a Relationship
Started in 2012, Ang Galing teaches kids letters, and some basic reading and writing in Filipino. Forty children (ages 6-14 years old) are enrolled in the program. Most are in grades one to three, but some are not enrolled in school at all. Since July 2016, about 270 volunteer teachers from different backgrounds have spent time and effort teaching these children how to read and write.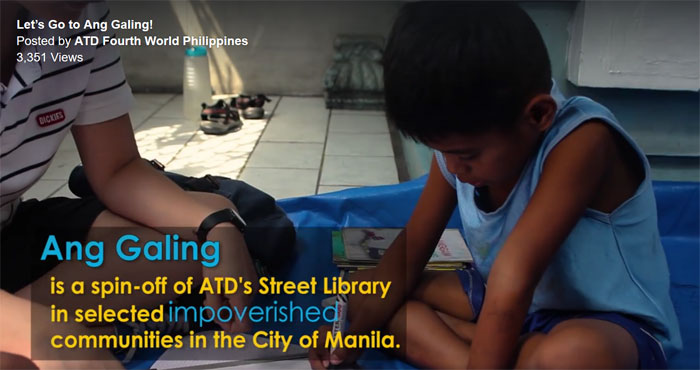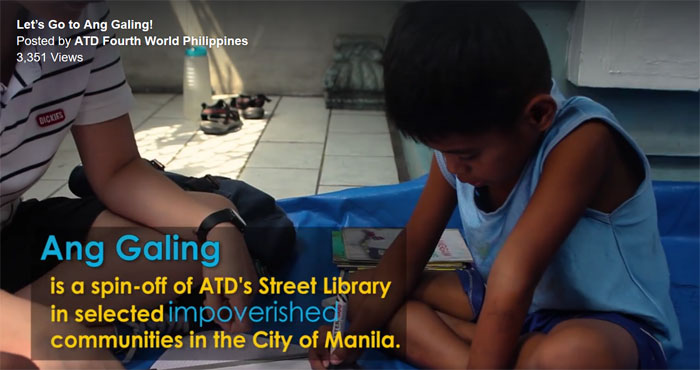 The grandmother of an Ang Galing student says that her granddaughter had very low grades before joining the program. Once the child started attending Ang Galing regularly, she was able to understand her lessons better because her reading and writing skills improved. By the 3rd and 4th grade, the child's grades have risen above those of her sister, the first time this happened in the family, according to the grandmother. Out of 38 children who have been actively attending, 31 have improved their reading and writing skills in school this year, while only seven remained on the same level as the previous year.
The self-confidence of the child and a personal relation with the teacher are very important to the children's learning in Ang Galing. The success of actual teaching of reading and writing skills is directly related to these two basic conditions. The Ang Galing volunteers take care to invest in a personal relationship with all the children in the program. From July to December 2016, Ang Galing has maintained a ratio of one teacher per 1.6 children, ensuring a quality learning experience with plenty of one on one attention.
"I Can Do This!"
Just as important as the reading and writing lessons, Ang Galing teaches kids that they are awesome, that they can learn. After being in Ang Galing, children go to school with the attitude of "I can do this!" And that makes all the difference in the world to their learning. As one of the volunteer teachers says in the video,
"When [the child] thinks that 'I am already good', that 'I am already knowledgeable, the child's ability to read and write quickly follows."
Parents are always the first partners in their children's learning. Through regular parent sessions, the Ang Galing program involves parents in their children's learning and keeps them informed about progress if they can't be directly involved in the program. The program maintains communication with the school for every child enrolled. Through its many wonderful volunteers, Ang Galing creates a powerful and supportive community whose effects spread far beyond the weekly reading and writing lessons.
For more information about Ang Galing and to learn how you can get involved contact:
Mae Ann Reginaldo, Ang Galing Coordinator, or see the ATD Philippines facebook page.
Information on similar ATD education programs around the world and to learn how you can help as a volunteer.
Information on ATD educational programs in the United States.
Information (in English and French) about ATD programs in Africa.