Stop Poverty Campaign: Joseph Wresinski Centre's Document Collection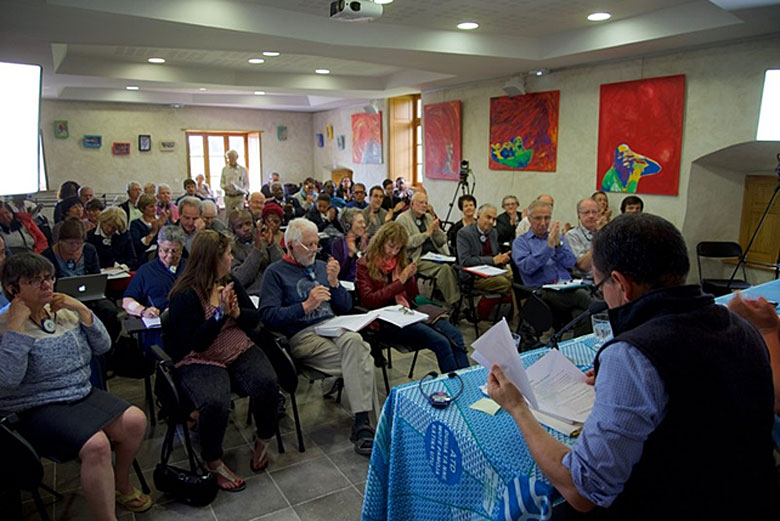 For June 9th, International Archives Day, ATD Fourth World International, in conjunction with the Joseph Wresinski Archives and Research Centre, is highlighting ATD's work related to archiving and documenting the history of those in deep poverty.
In 2017, ATD Fourth World organized the Stop Poverty Campaign to mark a number of important anniversaries in its history. One event in particular highlighted the Joseph Wresinski Archives and Research Centre's unique contribution to the struggle against poverty.
The Cerisy-la-Salle International Cultural Centre in France and ATD Fourth World International organized a seven-day symposium, "Rethinking our World from the Perspective of Poverty – with Joseph Wresinski". The event gathered 80 participants including researchers, academics, activists, and ATD Fourth World Volunteer-Corps members from five continents. Video recordings of symposium presentations and workshops are available online on ATD's YouTube channel. The symposium proceedings will be published in 2018. The Joseph Wresinski Archives and Research Centre made a number of critical contributions to the event, in particular:
Collecting files of reference documents by Wresinski and other ATD members on the following topics: knowledge about poverty, culture, human rights, societal challenges, violence, oral and written history, and ATD's involvement with people in poverty. All documents were available in the symposium reading room.
Preparing a list of reference works relevant to the symposium, including:
Books and other documents by Wresinski
A selection of ATD books, journals, and videos illustrating symposium topics
Interviews and papers from symposium speakers
Publicizing an inventory of the archives at the Joseph Wresinski Archives and Research Centre in Baillet-en-France (Val-d'Oise, France).
Above photo: 12 June 2017 International symposium "Rethinking our World from the Perspective of Poverty – with Joseph Wresinski" at the Cerisy-la-Salle International Cultural Centre (France)
©François Phliponeau/ATD Fourth World/Joseph Wresinski Archives and Research Centre 7000-004-003_24