COVID-19: Taking Action in the Philippines so No One Is Left Behind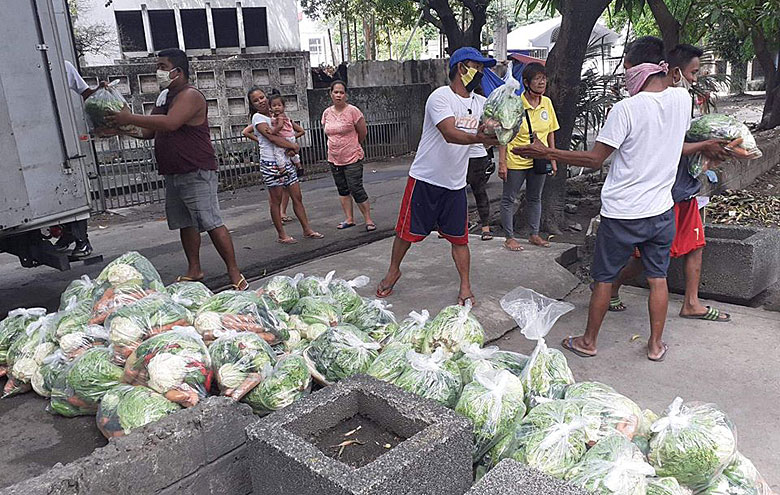 Above: Relief packs being distributed to families in North Cemetery.
In 2020, when the COVID-19 pandemic hit the Philippines, the government, like others around the world, imposed quarantines of varying strictness. In Metro Manila there were curfews and stay at home orders. Businesses had to close and transport networks became limited. A strong police and military presence in the streets assured that people followed these restrictions which have caused an abrupt and unprecedented disruption in the lives of all Filipinos. However, the impact on those surviving on daily wages and informal sources of income has been particularly severe.
No work means no food
As the quarantine progressed, the situation of those living in extreme poverty became very difficult. Through phone calls, the ATD Philippines team and friends managed to be in constant contact with the communities where they work. One team member summed up the situation:
"Informal workers, which comprise most of [the people] in our communities, including our cemetery community, have no work. No work means no pay or income, and that means no food."
Almost immediately, ATD Philippines, along with friends and community facilitators (people living in poverty who organize within their communities), started planning a response to the intensifying COVID-19 situation. An official ATD Philippines statement urged government authorities "to act quickly in the implementation of measures to provide for basic needs of people living in extreme poverty and to protect their health and to assure their right to food."
COVID-19 Solidarity Action
The ATD statement also called for the public's participation in ATD's COVID-19 Solidarity Action by donating money to provide food as well as health and other essentials to the most excluded families in the communities where ATD works. These include the Manila North Cemetery (where ATD Philippines runs the Ang Galing Literacy Program with homeless families who live there), Barangay 825 in Paco, and the relocation sites in Bulacan and Laguna.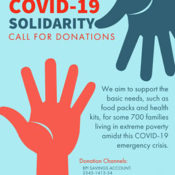 In order to coordinate these efforts, ATD Philippines provided mobile load phone allowance to community facilitators to keep them connected with the team through online meetings and phone communications.
Thanks to the generosity of numerous people, ATD was able to start providing support to families in the first week of April 2020. Facilitators identified the families most in need and prioritized them for provisions. The facilitators also provided input on the best delivery methods.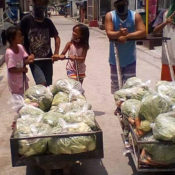 In partnership with Caritas Manila, ATD was able to purchase and deliver 341 food packs for the communities in Manila North Cemetery and Barangay 825 in Paco, Manila. Another 94 families in the Bulacan and Laguna relocation sites received financial assistance through cash transfer channels to help them buy food. These actions were organized by everyone working together in the context of the quarantines in place.
While fundraising was ongoing, other partner organizations and ATD friends provided additional support like food packs, materials to create masks, and hot meals.
The solidarity was impressive; ATD Philippines exceeded its initial fundraising target. But as the quarantines will last until the end of April 2020, ATD continues its call for solidarity, including donations.
Ongoing support for those most in need
ATD Philippines will keep up its dialogue with people in poverty to get their insight on how to improve support efforts. To ensure that donations effectively reach those in greatest need, facilitators lead mini forums in their communities to gather information and to learn from community members.
As ATD plans the next wave of support for these communities, this input from residents will also assure that efforts are adapted to the needs of each community. However, the number of families needing help will certainly increase. Facilitators insist that the situation is difficult for everyone and the support people are getting from public institutions isn't enough.
To help support these efforts led by community members themselves, please visit http://www.atdph.org/donate/