Friendship Through Football in France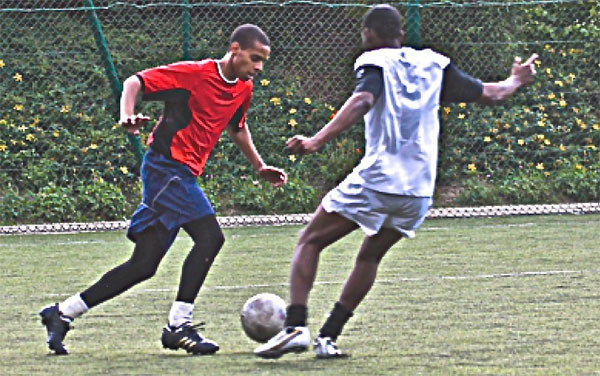 On December 18, the United Nations and the world recognize International Migrants Day. According to the United Nations, "The observance of International Migrants Day this year focuses on the stories of social cohesion, which are as varied and unique as each of the 272 million migrants living new lives and building new communities in ever corner of the globe."
While many countries welcome people fleeing armed conflict or other difficult situations, some immigrants struggle for acceptance in their new homes. In the article below, a thirteen year old in France tells the story of how he and his friends got to know other immigrant young people through their shared love of football. Even without a common language, the game brought everyone together.
In the beginning I was afraid, but then thanks to football, we became friends.
By Dorian (France)
My name is Dorian. I'm thirteen years old, and I attend secondary school in a Paris suburb. Recently, seventy migrants came to our town. They were hosted by a local organisation and housed in a building just outside the industrial area, next to the public stadium. The local paper had announced they were coming.
As I live just outside the industrial area myself, I was keen for them to arrive, but also felt a bit anxious because I didn't really understand who they were. I even imagined that they might be dangerous and would come to bother us.
The first to arrive, before all the others, was a seventeen-year old migrant from Africa who didn't have any documents. He was welcomed by the refugee organisation and went there every day to learn French. They also helped him to get the right papers. So then he was able to register at the Job Centre and find a job. He used to come and play football with us in the stadium, and we got to know him. As he was starting to speak French, we managed to talk to each other.
One month later, the other seventy migrants arrived. Some of the residents were against them and posted an anonymous letter through every letter box in town saying that the migrants weren't welcome and were dangerous. Luckily the mayor reacted immediately and sent everyone a letter which was also published on the town website and in the town magazine. He explained that the migrants were being looked after by a reputable organisation, that they weren't dangerous, and that we shouldn't listen to whoever had written this letter: someone who "hadn't even had the guts to sign it".
Some of the migrants were reassured by this and one day they turned up at the football pitch. They played amongst themselves on one side of the pitch and we played on the other.
About an hour later, one of them came over to talk to us. My friends and I used our few words of English to get to know them, and realised they were very friendly.
The next day, and then every weekend after that, we played football with them. One day there were up to thirty of us, about twenty migrants and ten of my friends. What's more, the migrants even adapted the way they played. Most of them were around twenty years old, so at first we were afraid of them because they kicked the ball so hard: but once we started playing with them, they toned it down to our level.
One day the town photographer was walking past and took photos of us playing with the migrants, which he liked very much. His photos were published in the local newspaper.
Gradually we became friends, but we still found it quite difficult to communicate. So the first migrant, who by now could speak good French, acted as an interpreter to help us understand each other better. That's how we learnt that they came from war-torn countries. Some of them had been victims of violence, and they had fled their country to escape that violence.
We're still playing together on good terms and still making new friends, because so far I've only met about forty of the original seventy migrants. I'm really keen to meet the others.
Read more Stories of Change.
More about ATD's work in France.