From Shame to the Magic of Christmas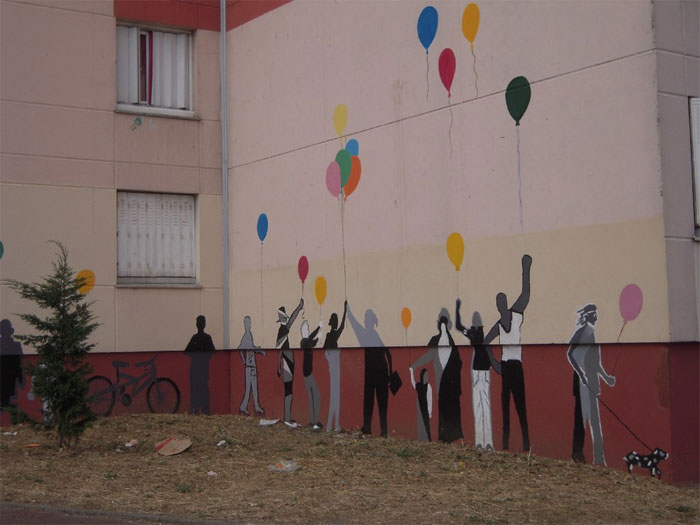 In 2017, ATD Fourth World invited people around the world to document real-life "Stories of Change". These stories are about situations of injustice and exclusion caused by extreme poverty. Written by activists, community leaders, and others, they show that when people work together, real change can happen.
Learn more about "Stories of Change".
By Isabelle Pypaert Perrin, Director General, ATD Fourth World International
"There is no time to waste. It is high time to understand that there is no celebration which is not a celebration for everyone", Joseph Wresinski said. How is it possible to enable those most excluded to contribute to their families' unity and honour, their neighbourhood and the world? This story of a genuine Christmas offers us the beginning of a solution.
The staircase
In a renovated suburb, in a run-down building, the worst poverty can be seen in the staircase. The walls are covered with insulting graffiti that shames and makes fun of an entire family living in this building.
For each resident, this means walking past filth at any time. For every member of the targeted family, it means being hurt every day. It is a constant aggression. It means looking down every morning before catching the bus to go to work, and seeking to escape those words which pound in your head while walking to school. Then there are also the sighs, sneers, and threats. So many blows that hit and hurt this family, already so scarred and bruised, just that bit deeper.
This form of violence highlights a lost neighbourhood, which has to deal with more than its fair share of difficulties. Misfortune lies behind each and every door. There is pain and anxiety about the future too. The people in the neighbourhood do not understand; they cannot bear it any longer— the family's incredible mess, the noise, the dogs…
Christmas story
And then this wonderful Christmas story. A few days before Christmas, the mother calls the ATD Fourth World house. "Please help us!" she pleads with the ATD team.
"Help us with something. For everybody Christmas will be a celebration— except for us! We don't want any presents. Just please get those insults off the walls."
The ATD Fourth World team knocked on a few doors in the building, and suggested that the neighbours could do something together. So first one, then two, then three of them came down to join the mother and a few friends of ATD.
It was like a spring-cleaning of the staircase. First, the brooms and mops were hard at work; then the walls got a coat of paint. And then there was the suggestion of putting up Christmas decorations to create the Christmas spirit amongst the children and adults — red baubles, sparkling lights, and bursts of laughter. And much more! Words were exchanged between people who up to then were not talking to one another.
It was a magic moment— a light in the darkness of the night where friendship, often so challenging, is slowly being built again.
And the best gift of all was the gift of peace and of pride restored!
More about ATD Fourth World in France.
Photo: Jean-Pierre Daud