ATD Fourth World UN Human Rights and Poverty Advocate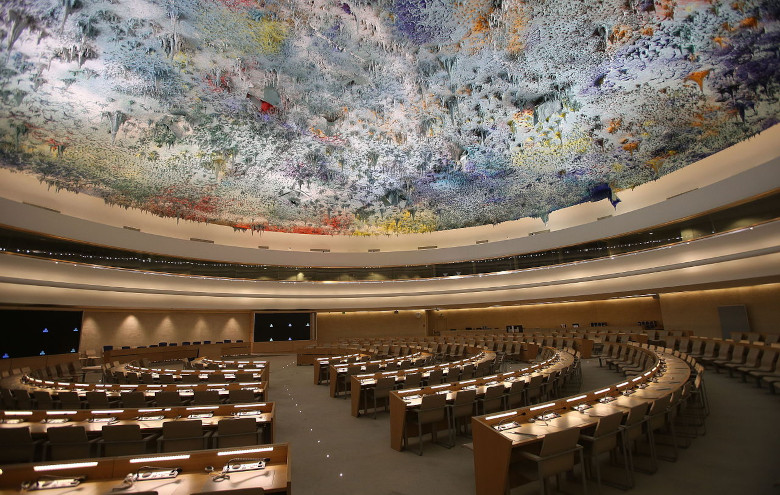 Above: United Nations Human Rights Council meeting room in the Palace of Nations Geneva.
Bringing the voices of people in poverty to the United Nations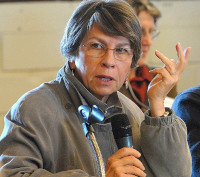 Last year on the International Day for the Eradication of Poverty, former ATD Vice-President Janet Nelson spoke with Drive Time Radio Show in the UK. In their podcast, she discusses her work with the United Nations and what can be done to eradicate poverty in our society.
Janet Nelson was born in the United States and currently lives and works in Geneva, Switzerland. She worked with UNICEF for years to improve the lives of children from disadvantaged families. Then in 2003 she started representing ATD Fourth World at the United Nations Humans Rights Council. There, she makes sure that the voices of people with lived experience of poverty are taken into account.
Janet Nelson still represents ATD Fourth World in the UN Human Rights Council today.
Advocacy success
The podcast offers great insight into ATD Fourth World's advocacy in the UN Human Rights Council.  Janet Nelson's contribution to the podcast is very informative and solutions-oriented. She explains how, together, we can create a better society leaving no one behind.
Here are a few takeaways of Janet Nelson's eloquent explanations:
ATD Fourth World's advocacy in the Human Rights Council began in 1987 when Joseph Wresisnki addressed the Council and requested that it examine the relationship between extreme poverty and human rights. This work contributed to UN recognition of International Day for the Eradication of Poverty in 1992.
And after years of work, in 2012, the UN Human Rights Council adopted the Guiding Principles on Extreme Poverty and Human Rights. Janet Nelson was instrumental in developing and advocating for this important document. In the process, she worked alongside ATD members with lived experience of poverty as well as other human rights organisations and UN human rights experts. In the Guiding Principles, the UN has acknowledged that extreme poverty is not just a matter of economic development but also a matter of human rights violations.
Currently, ATD is using its research project with Oxford University on the Hidden Dimensions of Poverty as an additional important advocacy tool at the UN in both New York and Geneva.
"Whatever issues are being discussed at the Human Rights Council that are relevant to people living in poverty, we try to ensure that their voices are also heard in those discussions. We actually help people living in poverty to come and be part of those discussions."
"Everyone can do something"
What about taking action outside of the Human Rights Council? Janet Nelson argues that we can all do our own bit. "Poverty means having to break down barriers. One of the ways is having dialogue with people within your community. […] Everyone can do something in their own field of work." We all can push back against trends that are divisive and stigmatising.
The podcast is still available online. Drive Time is a show on the Voice of Islam Radio, a station in the United Kingdom that broadcasts digitally and can thus be heard in every country. On October 17, Drive Time dedicated its show to the International Day for the Eradication of Poverty, as the Radio aims at providing "a platform for all individuals to discuss a wide and diverse range of subjects" regardless of personal faith.
You can listen to Janet Nelson's interview starting at 14:33 minutes and again at 17:47 minutes. You can also find more inspiring ideas and practical approaches to eradicating poverty on ATD Fourth World's international website. Find information on how to get involved in our work here.
Video portrait of Janet Nelson talking about ATD's work urging the UN to recognize that poverty is a violation of human rights.
More on ATD Fourth World's advocacy at the United Nations
Article by Célia Consolini
Article photo by Ludovic Courtès, CC BY-SA 3.0, via Wikimedia Commons