"I Think It Is Possible"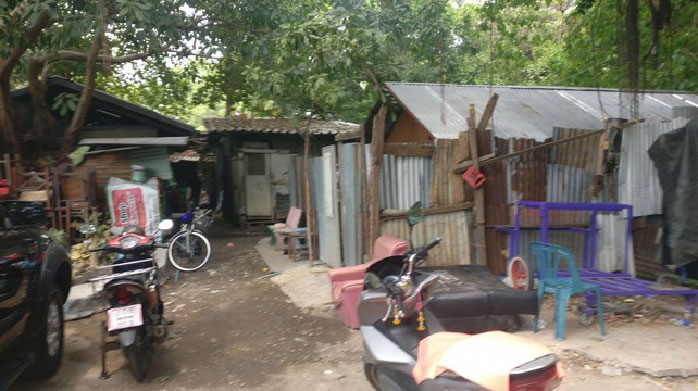 Photo above: Homes in the community where Adil worked during his internship.
Our world is still in need of an effective mechanism to tackle poverty seriously.
Adil Khan is a young college student from Malaysia who is enrolled in an international undergraduate program at a Thai university in Bangkok. He completed a 90-hour internship with ATD Thailand in February 2020. This article describes his experiences and discoveries with ATD, in particular his discovery of what those living in extreme poverty can contribute to society if given the chance and of how everyone in society has a role to play in eliminating poverty.
"It surprises me to see people living in these conditions. Everybody knows poverty exists; I have known this for so long. But to be able to see it with my own eyes, interacting with people themselves, has changed my perspective on everything, even life itself.
"I have been to many different environments and lived with people of different classes. I have seen people working in every class of the society. But never in my life would I have imagined people living in extreme poverty such as this, especially today when our countries are experiencing a period of development.
"Seeing people selling lottery tickets under the hot burning sun in Thailand is not surprising to me anymore knowing that Thailand has a very low unemployment rate. This means people who are living under the worst of the worst conditions are still looking for jobs to support themselves. It makes we wonder why they do not get the recognition or support that they need from us. It saddened me to see, to know, that all I could do is watch and try to do my part to help. But one person cannot change it. I, alone, cannot change it; I've known that. Poverty is not strange to the eyes. It is an issue that has been going on for decades and decades but yet it still exists today.
"It's interesting to me to see how ATD Fourth World works. I've always wanted to know what an organisation does to help those in need. Like I said before, I was honestly surprised to see the capability of the children in the community. The education they have received might not be as good as those children who go to better schools but I was surprised that the children were very capable of so many things. Working with children was harder than I thought. Controlling them, keeping them in one spot, was quite a task. But we managed to do so by providing them with some work and games to get their attention on one thing.
"I have learned so many things from this experience. What I have seen was only a very small percentage of the people living in extreme poverty. I truly believe in ATD's goal to make the future better by eliminating poverty fully. I think it is possible. But it is only possible if everyone lends a helping hand. In order to make a change in a society, everyone needs to start with themselves first. If we want to eliminate poverty, we need to start being aware that there are people in our own society who live in extreme conditions. There are children who rely on their daily meal at school and there are children who are not being educated enough to show their true potential.
I think to myself a lot about how life works in very mysterious ways. People who are born rich have it so much better; people who are born poor have it much worse.
"The structure of our society keeps the poor remaining poor while the rich remain rich. If only we could eliminate this. Then I thought to myself, if people who are living under extreme poverty could still welcome me into their community, into their homes with big smiles and open arms, if they are there, still appreciating life the way it is, why can't we?"
Read Adil Kahn's full article here .