Intergroup on Extreme Poverty and Human Rights
The Intergroup Extreme Poverty and Human Rights of the European Parliament sees poverty as a violation of fundamental rights and human dignity.
Objectives:
Introduce the concerns of people experiencing poverty into the work of the European Parliament;
Represent populations living in poverty;
Mobilize European Institutions to make efforts to overcome poverty a priority;
Analyze documents and proposals and include people living in poverty in these reflexions.
Means of action:
Propose amendments to ongoing reports;
Initiate resolutions;
Submit written questions to the Commission;
Adopt position papers and issue press releases;
Raise understanding through informal meetings and thematic discussions with actors in the field.
There are usually around three public meetings of the Intergroup per year, one of which is held on October 17, World Day to Overcome Poverty.
Main goals:
The Intergroup promotes a comprehensive and coordinated approach to poverty eradication through integrating efforts to overcome poverty into all EU policies including employment, health, social protection, education, youth, culture, economic and monetary union, budget, the free movement of persons, etc.
The Intergroup is based on a partnership with Europe's poorest people: Fourth World activists participate in the meetings and the organizations that represent them.
2014-2019 Legislature
Co-Chairpersons: Mrs Verónica Lope Fontagné (Spain, EPP) and Mrs Silvia Costa (Italy, S&D)
Vice-Chairpersons: Mrs Jean Lambert (Great Britain, Greens/EFA) and Mr Thierry Cornillet (France, ALDE)
List of members: pdf link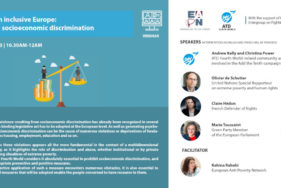 On June 28th, 2023 ATD Fourth World Europe organized a webinar on the theme of socioeconomic discrimination – Building an (…) Read more →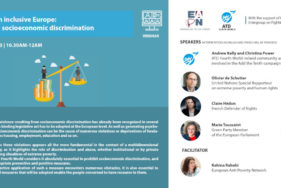 "Building an Inclusive Europe: Combating Socioeconomic Discrimination", a webinar organized by ATD Fourth World with the support of the European (…) Read more →
In February 2023 an ATD Fourth World delegation that included ATD activists with lived experience of poverty met in Vienna, (…) Read more →