So My Children Never Experience What I've Been Through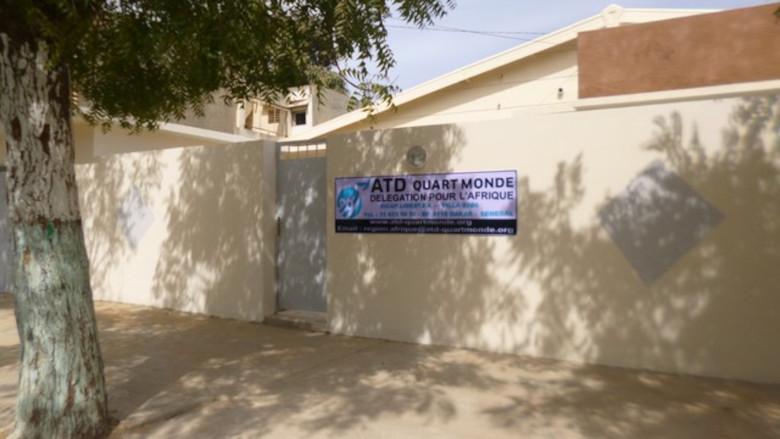 Photo: ATD offices in Dakar Senegal
By Chantal Consolini-Thiébaud, Deputy Director, ATD Fourth World International
First published in Revue Quart Monde 262
Last February, 60 ATD Fourth World members from ten African countries gathered for a regional seminar in Dakar, Senegal. Participants who spoke six different languages looked at how findings from ATD's Hidden Dimensions of Poverty research play out in each of their countries.
Lack of paperwork
Maman Élise from Burkina Faso described being unable to get a birth certificate for her newborn. Where she lives, only the father can obtain a birth certificate. However, her husband had died before the child was born. Without legal paperwork or recognition, she said, her child will endure suffering and social exclusion:
"Without a birth certificate, it's as if you have no family. You are not legal; you lose your dignity."
Maman Élise fought to get her child the proper paperwork, enduring humiliation in the process. Maman Élise also told seminar participants that some women who give birth at a hospital can't afford the cost. Because they sneak out without paying, they never get the baby's birth receipt. Yet they will need this paper later for the child's school. At the end of the seminar, Maman Élise said,
"The report on ATD's Hidden Dimensions of Poverty research is like a birth certificate. It is our lives. It gives us the power to stand up and defend those around us."
Pushcart collective
Dieu-Béni from Central African Republic operates a pushcart, a job that comes with a stigma. Pushcart operators experience marginalization despite doing useful work that often involves heavy loads. With other pushcart operators he knows in Bangui, Dieu-Béni organized a collective. Supported by ATD Fourth World, the collective has changed the way others view pushcart operators. Through this work, Dieu-Béni and collective members have met other pushcart operators in the Central African Republic. Dieu-Béni said:
"The Hidden Dimensions of Poverty is my 'program'. It's what I have to do so that my children never experience what I've been through!"
Participants said they found strength in being with people from other countries who endured similar experiences. And they were eager to tell people back home about the  seminar.  As one said,
"We won't be afraid anymore to leave our country. Now we know more about things that are hidden. When we get home, we want to tell others what we have learned here."
Just like other people
Putting experiences into words helps people see they are  human beings just like others. People see that no one can take away their dignity. They realize they have rights and can exercise them. Coming together with others – whether through sharing what you know, defending your rights, or engaging in cultural activities – helps you see beyond your own problems and needs. When we connect with other people, we become part of a community working together for greater justice. We all left Dakar stronger and more determined than ever.