School Victory in Brazil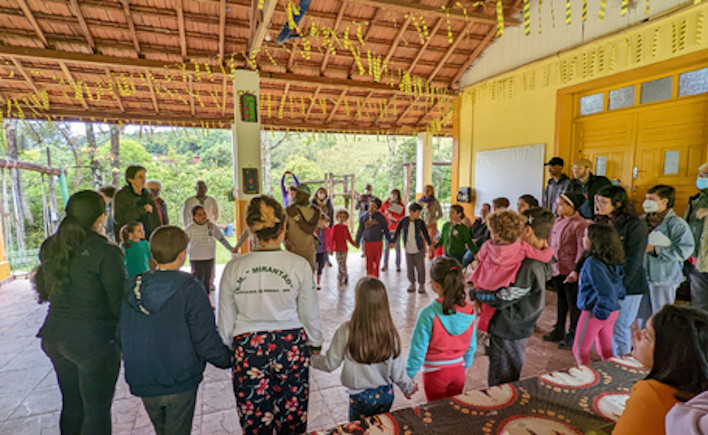 In November 2022, members of ATD Fourth World from seven countries met in Brazil to discuss activities there. Here, Geoffrey Renimel, a member of the French team, describes how families in Mirantão, Brazil have been advocating for education reform.
Challenging fatalism
When you arrive at the school in Mirantão, in the Brazilian state of Minas Gerais, you are met with a magnificent painting on the gate. Everything about the school breathes creativity, learning, and play. It's an ideal setting for the pupils living in this rural area. You would never imagine that a few years before, they seemed destined for academic failure.
It all started in 2012 when Mariana Guerra and Eduardo Simas, ATD Volunteer Corps members, moved to the village of Mirantão to work with families in poverty in the region. When Mariana took her son for his first day of school, a teacher told her,
"Your son will be the only one of these pupils to go to university."
Shocked and angered by this fatalism, Mariana was determined not to give up until the school offered the best to all its pupils.
Misunderstanding and a lack of dialogue
In the first week, she proposed a meeting with the teachers, the secretary of education, and parents. This first meeting shed light on many issues at the school. Parents complained at length about the teachers and the education system in general. Some of the women in the village had attended the school and left without being able to read. One grandmother stressed,
"I didn't learn anything [in that school] and my grandson won't learn anything either. I was a bit of a troublemaker, and my grandson is too."
Faced with these misunderstandings and lack of dialogue, Mariana tried to build bridges between people living in the village and the teachers. Her goal was to "bring together life experience and formal education." Mariana asked the grandmother what skills she had. She replied that she was good at gardening.
Together, they decided to share this knowledge with the pupils by creating a garden at the school. It worked wonderfully; the teachers asked her to come every week. In addition, this had a positive impact on her grandson, who was clearly very proud of her. This experience paved the way for other people in the village to share things they were good at, such as playing music and chess.
A new way of teaching
As a result, the community began to think more about education and alternative ways of teaching. It was at this point that Mariana met education specialist José Pacheo, who "emphasizes the importance of the relationship between the pupil and the teacher. He believes that you must adapt yourself to each child, even though it can be a challenge," Mariana explained.
A day-long workshop took place at the Mirantão school for 150 professionals from the region to discuss José Pacheo's ideas. During the workshop, teachers stressed how overwhelmed they had been by bureaucracy. The day was liberating for them because they saw a new way of teaching.
New problems emerge
The team of teachers in Mirantão was changed, and a discussion group with parents was organised. One day, a mother from the village mentioned that her daughter would have to move to another school next year, in the village of Visco de Mauá. This school was in another state, about an hour and a half away. The school in Mirantão only took on children until they turned ten years old. After that, they had to travel a long way to go to school. Some young people really suffered because of these long journeys and their sense of being uprooted.
This was a problem for many families. They began to ask themselves why they couldn't increase the school-leaving age in Mirantão. When they thought about it, the village ticked all the boxes to make it possible. The families even managed prove that it cost the community more to send their children to Visconde de Mauá than it would to raise the school-leaving age.
A six-year struggle
This marked the beginning of a six-year struggle. The families made appeal after appeal and met with administrators who were reluctant to acknowledge their situation and commit to changing it.
As is so often the case in these stories, a few individuals can make a big difference. In this case, it was Lúcio Benfica, a former teacher and secretary of education in the region. After hearing of these families' struggles, he became deeply committed to getting the administrators' support. On 7 November, he finally announced to the families and teachers that the school in Mirantão would teach pupils until they reached secondary-school age, as of February 2023.
The good news reassured the families and has even created opportunities for the village's development. By next year, it may be able to accommodate the school's pupils as well as education for adults. As rural schools close in Brazil, and children are forced to travel long distances to get an education, the struggle of these families in Mirantão shows that there is no need for fatalism. No matter where we are, if we have hope of a better life for our children, we can reimagine education.