Seminar on Extreme Poverty and Exclusion in Africa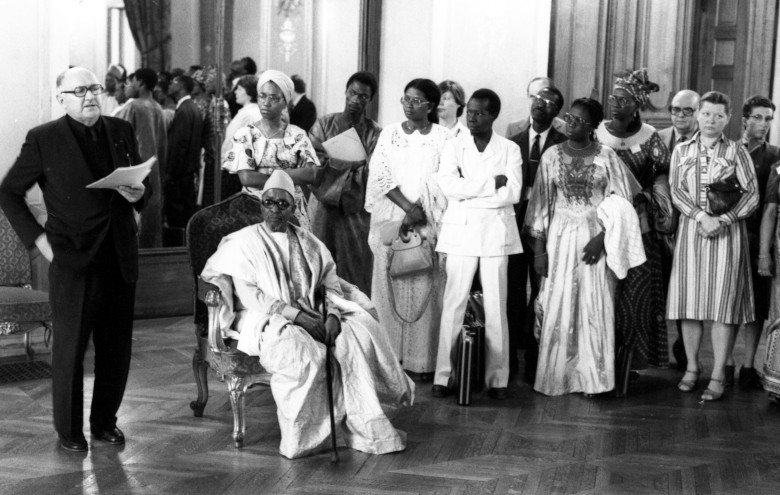 Photo above: Reception at the Paris City Hall, May 1981 © Mira Marik/ATD Fourth World/Centre Joseph Wresinski/0006-023-004-(33)
By Loïc Besnard, archivist Joseph Wresinski Archives and Research Centre (JWC).
For June 9th, International Archives Day, ATD Fourth World International, in conjunction with the JWC, is highlighting ATD's work related to archiving and documenting the history of those in deep poverty.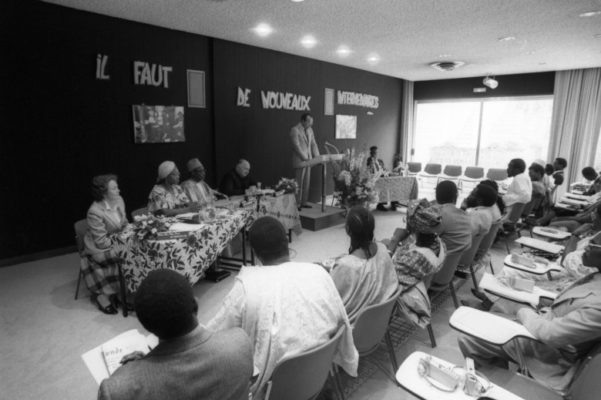 In May 1981, the Extreme Poverty and Exclusion in Africa seminar brought together 60 participants. They represented numerous countries, including 14 countries from Africa. The seminar took place at the UNESCO International Institute for Educational Planning in Paris.
Organized by the Forum on Overcoming Extreme Poverty, an ATD Fourth World network that builds relationships with those who work with populations in deep poverty. The Extreme Poverty and Exclusion in Africa seminar aimed to make the voices of people in extreme poverty heard. Present at the seminar were representatives from the World Bank, International Labour Organization, World Health Organization, United Nations, United Nations Development Programme, UNESCO, and UNICEF.
Speech by Joseph Wresinski
In his opening remarks, ATD founder Joseph Wresinski called on people in extreme poverty in Africa to share their knowledge and experiences to fight against exclusion in both Africa and Europe.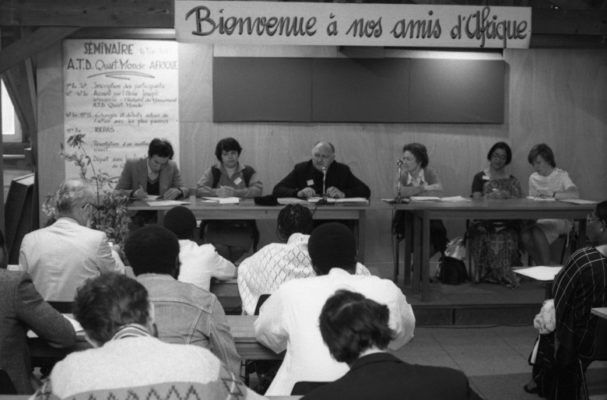 "Tell us what you think, work with us, advise us, watch over us, become our good friends. (…) Who better than you can know what it means to see your history, your identity, your inalienable human wealth and you as a people ignored? Is there anyone better than you, who can understand why those in extreme poverty, the excluded the world over need to help us reconstruct their history together, so that we listen to them, not because we want to educate them but because we need them to educate us. Who better than the men and women of Africa who you are, can become the defenders of all those excluded on all continents? Who can speak with more authority, with more experience?"

Joseph Wresinski
Speech by Amadou Hampâté Bâ
The seminar took place with the support of Amadou Hampâté Bâ, Malian writer, historian and ethnologist and former member of the UNESCO Board of Trustees. For Hampâté Bâ, international aid for the most disadvantaged is ineffective when based on a purely material contribution without involving the people who know extreme poverty best in the fight against it. Those who live in extreme poverty.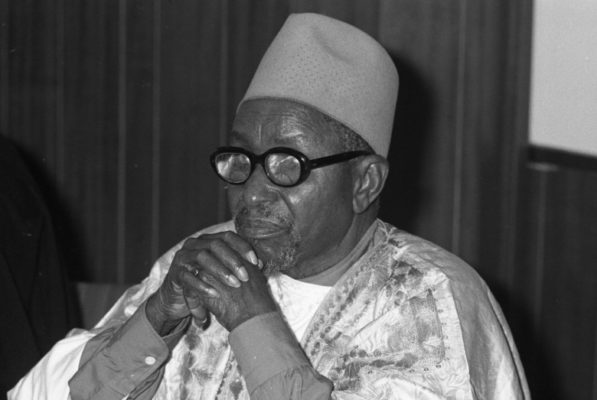 "It is essential and urgent to reconsider certain types of aid, their form and their purpose. It is important to develop new techniques in order to avoid costly expenditures leading to an almost negative result. ATD Fourth World's long practical experience has enabled it to observe that in terms of assistance, good results cannot be obtained by imposing aid from above without consulting the main stakeholders, that is to say those receiving it. My mentor Tierno Bokar, the sage of Bandiagara, said: 'You must first listen to the one you want to help in order to help wisely, because indiscriminate help is like an arrow that misses its target and is lost never to be found.'"
Amadou Hampâté Bâ
Seminar resolutions and conclusions
Seminar participants called for recognition by the international community of the expertise of those at the grass roots as well as giving priority status to those held back by extreme poverty.
Participants also called for the creation of an ATD office for meetings and exchanges in Dakar. This office, created in 1982 worked in conjunction with Élisa and Philippe Hamel and the Forum on Overcoming Extreme Poverty. Its role was to support those who worked alongside the most disadvantaged, learn about African initiatives to fight poverty and develop solidarity. It also worked to advise aid projects, development programs and create local programs to support the community.