Stop Poverty Campaign Launch in Guatemala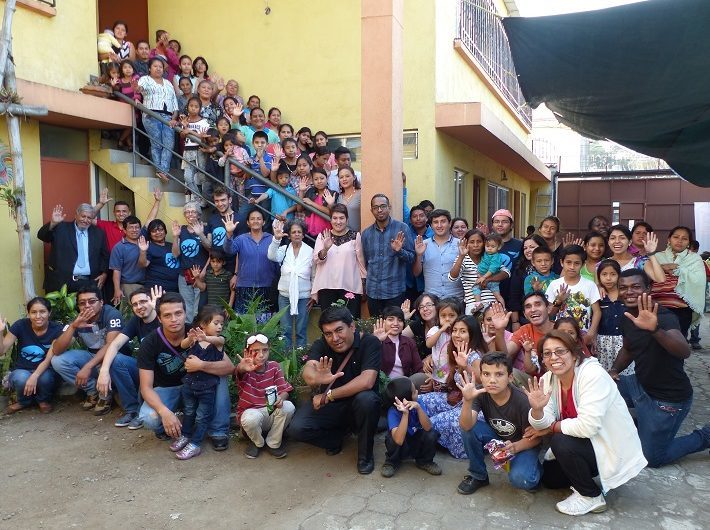 This article is imported from our 2017 Stop Poverty Campaign web site.
The national headquarters of ATD Fourth World in Guatemala City was filled with close to 100 adults, young people, and children on February 18, together to begin a year of celebration.
The initiatives behind the Stop Poverty campaign focus on bringing people together, regardless of their means, beliefs, culture or nationality, and they seek to unite them around a shared conviction that poverty is not inevitable and can be overcome. There was much enthusiasm for joining the campaign. As one participant from Guatemala City said, 'We have to unite for these actions. We have a commitment, we want to support people in poverty with our presence, and to show that we are serious; if not, we will all be weakened.'
Small groups were set up to discuss and share ideas about what people could do to Stop Poverty. The discussions were rich and participants had lots to say: 'The eradication of poverty does not depend on the government, or a rich man; it depends on our attitudes.' (San Jacinto, Chiquimula). The desire to unite struck a chord with people from different backgrounds. Some university students said, 'We have to invite more friends to unite in eradicating poverty', whilst another young person from Guatemala City said, 'Young people could unite through sports to get to know each other', Sentiments such as these can help lead to a change in attitudes towards people living in poverty.
To help bring to life the commitment of ATD Fourth World Guatemala to spread the vision and message of Joseph Wresinski through art and culture, a theater performance depicted his life. This gave the audience the opportunity to learn more about his work and of the history of the movement he founded. The day's events encouraged people to share what they had experienced with others and one attendee had the idea to 'show the film Joseph The Dissenter to young people from their community in' Sololà'.
The continued participation of young people is a core commitment for ATD Fourth World Guatemala, which see them as a force to fight against poverty and as having a significant role in the construction of a more equal society. This hope for the future was echoed by a mother from Esculinta who said, 'I pledge that my children will study and reach their goals, and that they can help eradicate poverty and have a better future.'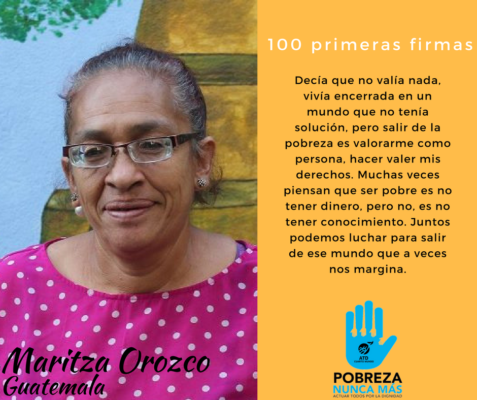 The launch was a successful start to our action-packed campaign.
Throughout the year, we are organisng a number of events to keep the mobilisation going. You are all welcome!
Presentation of the publication, 'Here Where We live' (date to be confirmed) which is a book of texts by 14 different authors from 9 Latin American countries put together by intellectuals and people in poverty on the thinking and actions of Joseph Wresinski.
On Thursday, 17th August, we will celebrate the event, 'Artisans of Past and Present' in San Jacinto (Chiquimula), the birthplace of the movement in Guatemala.
And of course, on Tuesday, 17th October, we will gather again to demand, 'Stop Poverty' and to reaffirm our commitment to peace and a world free from poverty.
With your signature, with your gesture, you can join the growing network of people committed to ending poverty.