Videos | Mr. Cassam Uteem Calls for Action!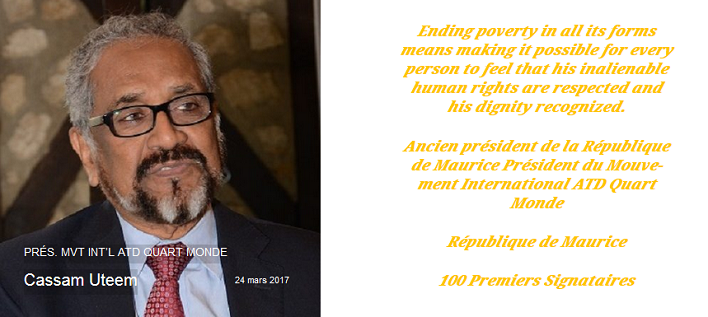 This article is imported from our 2017 Stop Poverty Campaign web site.
In this series of three videos, Cassam Uteem, President of the ATD Fourth World International , reflects on his work with ATD and invites others to join the Stop Poverty campaign to build a world where no one is left behind.
The call to action | Video 1
"But poverty is not inevitable. Like slavery or discrimination, it can be overcome."Cassam UteemPresident ATD Fourth WorldSign the call to action today!http://www.atd-fourthworld.org/?call2action=from-my-country#StopPoverty

Publiée par ATD Fourth World sur Jeudi 13 juillet 2017
Cassam Uteem, one of the first 100 first signatories | Video 2
Message from Cassam Uteem, President of ATD Fourth World on why he signed the Call to Action to #StopPovertySign the call to action here:https://goo.gl/Ybm7Cp

Publiée par ATD Tanzania sur Jeudi 13 juillet 2017
You can join the campaign too! | Video 3
Cassam Uteem, President of ATD Fourth World, talks about the #StopPoverty campaign. This year marks the 60th anniversary of ATD Fourth World, the 100th anniversary of the birth of its founder Joseph Wresinski and the 30th anniversary of the World Day to Overcome Extreme Poverty. Please join us!http://www.atd-fourthworld.org/stop-poverty/

Publiée par ATD Quart Monde / Région Afrique – ATD Fourth World / Africa Region sur Jeudi 13 juillet 2017