Central African Republic
"Zo Kwe Zo," Every person is a person!
Zo Kwe Zo, chant d'ATD Quart Monde en Centrafrique

In Bangui ATD Fourth World members sing Zo kwe zo, the motto of the Central African Republic:"All people are people All of us are only oneMen and womenBlack and whiteAll ethnic groupsWe are one. "Zo kwe zo is published in the booklet Joining Our Voices, an excerpt can be downloaded here with the words and music – http://www.atd-fourthworld.org/wp-content/uploads/sites/5/2017/02/ATD-Fourth-World-Songbook-Extract.pdf

Publiée par ATD Fourth World sur Samedi 4 mars 2017
ATD members sing Zo Kwe Zo.
Our team in the Central African Republic is active in several areas of Bangui: Kokoro, Walingba, La Voix du Coeur, and Mbongossoua island.  We also work in several villages around Koula Mandja and Danzi. 
The national center, "The Courtyard," is a place where people from all backgrounds are welcome to come together and support one another.  Since 2008, our team has focused on community work and encourages young people to take on their own projects, including running activities among children in their own neighborhoods and villages.
We run various Street Libraries with children.  During the recent violence, the libraries have relocated from marketplaces and street corners to refugee camps, but they have kept their importance for the children as a place for learning, particularly as the children attend school less frequently.
Our team supports young people who run Street Libraries and Tapori projects for their younger brothers and sisters in their neighborhoods and villages, offering training for volunteers and peace-building workshops.
"Being a Street Library facilitator is about reaching out to those who are isolated, who can't even come out and play with the others.  It's about sharing our knowledge with them."
"We value everyone.  The dignity of each person is important.  It takes dedication, every day.  We have to work together to build a better world."
Partnerships help reach new audiences and build a movement to overcome poverty.  ATD Fourth World has collaborated with la Voix du Coeur, Alliance Française, and Sous-Cluster Protection de l'Enfance, among others, on occasions such as the World Day for Overcoming Poverty and the International Day of the Family.
Fourth World has been present in the Central African Republic since 1984, first in Markunda, then in Bangui.  In 1988, the team in Bangui began to build the "Courtyard of a Hundred Trades" with young people living in the street.  The project allowed young people to learn new skills and to be proud of their contributions.
Latest news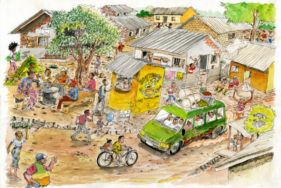 Drawing above : Aquarelle, town centre, Bangui, Central African Republic, 2011 © Yvon Gandro/Collection Brand/Centre Joseph Wresinski – AR0207001003 "It's (…) Read more →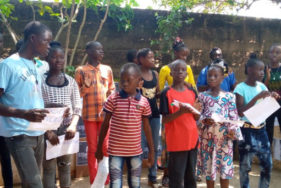 By Olga Tusala Katembo, ATD Fourth World Volunteer Corps member in Central African Republic Tapori Children's Parliament In Central African (…) Read more →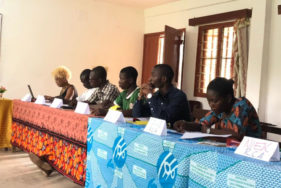 Photo above: Regional facilitators meeting in Bangui, Central African Republic, 2021 © ATD Fourth World By Henri Muzusangabo, ATD Fourth (…) Read more →