2017 – A Great Year for "Unity in the Community"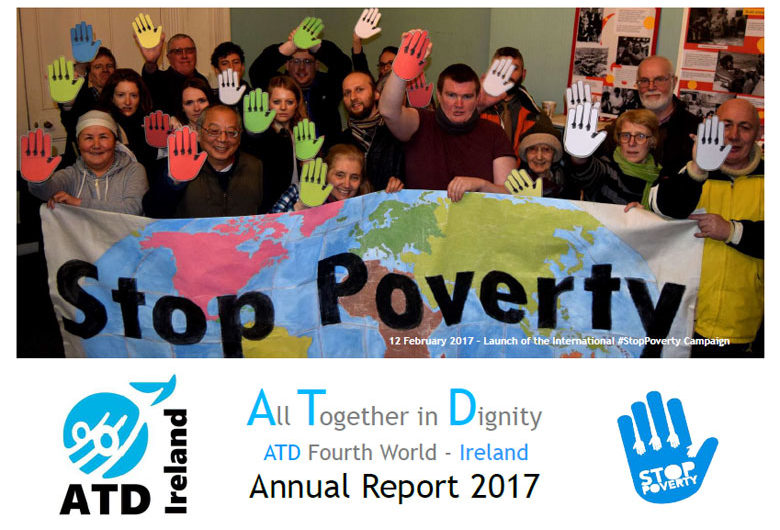 2017 was a very busy and productive year for ATD Ireland.
Read the full Annual Report for more details.
ATD Ireland focuses on bringing people together. Alone, people often feel isolated and discouraged. Together, they feel hopeful and connected. Alone, people feel powerless, unsure about what to do to make positive change in their lives and their communities. As part of a group, people find ways to put their hopes and dreams into practice through advocacy.
In 2017, ATD Ireland's activities focused on adults of all ages, including young people. At the individual level, ATD Ireland brings people together through home visits that build connections and encourage people, at their own pace, to take part in group activities. At the national level, ATD Ireland organized many events, including the yearly demonstration in Dublin on International Day for the Eradication of Poverty.
At the international level, ATD Ireland participated in ATD's STOP Poverty campaign. Work continued with the Our Voices project that brings Irish people together with their peers in Spain and Poland. Our Voices creates bonds across countries and cultures through eye opening educational activities. The project is a forum through which young people who experience poverty can advocate for change and feel their voices are being heard. Recognizing that they are not alone in their struggles inspires hope and self-determination. Often it is also the first step towards significant change on a personal level.
In 2017, young people involved with ATD Ireland took part in international gatherings. They learned about European Institutions and discussed healthcare, work and employment, and other issues. Learning about the European Union and discussing ideas about overcoming poverty helped young people to feel invested in their wider community. They also met other young adults involved with ATD in Europe during a major gathering in the Netherlands. Back in Dublin they created the Unity in the Community Youth Group now involved in the I Have A Dream project.
Read more about these activities, ATD Ireland's work on Human Rights; its membership in Coalition 2030, an alliance of over 100 leading Irish civil society groups; and more!