Africa Climate Summit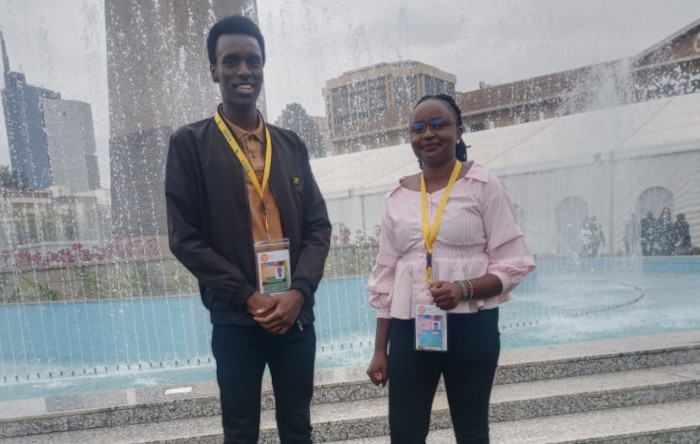 Above: ATD Fourth World delegates Nelson Onsongo and Terry Kiarie from Kenya
ATD Fourth World's core mission is to advocate for the rights and well-being of people living in poverty. We believe that everyone, regardless of their economic circumstances, should have a voice and a role in shaping policies and initiatives that affect their lives. Recently, two delegates from Kenya (Nelson Onsongo and Terry Kiarie) attended the Africa Climate Summit Week 2023 (ACS23) in Nairobi, themed: Driving green growth and climate finance solutions for Africa and the world.
A Call for Inclusivity
Africa Climate Week 2023 took place from 4th-8th September in Nairobi, Kenya.Hosted by the Government of Kenya and in partnership with the African Union and the African Development Bank, among other partners. The Africa Climate Summit was held alongside the Africa Climate Week from 4-6th September 2023. This two-in-one regional climate event aimed to bring together nations-states, policymakers, civil society organizations, and individuals to deliberate on promoting green growth and climate finance solutions for Africa and the world.
In our view, this climate week was a unique opportunity to highlight the challenges faced by those living in poverty, whom we know and journey with daily and are often the hardest hit by the adversities of climate change. The reality is that their voices, opinions, and lived experiences are never present in these climatic forums; they are forgotten.
Our participation played a crucial role in reminding all stakeholders present the importance of including these forgotten expert voices in climate conversations.
Five Key Recommendations
To guide our advocacy efforts at ACS23, ATD Fourth World presented a position paper that outlined five key recommendations:
Attention to the Bottom 20%: Focusing on the most vulnerable populations, ensuring that no one is left behind in the fight against climate change.
Partnership with People in Poverty: Collaboration with individuals living in poverty is essential for crafting effective climate solutions that address their unique needs.
Ensuring Funds Reach the Most Vulnerable: Climate finance must reach those who need it the most, particularly those struggling with poverty.
Establishing Social Protection Floors: Advocating for the creation of social protection systems in all countries to provide a safety net for those living in poverty.
Empowering People in Poverty: Access to training, quality jobs, and a just transition toward a more sustainable economy can help lift people out of poverty while contributing to climate action.
Engaging with Key Organizations
During ACS23, we actively engaged with key organizations such as the United Nations Children's Fund (UNICEF) and the International Federation of Red Cross and Red Crescent Societies (IFRC). These interactions allowed us to understand their approaches to climate action and how they incorporate poverty alleviation into their agendas.
From UNICEF, we learned about the effectiveness of their holistic approach to humanitarian and developmental aid, which considers the environment and communities in which children live. This approach aligns with our belief in addressing poverty as a multi-faceted challenge.
Our discussion with IFRC revealed their dedication to providing humanitarian support to those most affected by climate change, many of whom are living in poverty. We explored opportunities for collaboration, particularly in on-ground service delivery, to better reach communities in need.
The Way Forward
Our participation in ACS23 reinforced the importance of inclusivity in climate conversations. We witnessed the power of involving youth and children in discussions, as demonstrated by the Africa Youth Climate Assembly (AYCA) and the Africa Children Climate Summit (ACCS). These events emphasized that bringing all stakeholders on board leads to more practical and effective solutions.
Looking ahead, we are committed to actively participating in climate dialogues, empowering children to voice their perspectives on actionable climate solutions. We also recognize the potential of innovation in securing funding to uplift the lives of those in poverty, aligning with ACS23's call for an annual $100 billion financing of actionable climate solutions.
In conclusion, ATD Fourth World Africa's advocacy role at ACS23 underscored our commitment to advocating for the rights and well-being of people living in poverty.
We believe that inclusive dialogue, innovation, and active involvement in climate conversations are essential to creating a sustainable and equitable future for all.
Our journey continues as we work tirelessly to ensure that no one is left behind in the fight against climate change. Together, we can make a difference.
By Nelson Onsongo and Terry Kiarie.