ATD Fourth World Friends in Peru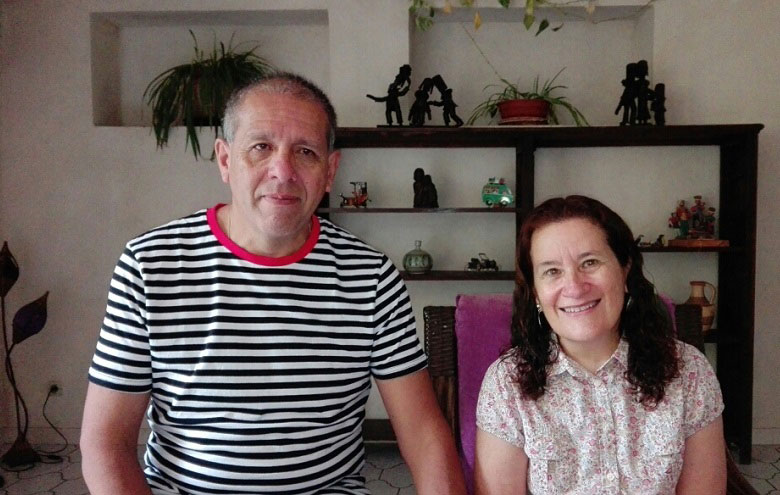 Image above: Silvio Campana and Carmen GIusti at ATD's International Centre in 2019 © ATD Fourth World Silvio Campana and Carmen GIusti.
Silvio Campana and Carmen Giusti have been Friends of ATD Fourth World in Peru since 1999. Silvio is currently a member of ATD Fourth World's International Board of Directors and Carmen often helps the ATD team with the People's University, workshops and interviews, and other activities.
A life-long concern about poverty
Silvio and Carmen have both been involved in efforts to overcome poverty for a long time. Members of various organisations in Peru, they have contributed their professional skills to numerous projects. Carmen, a biologist and environmental consultant, was part of ATD Fourth World's delegation to COP 25 in 2019. Silvio is a lawyer and served as the first human rights Ombudsman in Cusco.
However, each one comes at this work from a different background. "My family was well-off," Carmen explains. "We never knew economic hardship. But Silvio came from a very difficult economic situation. At age 12 he went to work in order to help out his family at home."
Silvio and Carmen got to know ATD Fourth World in 1998. They met the organization through members of the ATD Volunteer Corps in Peru, Marco and Rosario Ugarte. At the time, Silvio was working as Ombudsman. "Because I was an Ombudsman," Silvio explained,
"I immediately understood that issues ATD Fourth World was raising were a matter for our office because poverty is a violation of human rights."
But what especially impressed the couple was ATD's approach of establishing equal partnerships between people who live in poverty and those who do not. This alliance has led to a joining of forces that has strengthened projects for the rural and urban poor in Peru.
A joint effort to eliminate school fees
Silvio soon found ways that the Ombudsman's office could serve people in poverty and support ATD Fourth World's activities.
In 2006, they launched an initiative in the community of Cuyo Grande to encourage implementation of the law making education free and compulsory. Despite this law, many schools demanded payments that families could not afford. The initiative was very successful in bringing together many families from disadvantaged communities. Sessions of the ATD People's University (Uyarinakusunchis) also focused on the issue, leading to a workshop with education authorities. Eventually, the initiative grew successfully to other communities as well.
Supporting national and international projects
In 2007, Peru was one of five countries where ATD Fourth World organized consultations to develop a draft for the UN Guiding Principles on Extreme Poverty and Human Rights. Through his position with the Community Ombudsman's Office, Silvio supported ATD's development of the draft document.
Through his role as Ombudsman, Silvio developed a relationship with members of ATD who lived in poverty. Over the years, he often intervened to defend their rights in various ways, earning their trust and confidence in his advocacy on their behalf.
Economic inequality is unacceptable
In 2019, during a visit to ATD's International Centre in France, Silvio and Carmen were interviewed about poverty in their country and their work with ATD.
How do people view poverty in Peru? Is it quite visible?
There is poverty almost everywhere in Peru, in all parts of the country. The stark contrasts really stand out. Some people don't even have what it takes to live a dignified life.
What made you want to get involved in work to overcome poverty?
We [Silvio and Carmen] met in a church organization that considered the "option for the poor" to be a necessary part of Catholic life. You cannot be Catholic and remain indifferent to poverty.
In this church organization, there were boys and girls from different areas of Lima and different economic backgrounds. This gave us more insight into the difficulties young people our own age faced.
What is it about poverty that you find unacceptable?
It is unacceptable that there is such huge economic inequality. A very few have a lot of money while many are not even able to afford to live in dignified conditions.
In the last decade, Cusco has received a lot of money from the exploitation of gas reserves in the region, as well as from international development aid. So it is unacceptable that basic problems such as access to clean drinking water, health services, and education have not been resolved.
It is also unacceptable that social programs do not take into account what beneficiaries think. Therefore, these programs often end up generating more problems than those they are intended to solve.
Do you think people should change the way they look at poverty?
We have to set aside an approach based on charity. We have to set aside the idea that sees people in poverty as second-class citizens. We have to learn to recognise the values that have been developed among people living in extreme poverty. We need to listen to their voice!
At the end of their interview, Silvio and Carmen said that they chose to support ATD because of the organization's focus on the dignity of all people. In particular, they believe strongly that overcoming poverty is essential to achieving human rights for all people.
More on ATD's work in Peru.
More on how people around the world support ATD's work.