ATD's Work on Poverty: A Macroeconomist's View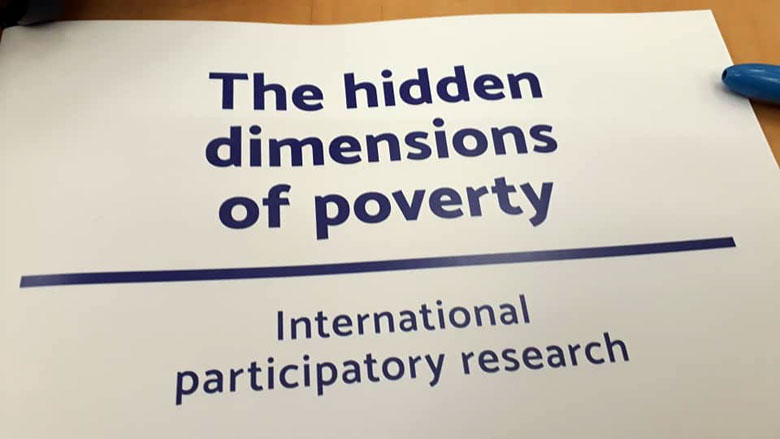 By Chris Papageorgiou* (IMF)
Chris Papageorgiou is the Division Chief in the Development Macroeconomics division of the IMF's Research Department. He is also the coordinator of IMF-FCDO Low-Income Country Research Program. Since joining the Fund in 2006, he has done mission work in Africa, Western Hemisphere, and Asia and Pacific, and has led IMF policy work on a variety of developing country issues. His analytical work is primarily focussed on economic growth and international macroeconomics. He has published extensively, and is an associate editor of the European Economic Review and the IMF Economic Review.
Poverty in terms of consumption or income
While the world has made great progress in reducing extreme poverty over the last two decades, that progress has been measured primarily in terms of consumption or income. Other aspects of life are also critical for well-being, and a number of initiatives have been underway to develop multidimensional measures of poverty. For ATD Fourth World this is not just an initiative but at the heart of its lengthy battle with poverty.
My first interaction with ATD came about during a joint event that the NGO had organized with the OECD almost two years ago in May 2019 in Paris, France. When the invitation came to participate in the event along with other IMF and World Bank colleagues I was at first quite hesitant to accept as I felt that the core theme of the large conference, which was on poverty and more squarely on the hidden dimensions of poverty, fell outside my expertise – being a macroeconomist by training.
International report: The Hidden Dimensions of Poverty
That first sentiment had flipped entirely upon reading the report drawing on the research from the multi-year project carried out by ATD, in collaboration with Oxford University. The analytical approach employed included an intriguing new element that I have not witnessed in my three decades long career: in addition to combining existing academic research with policy actions, it also and most notably incorporated life experiences of those who have faced poverty, to provide new insights about the multidimensional nature of poverty. Unlike drawing evidence from national statistics, surveys, or experiments, data in this study – observations collected – were made up from the experiences of actual subjects that could witness, elaborate, and add depth to the analytical results of the report. Therefore, beyond the hugely important issue at hand to better understand the often-unobserved characteristics of poverty, I found the analytical approach by which the report was based on fascinating.
Contributing factors of poverty
The ATD-OECD event in Paris proved to be a huge success. For ATD, the report demonstrated top-notch quality of research benefiting from several Oxford University academics and technical experts. Furthermore, the frontier research established that hidden dimensions of poverty are as urgently needing attention as the more obvious dimensions of poverty that are easier to identify. Panels of experts, statisticians, policy makers, and ATD activists, discussed various contributing factors of poverty including insufficient income, lack of descent work, and unrecognized contributions by the most vulnerable in the society.
An overarching theme that struck every panel and session in the conference was that a key hidden dimension of poverty is a lack of voice (economic, political, cultural, etc.) of the poor.
Regardless of a country's income level, the report demonstrated that the most economically vulnerable segments of society were left without a right to be heard and without any real influence on the society.
Listening to those living in poverty
A main highlight of the event was the testimonies of several individuals living in poverty around the world who participated in the ATD-Oxford University research project. In a breakout session that I participated in, two women living in poverty (one from the UK and the other from France) shared their experiences in detail that was particularly revealing and could not possibly have been captured by a statistic or an estimate.
What was fascinating from our group discussions was how these two women could substantiate the findings of the report on various dimensions of poverty that are not addressed by society. They lacked opportunity to voice their views or ability to influence the political and economic systems.
One of the two women described herself as living but being "invisible" in the eyes of other people, the government, and the existing public institutions.
The main takeaway from that session was that, beyond providing material support to the poor, perhaps even more important is to provide the means by which they can express their views and voice their concerns and aspirations, something that just about all other citizens in a society enjoy.
Work on extreme poverty
Work on extreme poverty has been central to the World Bank's mandate since its inception almost eighty years ago. Its sister organization, the International Monetary Fund (IMF), while operating under a broader agenda (mainly helping countries in crisis and safeguarding the global monetary system), has been mobilizing resources and implementing policies to aid the Sustainable Development Goals (SDGs), including reducing income inequality and eliminating extreme poverty. Recent efforts by the IMF support policies that enable greater financial deepening and that are accompanied by measures to promote financial inclusion (broader access to financial services for households and small firms), both to strengthen growth prospects and to expand financial choices for the poor.
Recognizing a shared goal to eradicate poverty in all of its forms, a major conference jointly organized between ATD, the IMF, and the World Bank was originally planned for the fall of 2020 to take place in Washington, DC featuring plenary speaker Nobel Laureate Ester Duflo who happens to be a strong advocate of ATD. The intended conference program included participation of people from around the globe who took part in ATD's research and who also face poverty. Unfortunately, the COVID-19 pandemic has prevented the event from taking place as planned. But new plans are emerging to hold the event as soon as practicable. The inquiry around poverty will be particularly aimed at motivating further research, and also at triggering actionable policies to help the most vulnerable in our society escape unrecognized forms of poverty that ATD's notable work has recently uncovered.
* The views expressed here are those of the author and do not necessarily represent the views of the IMF, its Executive Board, or IMF management.