Bangui celebrates International Poverty Eradication Day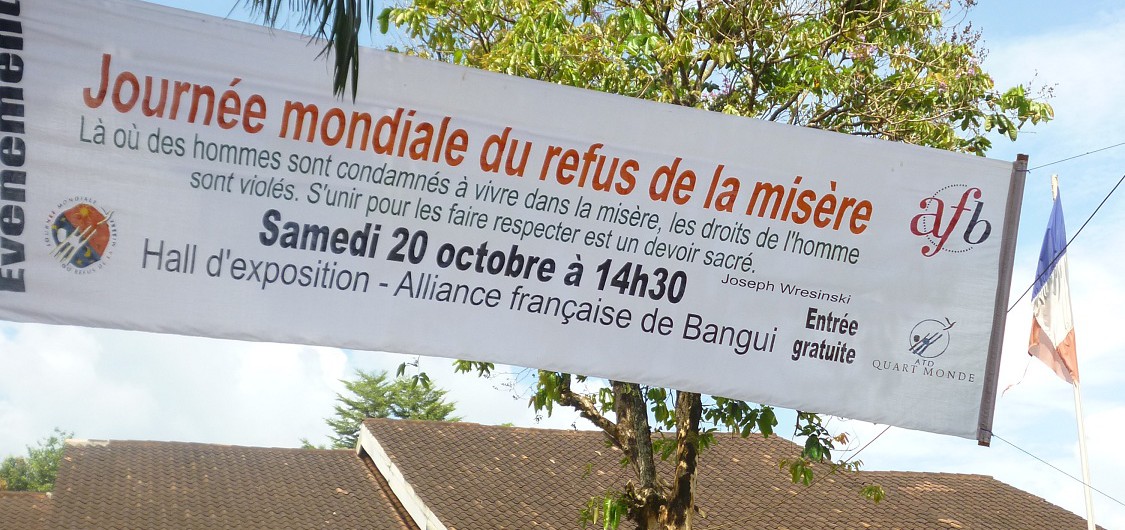 The celebration took place on Saturday, October 20, and not on October 17, the official date of the commemoration, so that more people would be able to participate in the activities. This also allowed children who went to the Bangui Alliance Française media library for children to participate.
About one in the afternoon, in all the neighborhoods where the Movement is present, families were getting ready to go to the Bangui Alliance Française, which is a partner of ATD Fourth World, to celebrate the International Poverty Eradication Day together. As this day is a very important one for each and every member of the Movement, everyone put on their best clothes, as we all wanted to look nice for our guests who came from all over.
This year there were many guests who came to celebrate with us; over 300 people, including the French Consul, Dominique Martial with several representatives from the French Embassy, a university professor, international civil servants, some nuns and friends.
At 2:30, the Director of the Bangui Alliance Française gave his opening speech and thanked the Movement for its work. In this short speech, he reminded us: "We are all striving to find dignity."
Then Mr. Firmin Tadjima, the young man who managed the Kokoro market library and represents the Movement in Bangui, spoke about what this day means: why we are gathered here together today.
After that, the commemorative text written on the Trocadero Human Rights Plaza was read in French by Mrs. Julienne De Gaulle from Kokoro and in Sango by Mr. Jean-Paul Kponga Koulamandja (members of the Movement in the RCA).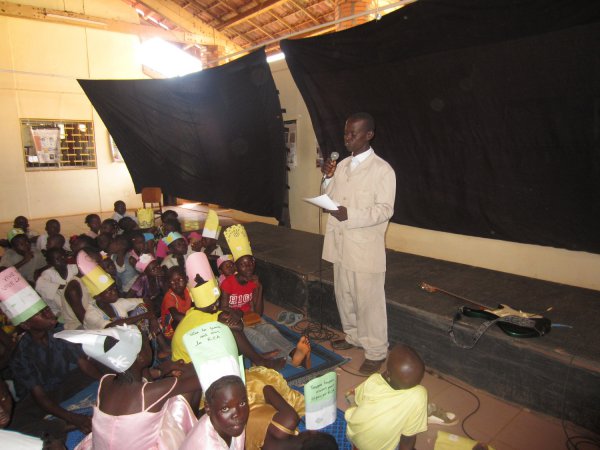 Mr. Ulrich Ngalité, the library manager, asked everyone to stand and observe a minute of silence in order to pay tribute to those who live in extreme poverty as well as those who died because of this. He then continued with a testimonial from friends of the ATD Fourth World Movement from other countries.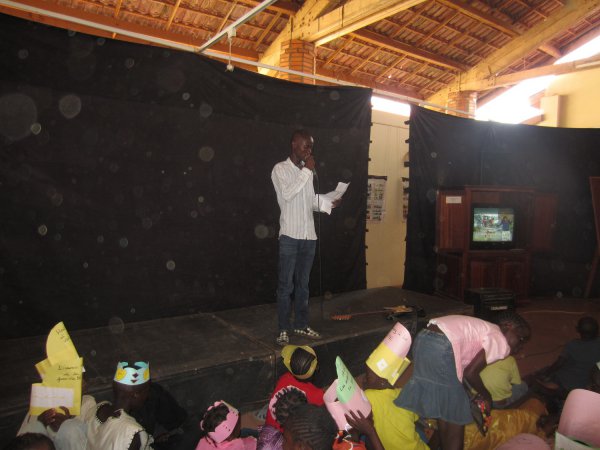 MATINO Wini Corecasse, a Tapori child from Fatima, presented the sketch, which was composed of collective messages from children about peace and was interpreted by the Tapori children from Koula Mandja: the story of an extremely poor little boy who found peace thanks to his friends: "We build peace by playing ball with our friends."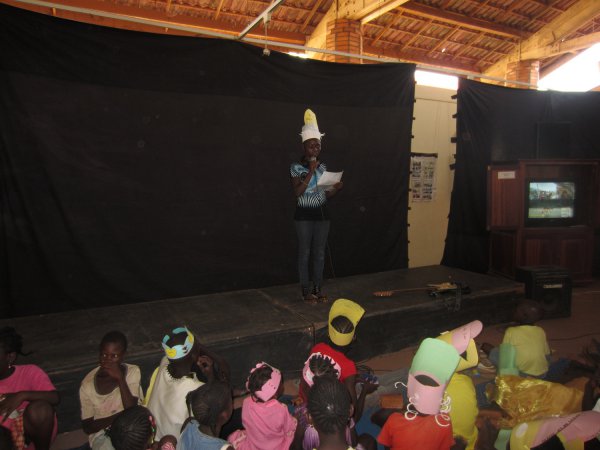 After that, children from the Alliance Française media library also put on a sketch, about a kingdom where there was no peace, but as soon as the rooster crowed, the king realized that in order to build peace, everyone had to say "Hello" and greet each other.
Mrs. Gisèle Lamassi Kokoro read the testimonial: "When people pay no attention to the poor, it's like they are trying to make them lose their intelligence."
Since last year, friendship has been growing between children in the youth media library and those in ATD Fourth World. This year, a Tapori group leader wrote songs created from messages placed on last year's friendship tree. Children sang two songs together entitled: "Children are peace" and "My heart is full of joy."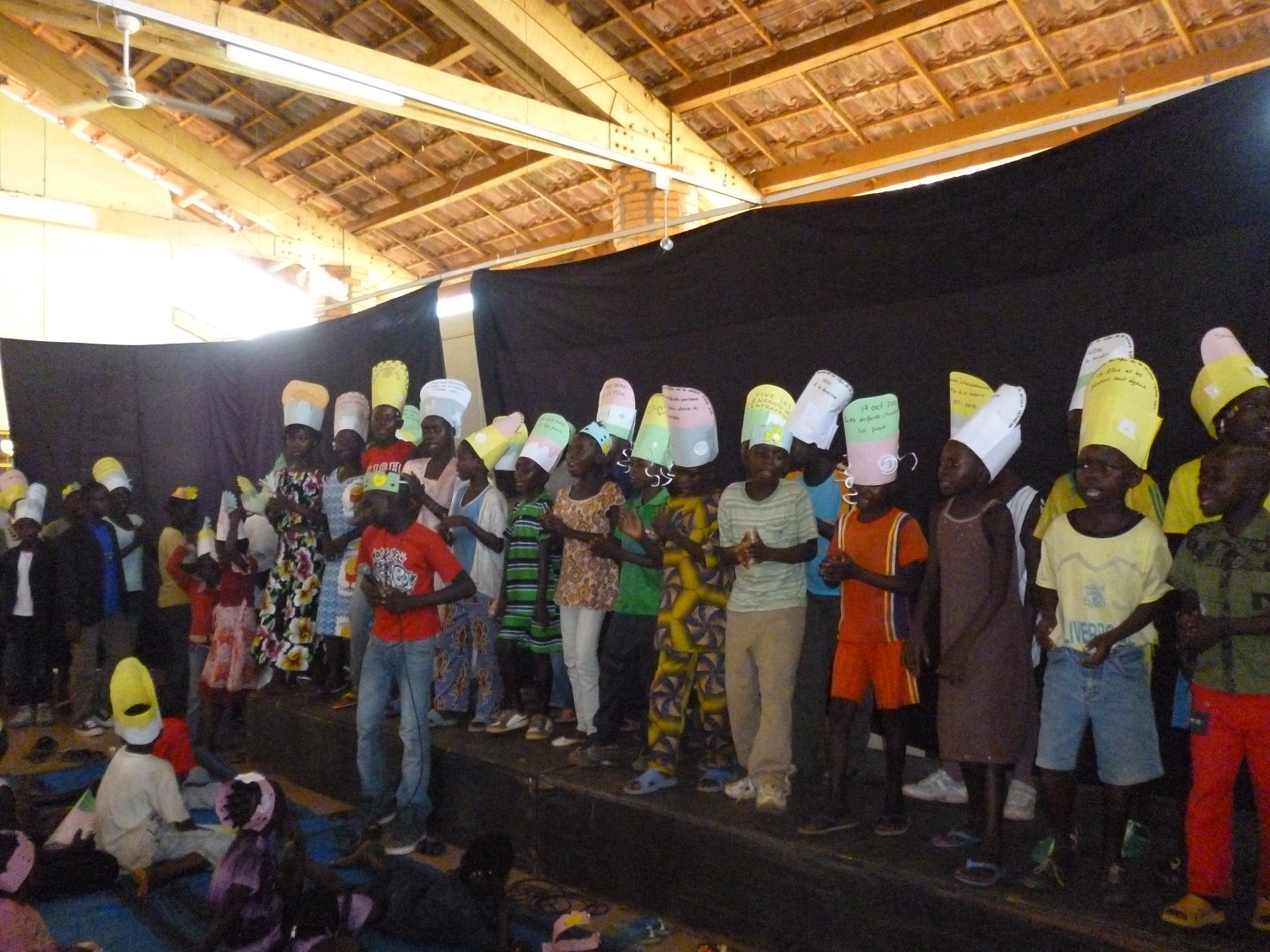 Roger Touadera from Koula-mandja read the testimonial "The violence of war added to the violence of poverty."
Before breaking off into two groups (children and adults), there was an official visit of the exhibition: it showed cartoon sheets drawn by ATD Fourth World children, telling a story about peace, and that were a part of the "Alliance Française Cartoon Month", with cubes containing messages from children and their drawings about peace.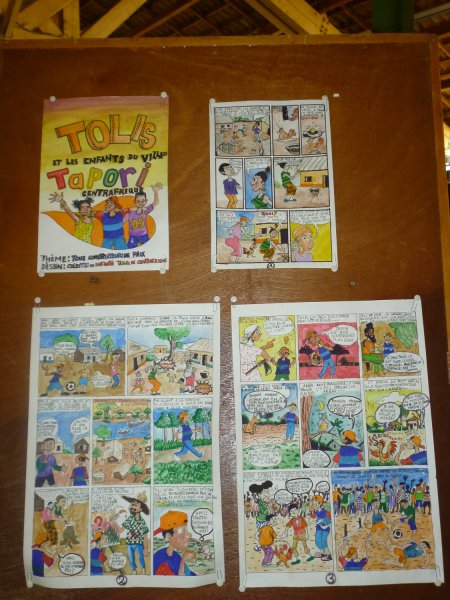 Children then went to the media library to listen to a story based on the TAPORI "Khadidja" story, told by Bénit Pandian from the Alliance Française.
Adults remained in the hall to watch the movie "Poverty is Violence" (25 mn) introduced by D'Ange.
To finish up this day, we gathered together to listen to a song sung by ATD and media library children called: "Mbi ba pa si mingui ô !!" meaning "I suffered a lot."