Donald Lee New President of ATD Fourth World International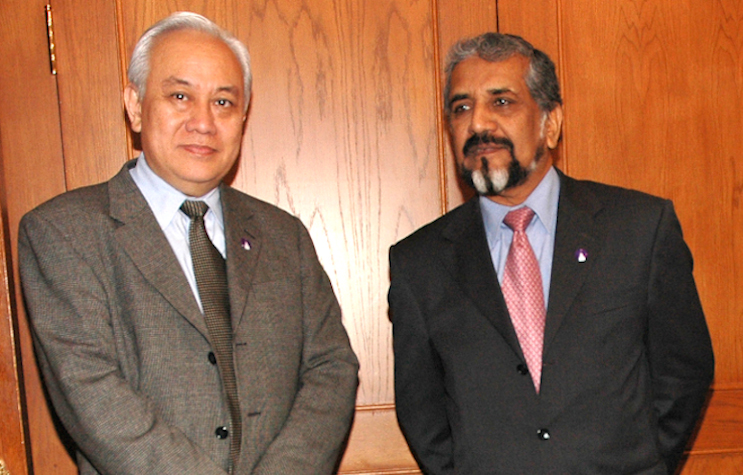 Photo : Donald Lee and Cassam Uteem © ATD Fourth World
Dear Friends,
We are pleased to announce that Donald Lee was named president of the International Movement ATD Fourth World at its last annual general assembly.
As you know, we have been truly fortunate to have Mr. Cassam Uteem as president for the past five years. He brought so much to ATD and families in poverty around the world: his loyalty to people in deepest poverty; his great ability to relate to everyone, members of our movement or famous people; his art of opening doors to appointments with high level international people and institutions. Last January, Cassam Uteem asked to be relieved of his presidency. We understood why he was asking and got to work on his successor. However, we asked, and he accepted to be honorary president which makes us very happy. And, in the name of all of you, we thanked him from the bottom of our hearts for his commitment with ATD Fourth Wourld and with all the families who are mistreated by the violence of poverty.
Since January our team has consulted widely and at the annual international meeting of this year, we proposed that Donald Lee become a member of the board of directors, and then he be elected president of this body.
Donald Lee is an economist. He worked at the UN for many years, first in Bangkok, then in New York at the Division for Sustainable Development and at the Department of Economic and Social Affairs. From the start he helped our New York team to promote October 17 within the UN. He became a reliable and faithful friend. For the United Nations, he was central to the evaluation and recommendations report of the UN Secretary General on the impact of the International Day for the Eradication of Poverty in 2006. And as soon as the International Committee for October 17 was created, in 2008, he became a member.
Every year Donald has played a key role in negotiations with the various UN agencies on the theme for the International Day for the Eradication of Poverty. He has also been a support for the New York team in organizing, with representatives of member states and of the UN, an October 17 within the United Nations itself that makes sense, rings true. Over the years the October 17 commemoration has been a chance to experience what a genuine dialogue between people with the experience of fighting poverty daily and international diplomats handling negotiations for the most important international agreements can be.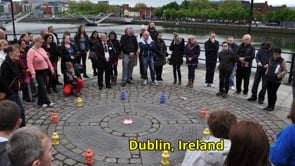 Donald will be able to play a role in representing ATD Fourth World at the UN and to gain ground in essential areas such as recognizing the intelligence of families in situations of poverty and their ability to help design policies to fight poverty.
He is taking on the presidency at a difficult time for the world as a whole. In Mauritius Island, families who had been living for years on state-owned land, in unfit housing, were forcibly evicted right in the midst of confinement. They were thrown out of their homes and their few belongings destroyed. Cassam Uteem spoke up courageously, in public, with others, to denounce this inhuman situation. In Latin America and the USA, the pandemic is growing. In other parts of the world, like the Philippines and Madagascar, it's not sure when people will be able to come out of confinement. In Manila, families fear a weekend lockdown, meaning they cannot leave their homes, and the police are strict about it. Such measures, and we see them in several Latin American countries, are especially hard on families living in poverty because they have to earn money to buy food every day. During the pandemic, street vendors and people who collect for recycling are particularly hard put as their usual activities are vastly reduced. In Africa, as elsewhere, people continue to be on the alert so no one is forgotten during this unprecedented crisis. Our friends in the Democratic Republic of Congo, Lebanon or Haiti remind us of the ongoing suffering that strikes members of our movement, whether it's fatality-causing floods, the economic and political crisis, or violence that eats away at neighbourhoods.
In earlier correspondence we've mentioned how we are trying to build solidarity, to share the means at ATD's disposal, and to ask friends to reinforce the supportive gestures and solidarity that are ongoing. It is urgent, we feel, to recognize that every person and family be supported when they have no income at all and no way to earn a living; that every person and family have access to health care and medications. Shouldn't the fight for a universal social safety net—built on priority to the poorest, amplifying the solidarity already practised by those with the fewest means—become a movement-wide fight?
We would like to thank Donald Lee for his trust. And we know he'll help others to hear the voices of those with so much to say, so that our world can undertake the deep transformation needed.
In friendship,