How African Children Strengthen Communities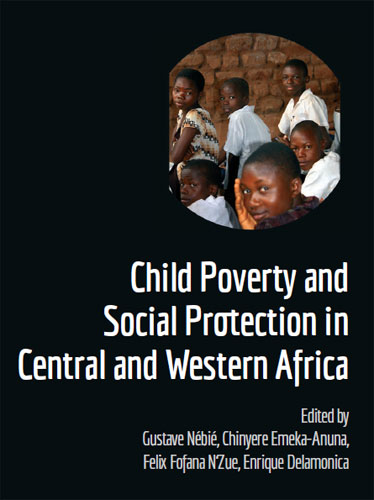 The book, Child Poverty and Social Protection in Central and Western Africa, includes a chapter written by ATD Volunteer Corps members, Jacqueline Plaisir and Diana Skelton. The chapter, titled "A Different Perspective on Social Protection: The importance of considering child poverty in the context of extended families and communities" explores the problem of family separation and describes projects that strengthen families.
Article written by Connor Bulgrin, student at The Ohio State University in the United States.
Raising a child while living in poverty presents a number of challenges. While parents might work around the clock to make sure their children are fed, housed, and loved, outsiders might see a family's lack of wealth as a sign of neglect. In both Northern and Southern countries, the way society views parents experiencing poverty deserves reexamination.
The threat of family separation
Families living in poverty often find themselves facing the threat of separation. In the global North, this threat comes from social service workers who question the ability of parents living in poverty to take care of their children. In the global South, some parents who find themselves living in poverty grow to question if they are of any value to their children's development. Their countries' growing trends toward urbanization, globalization, and economic insecurity can make them wonder if their children would not be better served under someone else's care.
Many children quickly pick up on their parents' insecurity and leave home at a young age to try and find work in the cities. The international development community can even reinforce family separation through a reliance on orphanages set up to help children living in the streets. Most orphanages include training programs to teach young people new skills. However, the transience of these young people's lives makes them likely to jump ship at the first obstacle, perhaps in order to move to a different orphanage with a different training program. After months or years of not succeeding in several programs, not only has a young person completely lost ties with their family, but they will also age out of the training programs. Ashamed to return to their village with no skills or accomplishments, the teenager is stranded without connections in a society where absolutely everything, including work, depends on extended family ties.
In its most extreme form, this trend is embodied by the "adoption culture" movement that facilitates the relocation of children in developing countries to the homes of better-off families in the North. As this piece notes,
"When parents live in poverty, their work, their culture, and their identity are undervalued."
This results in the problematic belief that children living in poverty would be better off if they left their families behind.
Connecting children and families
A number of innovative civil society organizations have been moving to challenge this mode of thought. In Africa, organizations like ATD Fourth World work to help reconnect children with their parents and reinforce the importance of family in their lives.
In Ouagadougou, the capital of Burkina Faso, ATD Fourth World's "Street Library" uses a pedagogy of non-abandonment to seek out the children who are discouraged by formal structures and who feel resigned to living in the streets. This project helps children learn and strengthens their self confidence.
Another project, the Courtyard of a Hundred Trades, allows children living in the streets to learn different artisanal techniques from local craftsmen and artists. These activities empower children to fend for themselves and return to home with a new set of skills that can improve their entire family's standard of living. It was well put by one man who as a child participated in the Courtyard of a Hundred Trades and now serves as a mentor:
"I crossed the desert, so now I can recognise that my family is an oasis."
In the Central African Republic (CAR) and the Democratic Republic of Congo (DRC), the Tapori children's movement has played an important role in affirming the rights and capabilities of children. At first, parents could not understand how the Tapori movement could be about overcoming poverty. Unlike the other organizations in the region, it did not distribute any goods or money to families.
Instead, Tapori watched over children as their parents worked. It taught them basic skills and the same poems that schoolchildren were learning. The children all pitched in to help each other feed animals, carry sugarcane, and sell simple goods in the marketplace. Instead of taking children out of their homes, the Tapori movement reinforced the children's position as important members of their family by empowering them to contribute to their community.
Children invest in their own communities
The children of the Tapori movement have also played an important role in broader society. They have encouraged villagers to repair roads and convinced the government to address the issue of high water prices during wartime. In addition, Tapori promotes a sense of inclusion. For example, Tapori members befriended children who were ostracized when neighbors accused their parents of witchcraft.
In 2015, to celebrate the International Day of the Rights of the Child, the Tapori kids visited a school for children who are visually impaired or hearing impaired. Everyone went home feeling optimistic and like they had learned something. As one child reported:
"We've done things that any child can do, no matter what, to smile, to share their talents and ideas, and to cooperate on a project together."
Instead of abandoning their communities in hopes of a better life, the children involved with the ATD Fourth World and Tapori movements have invested in their communities. Instead of tearing families apart, a responsible development strategy can bring them closer together. Parents should not be treated as obstacles to raising their children, but rather as partners. As the authors state,
"The basic building blocks of social and child protection work should be discovering and supporting parents' hidden resources of resilience, strength, and intelligence.
"In every community, children, teenagers, and young people can become leaders to strengthen communities, as long as there are adults who believe in their potential and who guide them in making sure that no one is left out."
Diana Skelton, one of the chapter authors, talks about tackling child poverty in Africa in a video from the  conference, 'Putting Children First: New Frontiers in the Fight Against Child Poverty in Africa'.
Full text of Child Poverty and Social Protection in Central and Western Africa.