Humiliation and Exclusion Recognised as Critical Part of Poverty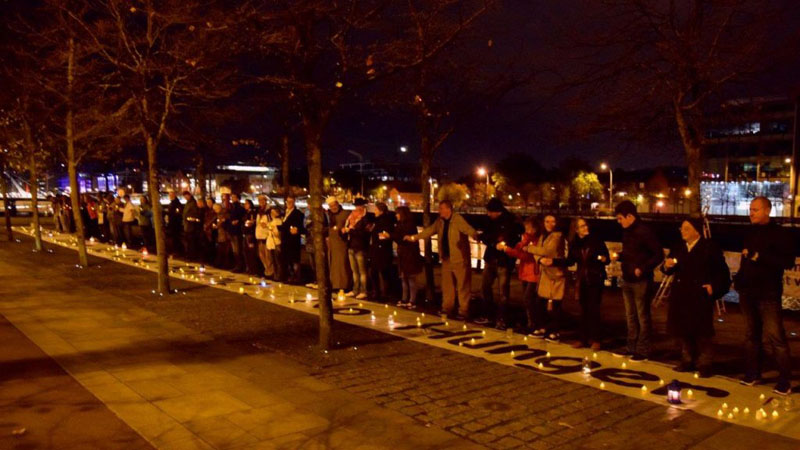 Above: "Zero Hunger, Zero Poverty Candlelight Vigil". In a symbolic walk, people created a human chain of lights between the "Famine Statues" and the Human Rights and Poverty Stone at Custom House Quay, Dublin.
"[W]hen people living in poverty are treated as numerical units, or administrative cases; when they are forced to jump multiple and difficult hurdles in order to claim financial benefits to which they are entitled… we are insulting and demeaning those amongst us who are guilty of nothing except living, day in day out, below the poverty line."
Michael D. Higgins, President of Ireland, October 17th, 2016, Dublin
"[P]overty is invariably intertwined with humiliation and exclusion. "
Isabelle Pypaert-Perrin, Director General , ATD Fourth World
In Ireland, 30 events around the country this year marked October 17, United Nations World Day for Overcoming Poverty. The theme for 2016 was "Moving from humiliation and exclusion to participation: ending poverty in all its forms". Events at the United Nations headquarters and around the world called attention to the non-material aspects of poverty such as shame and social exclusion, which often prevent people from taking steps towards independence.
In Dublin, the capital city of Ireland, 400 people gathered in a ceremony near the Human Rights and Poverty Stone at Custom House Quay. Speakers included people with a direct experience of poverty and the country's president, Michael D. Higgins.
See video from from The Irish Times, Monday October 17, 2016 for excerpts of the speeches in Dublin.
President Higgins' remarks emphasized that, "Poverty is, and always has been, a multidimensional problem. It is a complex issue to define. However, the ways in which we define poverty are critical to how we structure political, policy and academic discourse…Those who live in poverty speak of the isolation, shame, and humiliation they perceive as having been inflicted on them by society and of how such treatment…is a key factor in their lived experiences of suffering."
President Higgins insisted that humiliation and exclusion are just as important as material deprivations when it comes to finding effective solutions for poverty.
"Until recently… intrinsic human emotions, such as lowered or damaged self-esteem, have been the missing dimensions in poverty analysis and research. But such dimensions are an essential part of the analysis…"
In addition to the ceremony in Dublin, many other groups in Ireland organized events to mark the day.
Above: In Clara, Co. Offaly, the Clara Community and Family Resource Centre held a series of activities for the week of 17 October, including an artwork display on homelessness and human rights.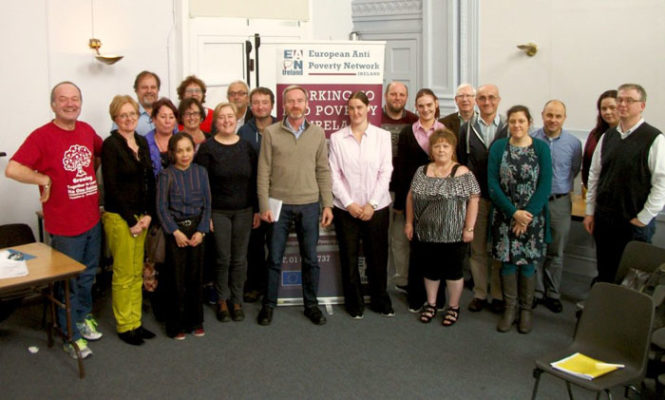 Above: The European Anti Poverty Network, Ireland organized a workshop in Dublin on poverty, inequality and health.
For additional information on events marking October 17th, 2016 in Ireland, please click here.
For general information about World Day for Overcoming Poverty and other events around the world, please click here.
Video of the ceremony at the United Nations headquarters in New York City.
UNDESA DSPD video of October 17, 2016.