Learning to Read Was the Beginning of Hope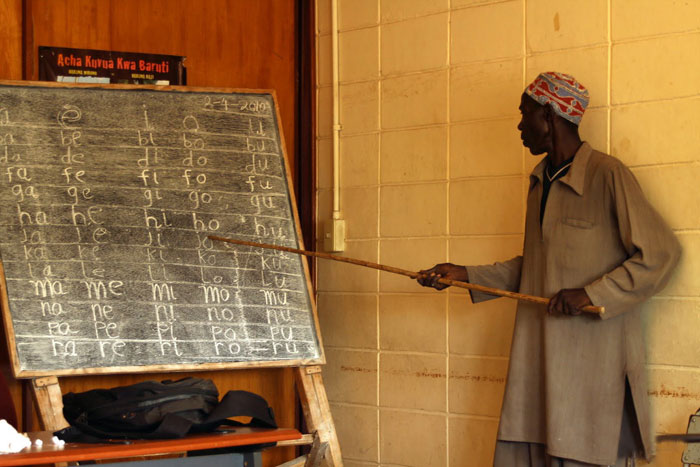 In 2017, ATD Fourth World invited people around the world to document real-life "Stories of Change". These stories are about situations of injustice and exclusion caused by extreme poverty. Written by activists, community leaders, and others, they show that when people work together, real change can happen.
More about "Stories of Change".
By Jenifa Mlongwa (Tanzania)
My name is Jenifa and I am a mother of five children. I work at the Fish Market in Dar es Salaam in an area called "The Lebanon" beside the official market. I make tea to sell and I cook chapati and other food for lunch.
Without education, no chance of a better job
In order to survive and support my family I left home at a young age and became a live-in house maid. Until I met my husband I had to struggle very hard. But when we came together our situation improved. Even though this was true I still used to feel the pain of not knowing how to read and write.
There was no chance of me finding a better job because when people asked me to read I couldn't, and that made me feel badly.
"In the beginning I was very shy"
It was when I met Reachel and Laurent, two  ATD Fourth World Volunteer Corps members, that I began to feel hopeful about making a change. They invited me to join a literacy class at the Fish Market. In the beginning I was very shy, worried and lacking confidence. But I still tried to attend all of the classes.
My life is difficult and sometimes I miss a class because I start my job at 4 am, work all through the day and am always running around. But every Tuesday, Thursday and Friday I do all that I can to join the group of learners. Sometimes I even have to carry my bucket and the food I sell with me. It's not always easy.
Facing down mockery
A big challenge that I had to face was the judgment of people around me. They had unkind words and laughed at me. They would always joke about me leaving my job to go to a class. But I am determined.
I know I need a lot of effort to improve, but when I am there I find joy in being part of the group. There is such a good atmosphere. We pay attention to each other's needs and make sure no one is ever left behind. The teachers are supportive of us and follow us in our rhythm. The way that they teach is lively. So we can see that they are committed and feel that they love what they are doing.
A life transformed
Today my life has changed. Before I felt as though I was disabled, unable to communicate and always silent. Now I can read what's on the packet, buy at the best prices, and give the correct change. I have stopped losing money in my small business.
There are changes in my family life too. Now I can take the time to read and write with my children and we find ways to support each other. My children are proud of me. All of these things make me happy and I feel better about who I am.
I never thought that one day I would have this chance and it makes me think of all the others who did not have the chance to go to school. I would like to tell them that if they hear about such an opportunity, they should not hesitate to go and learn. By learning together we can take the steps to overcome ignorance.