Mr. Cassam Uteem Named President of ATD Fourth World International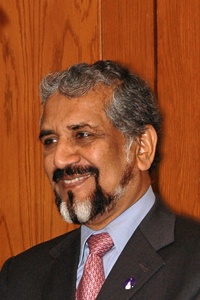 At its Annual Meeting on November 11-12, 2014, ATD Fourth World's International Board of Directors elected the following officers effective as of January 1, 2015: Mr. Cassam Uteem, as President, Ms. Janet Nelson, as Vice President, and Ms. Isabelle Pypaert Perrin, Mr. Paul Maréchal and Mr. Dominique Foubert who remain General Director, Treasurer and Assistant Treasurer respectively.
During his term as President of the Republic of Mauritius (1992-2002), Cassam Uteem was the first Head of State to champion the recognition by the United Nations of October 17 as the International Day for the Eradication of Poverty (adopted in December 1992). Later, Mr. Uteem served as President of the International Committee for October 17 from 2008 to 2012. His ardent commitment to see an end to poverty gave rise to a longterm friendship with the International Movement ATD Fourth World.
ATD Fourth World is honored that Mr. Cassam Uteem agreed to chair its international Board for the coming years. In receiving the appointment, Mr. Uteem gave this remark (see attached press release):
"I am very touched, flattered and honored by the friendship you have shown me, the trust you have placed in me, and privilege you have given me in asking me to chair the Board of Directors of the International Movement ATD Fourth World. I couldn't imagine turning away from what I consider to be a 'solemn duty' – that of advancing further and faster, if possible, the objectives of ATD Fourth World, especially reducing poverty and respecting the dignity and human rights of people in poverty around the world."
The Board also approved the nomination of Ms. Janet Nelson as Vice President of the International Movement ATD Fourth World.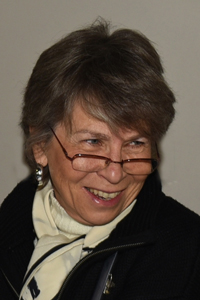 Ms. Nelson is a former civil servant with UNICEF which she joined out of a desire to fight discrimination. She has represented ATD Fourth World at the United Nations in Geneva for many years, particularly advancing the struggle for the adoption and practical implementation of the Guiding Principles on Extreme Poverty and Human Rights.
On behalf of the international Board and the entire organization, ATD Fourth World's International Leadership Team thanked previous Board President (2006-2014) Nina Lim Yuson for her unwavering commitment to families in extreme poverty, and her intense work all these years to move forward ATD Fourth World's major priorities, notably as well, the Guiding Principles on Extreme Poverty and Human Rights. Ms. Yuson never ceased to visit teams and meet with different members of ATD Fourth World to better understand and support their involvement. At every visit, members felt an affinity and proximity. "My adventure with ATD helped me discover little by little this movement, the depth of the commitment of people."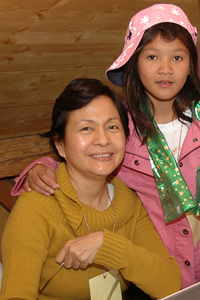 ATD Fourth World's International Board requested that Ms. Yuson extend her term as a Board member in order that she continue her work to gain official status for ATD Fourth World in the Philippines and other countries in the region. Additionally, as a member of the International Committee for October 17, World Day for Overcoming Poverty, and a native of the only country that has named October 17 as a National Day for Overcoming Extreme Poverty, Ms. Yuson received the task of continuing to promote and develop activities in her region around the World Day.
See the attached press release for more information.
Documents