Discrimination Based on Socioeconomic Status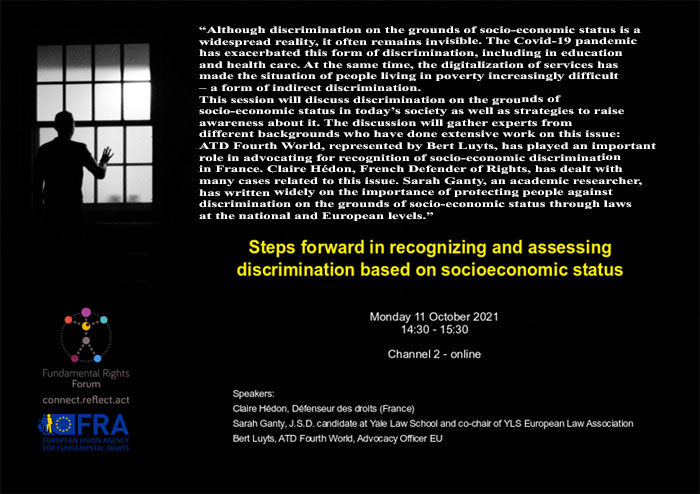 On October 11, ATD Fourth World will take part in a workshop on socio-economic discrimination.  "Steps forward in recognizing and assessing discrimination based on socioeconomic status" will be live-streamed in English 8:30-9:30 am New York time (EST) and 2:30 – 3:30 pm Paris time.  To register, create a login then select the event.
Speakers:
Claire Hédon, Defender of Rights in France
Sarah Ganty, researcher, J.S.D candidate at Yale Law School and co-chair of YLS European Law Association who has recently published on this subject.
Bert Luyts, European Union Advocacy Officer, ATD Fourth World
Although discrimination on the grounds of socio-economic status is a widespread reality, it often remains invisible. The Covid-19 pandemic has exacerbated this form of discrimination, including in education and health care.
At the same time, the digitalization of services has made the situation of people living in poverty increasingly difficult – a form of indirect discrimination.
This session will discuss discrimination on the grounds of socioeconomic status in today's society as well as strategies to raise awareness about it. The discussion will gather experts from different backgrounds who have done extensive work on this issue: ATD Fourth World, represented by Bert Luyts, has played an important role in advocating for recognition of socio-economic discrimination in France. Claire Hédon, French Defender of Rights, has dealt with many cases related to this issue. Sarah Ganty, an academic researcher, has written widely on the importance of protecting people against discrimination on the grounds of socioeconomic status through laws at the national and European levels.
The workshop is part of the Fundamental Rights Forum 2021.
Read ATD's paper, "Discrimination on the basis of socio-economic status".
Related articles:
France Bans Discrimination on the Grounds of Social Conditions
"Does It Only Happen to Me?"
Gaetane and Her Struggle for Dignity